Theme & Amusement Parks in West Torrington
---
Theme & Amusement Park Deals
---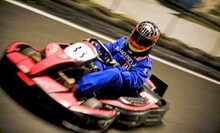 Adults, kids, and teenagers race around go-kart tracks at speeds of up to 40 mph, then go head to head in the video-game arcade
---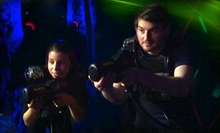 Gamers shoot opponents in a fog-filled laser-tag arena and fire air cannons at targets in a black-lit arena before reenergizing with pizza
---
Recommended Theme & Amusement Parks by Groupon Customers
---
Inflated structures, slides, and games fill the climate-controlled environs of the numerous BounceU locations that speckle the nation. At each site, staff members closely monitor all activities as little ones traverse obstacle courses or pull on oversized inflatable boxing gloves. The crew also invites parents to join in on the fun, letting them bounce alongside their kids or make sweeping edicts from atop a bouncy-castle throne.
In addition to open sessions, the indoor-play haven sets the stage for Pre-K and Play Classes, where instructors lead games and activities. Special events include Create and Bounce, which lets kids bounce and paint the day away so their parents can do grownup things, such as eat marshmallows with a knife and fork.
712 Brook St.
Rocky Hill
Connecticut
A gigantic gumball machine. It's not the first place one expects to see children ricocheting about. But when it's inflated and part of Jump n Jammin Play Gym's 13,000-plus-square-foot fun house, it makes a lot more sense. Inside their climate-controlled facility, parents chase after their sock-clad kids as they race from air-filled obstacle courses to inflated trains and circus tents during open-jump hours. After all that exercise, kids lope into the game room to hone hand-eye coordination playing Wii games such as Mario Kart on 47-inch LCD-screen TVs. They can also twist handles at foosball tables, smack a puck during air hockey, and bang drums during games of Rock Band, a video game that fosters rhythm and an appreciation for feathered hair. The kaleidoscopically colored facility can also be a birthday kid's personal wonderland with party packages, and during the summer, Jump n Jammin's team adds slip 'n' slides and splash pools to parties and organizes summer camps.
815 Pine St., Suite 3
Bristol
Connecticut
860-582-5867
Laser Planet's sprawling facility hosts a trio of attractions: laser tag, black-light mini golf, and an arcade. Competitors don vests and equip their laser-emitting weapons before heading into the multi-level laser-tag arena, where they'll be met with techno music, fog, and strobe lights, as they navigate corridors and attempt to tag the other team in a game of PowerPoint de la muerte. Or, they can head to the mini-golf arena, where black lights illuminate bright colors, aliens, and astronauts positioned around the 10-hole course. Elsewhere, a video arcade presents digital challenges, as players grab joysticks and mash buttons gleefully. Additionally, Laser Planet also offers a host of parties and events, ranging from all-night lock-ins, to corporate team building, to birthdays.
2457 E Main St.
Waterbury
Connecticut
In 1976, educator, musician, and kinesiologist Robin Wes longed for a children's gym that prioritized personal growth over competition. Unveiled at a time when physical-education classes pushed students to focus almost exclusively on winning, Robin's program was swiftly adopted and is now used in more than 300 Little Gyms worldwide. Robin still pens original music to accompany lessons, which engage whippersnappers aged 4 months to 12 years with gymnastics, dance, karate, and parent and child activities.
Each of The Little Gym's classes introduces simple movements that sharpen motor skills and set brains whirring, allowing kids to progress at their own pace until they can finally build a computer out of macaroni and glitter. Staff members strive to build a base for lifelong social skills and self-assurance with each exercise, including activities rooted purely in fun, such as summer camps or birthday parties, which helped The Little Gym to earn title of #1 Birthday Chain in Parents Magazine.
338 Commerce Dr.
Fairfield
Connecticut
203-382-1001
Located inside the Poughkeepsie Galleria, Vendetta Paintball and Laser Combat challenges players to technologically advanced games of laser tag and paintball on a 22,000-square-foot indoor field. Designed to mimic live-action games of Call of Duty or Halo, Battlefield Live laser tag manufactures adrenaline with real-time hit feedback, realistic special effects, and equipment that can simulate 69 different weapons, ranging from AK-47s to banana-cream pies. The facility's professional-grade indoor PSP paintball field lets gamers improve their hand-eye coordination while simultaneously turning rivals into walking tie-dyed targets.
3466 Palisades Center Dr.
West Nyack
New York
A full quarter mile of outdoor track snakes across the grass, sending racers on an adrenaline-fueled grudge match of hairpin turns, pedal-pushing straightaways, and close finishes. A speedy fleet of go-karts sends drivers flying down the track in vehicles such as the swift 9-horsepower Interceptor, or the two-seater Tornado, which allows children to ride alongside their parents to learn proper three-point turn technique. An on-track scoreboard displays racers' lap times with accuracy up to a 1,000th of a second, and printed results enshrine automotive achievements and bragging rights for display. Inside, a beeping, blinking arcade pits gamers head-to-head in pro-racing simulators, bouts of Guitar Hero, or rousing tournaments of air hockey.
1762 Berlin Tpke.
Berlin
Connecticut
860-829-5278
---