Education & Classes in West University Place
---
Education & Classes Deals
---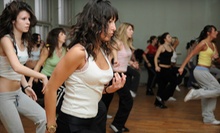 Energetic instructors motivate students with Latin-infused beats in 45-minute Zumba class.
Use Tuesday 4:15pm - 7:15pm
---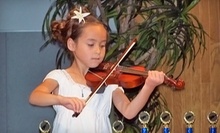 Kids & adults strum & plink during one-on-one Suzuki method tutelage that covers scales, theory games & performance technique
Use Saturday 12:00pm - 3:00pm
---
Recommended Education & Classes by Groupon Customers
---
For 25 years, Texas School of Bartenders has minted professional-grade mix masters in its hands-on classes held in classrooms that simulate real bars. The school's training labs brims with 42 bar stations loaded with up-to-date equipment, including touchscreen registers and serving trays made of hover boards. Full 40-hour courses run throughout the day to accommodate people with designs on pursuing bartending as a career. Covering drink recipes, customer service, and mixing techniques, introductory crash courses throw students into bartending in the same way Spartans taught their children to swim—by throwing them into a shark tank.
3300 Chimney Rock Rd.
Houston
Texas
Overseen by head instructor Delfina Perka, the experienced coaches at both Bayou City Fencing Academy locations teach fencers of all skill levels to lunge and parry like the swordsmen of old. A master fencer with the United States Fencing Association, Delfina hails from Poland and represented the country at the 1980 Olympic Games. Today, she grooms her students to strive for the same level of success, helping them improve quickness, endurance, and the mental agility required to remember victory speeches from The Three Musketeers.
4997 W Bellfort
Houston
Texas
The blades of Vertex Aviation Group's Schweizer, Bell, and Robinson helicopters slice the sky as their team of pilots carries passengers to and fro throughout the South. The pilots provide a wealth of services via their aerial vantage point, from surveying land and power lines to eradicating agricultural pests. Meanwhile, the company's FAA-certified trainers teach budding pilots to helm helicopters through ground instruction and hands-on flights, a curriculum more effective than the original helicopter training, running around in a propeller hat.
8888 W Monroe Rd.
Houston
Texas
281-616-5095
Referencing his 20 years of experience, skilled shutterbug Richard Maglievaz oversees digital-photography classes for artists of all experience levels. He ensures that whether they teach general classes for beginners or more specialized sessions covering lighting, aperture, or night photography, all instructors are field-tested and capable of being caught on film. Some classes venture out on field trips to such spots as the Houston Zoo, while others stay in the studio for technical lessons.
6001 Fannin St.
Houston
Texas
Why take a walk when you can take a flight instead? From their hanger at Ellington Field Airport, the certified instructors of Solo Flight Training dedicate themselves to answering that question through their personal flight training lessons. Using a blend of simulator training and real in-flight experience, students can master necessary skills on the ground before heading to the classroom of the clouds within the cockpit of the school's Diamond DA40. Instructors keep a close watch during the supervised flights, standing ready to offer encouragement or tweak techniques as needed. They also run discovery flights that introduce the thrill of private aviation to aspiring pilots and sightseers alike.
11800 N. Brantly
Houston
Texas
US
Operating under a new owner since January 2012, Spencer School of Real Estate helps aspiring and current real-estate agents and mortgage professionals develop their craft with online coursework and classroom coursework at an array of campuses. In addition to a background in real-estate brokerage, owner Bobby Bryant brings his two masters degrees in education to the school. Instructors aim to cap class sizes at 12 students so they can soak up lots of one-on-one attention, letting them get details specific to their intended career concentration and finally get an answer about the difference between a foyer and an entryway.
3303 Louisiana St., Suite 150
Houston
Texas
713-320-8784
---