Things to Do in West Virginia
---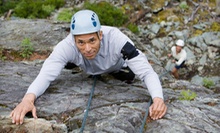 A team of certified rock-climbing guides equips students with gear before leading tours customized to participants' skill levels
---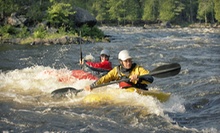 Paddlers raft the Lower New River's frothy whitewater or Upper New River's more sedate currents by day, and camp out at night
---
Recommended Things to Do by Groupon Customers
---
In the 900,000-acre Monongahela National Forest, amid the bald eagles, deer, herons, and small-mouth bass, lies Blackwater Outdoor Adventures, a family-owned business dedicated to equipping treks into the outdoors that surround it. From their river outpost and general store, staffers dispatch water vessels to traverse the clear waters of the Cheat River, a scenic passageway carved into the rolling hills with plenty of areas for swimming and fishing. Blackwater also operates a 7-acre campsite on the banks of the river, where groups can lessen the edge of the outdoors with hot showers and space to store boats, gear, and inflatable six-bedroom homes.
60 Location Rd.
Parsons
West Virginia
304-478-3775
Since 1977, the staff at New & Gauley River Adventures has helped visitors create year-round excitement across two rivers and more than 60,000 acres of terrain. The experts customize adventures, dispensing guides and gear for exhibitions, such as kayaking and high-speed whitewater rafting. Rafts float down the New River Gorge, passing by ghost towns and jump rocks. Meanwhile, the Gauley River emerges at the base of the Summersville Dam to form Class V+ rapids and enough churning whitewater to wash all of a giant's laundry. Back on dry land, horseback-riding groups meander through pre–Civil War roads. Ziplines soar across treetop canopies, and rocky peaks beckon climbers to scale their surface. As winter spills snow on the ground, the adventurous staff turns focus to cold-weather activities, such as snowshoeing and snowmen wrestling. The company's lodging options—which include campsites and cabins— let visitors rest up between their adventures. Nestled amid lush trees, the onsite Undercut Pub & Grill readies growling stomachs for hibernation with home-cooked breakfast and pub fare.
44 Lansing Rd.
Lansing
West Virginia
800-759-7238
On the rolling hillsides of Wheeling, West Virginia, the white pillars of the Mansion Museum stand majestically over the manicured lawns and landscaped gardens of the Oglebay Institute. Originally built in 1846 as an eight-bedroom farmhouse, the mansion entered the Oglebay family in 1900, and was willed to the city 30 years later to serve as a facility for education and recreation. Today it features a rotation of exhibits and programs, which share fine art, glassware, and environmental education with more than 100,000 people annually.
Tucked next to the Mansion, the glass museum has collected some 3,000 pieces of Wheeling glass, cut lead crystal, and Victorian art glass. The Sweeney Punch Bowl, a 5-foot, 225-pound piece of cut lead crystal, is the jewel of the collection, epitomizing the aesthetic splendor and unwieldy nature of most Victorian-era flasks. The Schrader Environmental Education Center imparts visitors with an appreciation for the natural world with interactive trail tours, campfires, and astronomy events; and the Stifle Fine Arts Center's ever-changing visual-arts exhibits display work from local and national artists.
1330 National Rd.
Wheeling
West Virginia
304-242-7272
---