Coffee & Treats in Westchase
---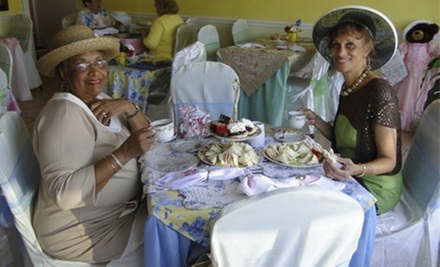 ---
Recommended Coffee & Treats by Groupon Customers
---
Ordering coffee usually involves more decision-making than a destination wedding. Having to rattle off directions for dairy, temperature, size, sugar preference, and syrup when you've only just peeled yourself off the mattress can leave you tongue-tied. Not here. Kahwa Coffee is taking the bean back to basics. There's one size and every drink is less than $5 a cup.
475 2nd St. N
St. Petersburg
Florida
727-823-4700
Soothe your nerves and open your mind over a hot—or chilled—cup of fine tea with today's Groupon: $15 buys you $35 worth of loose-leaf tea at Kaleisia Tea Lounge, a favorite spot for young and old to chat, study, knit adorable baby Cthulhus, or relax amid the aroma of oolong and souchong.
1441 E Fletcher Ave #133
Tampa
Florida
US
Throw off the draconian shackles of "official" teatime with today's deal: $10 worth of tea and snacks at Dishtopia & The Anytime Tea Bar for $5. You may order your tea hot or cold, but not tepid or spiked with Pop Rocks. You can also load up on dishes for your plate-spinning class, though these won't be included in your Groupon.Follow @Groupon_Says on Twitter.
3401 Henderson Blvd.
Tampa
Florida
US
Berryism's menu offers frozen yogurt and a wide array of accessorizing toppings, as well as smoothies. There are always three flavors on constant tap (original tart, wildberry, and chocolate) as well as a rotating flavor of the week. Cup sizes range from kids' ($1.99) to large ($5.79). You can also pick up a fresh quart for $9.99. Toppings are $0.99 each or fill your cup with an unlimited variety of toppings for $1.49. Dress your creation with a variety of seasonal fruits such as pineapple, mango, banana, or kiwi, or choose a perennial topping such as oreos, gummy bears, chocolate pretzels, or granola. Sip a savory smoothie ($4.25 for a small, $4.95 for a medium, and $5.65 for a large) to avoid the complications of managing unpredictable spoons. Satiate a sweet tooth with a peanut-butter banana smoothie with chocolate yogurt, or boost your fruit intake with a tropical fruit smoothie featuring original-tart yogurt, mango, pineapple, and oranges.
701 S Dale Mabry Hwy.
Tampa
Florida
Since before the advent of windshield wipers, the Meyer family has been whipping up fresh treats, hand-poured creams, and homemade jellies and caramels. Those with glucophobia can opt for sugar-free vanilla-walnut fudge ($7.99 for half pound) or a tub of sugarless taffy ($5.25 for half pound, $9.95 for a pound). For everyone else, Meyer's House of Sweets rivals Candy Land in terms of delicious décor and a sequence of play that forms a mathematically perfect Markov chain. Feast on at least 24 rotating flavors of fudge (including caramel pecan, Bailey's Irish Cream, and rocky road), 16 flavors of natural ice cream, or an impressive collection of chocolate-based confections. Chomp on European-style truffles that are almost too pretty to eat, or bite into cashew-rich bark. All chocolates are $17.95 per pound and are available in half-pound, pound, 1.5-pound, and two-pound boxes.
12930 Village Boulevard
Madeira Beach
Florida
After greasing the Slip 'n Slide with vegetable oil and shedding winter's fluffy bathrobe and insulated socks, the best way to celebrate summer's approach is with a handful of velvety-soft frozen custard. The Ritter's menu features a cast of five to seven rotating daily flavors, including everything from fruit-based favorites such as cherry cordial and fresh banana to candy-inspired creations like caramel Snickers swirl. Order a cone of the flavor du jour ($1.99 and up), or opt for a signature Glacier ($3.29 and up), Ritter's frozen custard mixed with your topping of choice and served upside down to confuse your already delicate perception of reality and emphasize the delicacy's extreme thickness. If a list of 25+ toppings dizzies your decision-making noodle, submit your fate to the friendly ice-cream slingers and opt for a pre-designed signature sundae ($4.29) such as the Reese's Peanut Butter Cup–filled, whipped-cream-topped peanut-butter mountain. Celebrate your newfound superpowers and exploit your nemeses' weaknesses for chocolate and caramel with a frozen Snickers pie ($25.99).
2655 E Lake Rd.
Palm Harbor
Florida
---