Theme & Amusement Parks in Westerly
---
Theme & Amusement Park Deals
---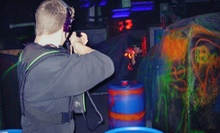 Players don specialized vests before exploring a highly stylized environment of rising fog, flashing lights, and thumping techno beats
---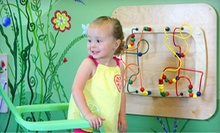 Toddlers romp in playroom painted with pastoral scenes & filled with mini slides, cloth tunnels & games to refine motor skills
Use Monday 9:00am - 12:00pm
---
Recommended Theme & Amusement Parks by Groupon Customers
---
Settle traffic arguments by challenging an opposing driver to a duel on Boomers!'s speedy go-carts. Or just cruise solo, banking curves and outdriving total strangers in a wild day of rubber-burning and dust-eating. For crashtastic thrills, climb aboard a bumper boat and drift on the waterscape, floating amok and gleefully broadsiding fellow captains. A bit of the briny seeps into Boomers!'s mini-golf range, where it creates a sparkling blue hazard to complement the verdant greens. Finish the day with a feeling of accomplishment that comes only from climbing Boomers!'s big, giant rock wall. The 32-foot climbing surface has a variety of handholds and different climbing options, so explore them all with the three climbs. Be sure to check Boomers! Medford's hours before heading out.
655 Long Island Avenue
Medford
New York
As neon obstacles glow under a series of black lights, teams move through two levels of mazes and catwalks as they avoid the photon blasts of opposing players' and the pitfalls of the 7,500 sq. ft. arena. While sprinting up ramps and seeking cover, players must avoid strategically placed laser mines that flash and beep before tagging anyone within reach, which effectively deactivates their equipment and James Bond trivia knowledge for 12 seconds. Players can earn points by blasting the mines first, while bases and targets offer chances to earn even more tally marks.
After futuristic battles conclude, guests can putt through an 18-hole mini golf course surrounded by alien planets and dinosaurs. Off the course, visitors can also sling skee balls and pop tokens into games in the arcade to win tickets redeemable for prizes. With a laser maze where players navigate beams of light and four party rooms added to the mix, Lazer Gate becomes the ideal spot for birthday parties or training camps for lethargic clones.
288 Plymouth Ave.
Fall River
Massachusetts
508-730-1230
Inflated structures, slides, and games fill the climate-controlled environs of the numerous BounceU locations that speckle the nation. At each site, staff members closely monitor all activities as little ones traverse obstacle courses or pull on oversized inflatable boxing gloves. The crew also invites parents to join in on the fun, letting them bounce alongside their kids or make sweeping edicts from atop a bouncy-castle throne.
In addition to open sessions, the indoor-play haven sets the stage for Pre-K and Play Classes, where instructors lead games and activities. Special events include Create and Bounce, which lets kids bounce and paint the day away so their parents can do grownup things, such as eat marshmallows with a knife and fork.
712 Brook St.
Rocky Hill
Connecticut
A gigantic gumball machine. It's not the first place one expects to see children ricocheting about. But when it's inflated and part of Jump n Jammin Play Gym's 13,000-plus-square-foot fun house, it makes a lot more sense. Inside their climate-controlled facility, parents chase after their sock-clad kids as they race from air-filled obstacle courses to inflated trains and circus tents during open-jump hours. After all that exercise, kids lope into the game room to hone hand-eye coordination playing Wii games such as Mario Kart on 47-inch LCD-screen TVs. They can also twist handles at foosball tables, smack a puck during air hockey, and bang drums during games of Rock Band, a video game that fosters rhythm and an appreciation for feathered hair. The kaleidoscopically colored facility can also be a birthday kid's personal wonderland with party packages, and during the summer, Jump n Jammin's team adds slip 'n' slides and splash pools to parties and organizes summer camps.
815 Pine St., Suite 3
Bristol
Connecticut
860-582-5867
Laser Planet's sprawling facility hosts a trio of attractions: laser tag, black-light mini golf, and an arcade. Competitors don vests and equip their laser-emitting weapons before heading into the multi-level laser-tag arena, where they'll be met with techno music, fog, and strobe lights, as they navigate corridors and attempt to tag the other team in a game of PowerPoint de la muerte. Or, they can head to the mini-golf arena, where black lights illuminate bright colors, aliens, and astronauts positioned around the 10-hole course. Elsewhere, a video arcade presents digital challenges, as players grab joysticks and mash buttons gleefully. Additionally, Laser Planet also offers a host of parties and events, ranging from all-night lock-ins, to corporate team building, to birthdays.
2457 E Main St.
Waterbury
Connecticut
Since 1989, the Biomes Marine Biology Center has immersed visitors of all ages in the lives of sea creatures through a range of hands-on programs. Though it recently moved to a new location, it has kept aquatic habitats focused on the denizens of Narragansett Bay and the Atlantic Ocean. Amid tanks of native and tropical species such as octopuses, horseshoe crabs, lionfish, tortoises, and sharks, the staff treats visitors to a range of events—including public feedings, educational demonstrations, and hermit-crab-socialization seminars.
In a separate area for kids aged 3–6 , staff members lead animal-themed story times, and walk children through corresponding craft projects afterward. They also organize birthday parties, during which kids can pet tide-pool animals such as eels, horseshoe crabs, and small sharks.
221 Shady Lea Rd.
North Kingstown
Rhode Island
401-295-4690
---