Things to Do in Western Springs
---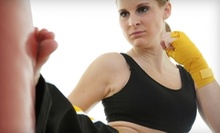 Seasoned martial artists teach youth & adult classes ranging from basic self-defense to kickboxing & tae kwon do.
Use Today 4:30pm - 8:00pm
---
Recommended Things to Do by Groupon Customers
---
In 1987, Louise Beem and Dorothy Carpenter were early-childhood-education specialists. Based on their combined experience—gained from teaching preschool, founding the College of DuPage's early-childhood-education program, and being grandmothers—the two friends felt that traditional methods of teaching youngsters were less than optimal at the time. Their brainchild, the DuPage Children's Museum, began that same year. The pair designed the museum's colorful exhibits to incorporate interactive and open-ended elements, which they believed more closely matched the way kids learn and naturally process information, a discovery they say has now been corroborated by findings in neuroscience research.
In that vein, the three-story museum engages young neurons with interactive art, math, and science-themed attractions. Giving little hands the chance to explore, the AWESome Electricity exhibit bridges the gap between the electric-powered gadgets and lights families use every day to where all that nonbreakfast-based energy comes from. Kids learn how electricity gets from one place to another and what its basic units are while at play in the museum's signature hands-on spaces. Elsewhere, the Young Explorers exhibit is designed for children aged 2 and under, who develop math skills by learning concepts such as sorting and patterning and express their creativity by experimenting with color and light.
301 N Washington St.
Naperville
Illinois
Kindled on October 8, 1997—the 126th anniversary of Chicago's infamous blaze—the Chicago Fire played their first Major League Soccer season in 1998 as one of the league's first expansion teams—and nabbed its first and only MLS Cup in that inaugural season. Under the supervision of U.S. Men's National Team head coach Bob Bradley, the club has been a hazard ever since, taking home four Lamar Hunt U.S. Open Cup trophies and reaching the playoffs in nearly every year of its existence. Located in Bridgeview, Toyota Park hosts each home game, its grounds spacious enough to seat 20,000 and fertile enough for planting new soccer-net saplings each spring.
7000 S Harlem Ave.
Bridgeview
Illinois
Paper Crown Gallery founders Dennis Quijano and Jay Turner wanted to establish a space where creativity—not expensive artwork—flourished. With the help of a roster of fellow local painters, photographers, and illustrators that wouldn't be out of place in Wicker Park or Pilsen, the duo set up shop in the northwest suburbs to prove that the city isn't the only place to find inspiration. Alongside a dizzying array of rotating artwork for purchase, they also set their energetic, multihued environs abuzz with classes in everything from drawing to spray painting to abstract website building.
1518 East Algonquin Road
Arlington Heights
Illinois
847-258-3156
Custom-built mountain bikes and hand-built wheelsets may be Richard's Bikes' specialty, but cyclists have frequented the store since 1910 to find road, cross-country, and freeride accessories. Staff pack more than 100 years of combined biking experience into the well-oiled gears that power their minds and match customers with premade bikes and equipment from manufacturers including GT, Schwinn, Mongoose, LeMond, and Klein. Richard's carries a wide selection of helmets and protective gear, cycling apparel, and bike parts of all kinds.
11933 S Harlem Ave.
Palos Heights
Illinois
708-448-4601
Move Your Feet Sports' hour-long lessons teach all ages and abilities to serve and volley like professional bowlers who used to be tennis title holders. Classes for beginners, intermediate players, and advanced players ($25 each) are available at all three facilities. The staff of experienced instructors pump each hour-long lesson full of heart-pounding cardio moves, skill-building exercises, and techniques to crush competition like monster trucks crush hot-dog carts. Look under the Groupon tab on Move Your Feet Sports' registration page to see class options.
5500 N St. Louis Ave.
Chicago
Illinois
While the horses gallop, you needn't worry about pacing yourself at the all-you-can-eat buffet. Take endless laps around the Winner's Circle Buffet on Thursdays (6:30 p.m. to 9 p.m.) or Grand Gourmet Buffet on Fridays (6:30 p.m. to 9:30 p.m.), then head to the dessert table (open until 10:00 p.m. on Fridays). The buffet offers a variety of succulent offerings, including ornate carving stations where you can get a hunk of meat with a lovely etching of your head on a horse's body, as well as unlimited shrimp, so when the race comes down to a photo finish, you can temper your adrenaline by slipping into a deep, shrimp-induced coma.
8600 W North Avenue
Melrose Park
Illinois
---