Coffee & Treats in Westerville
---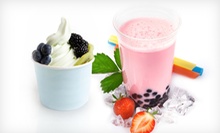 10 rotating flavors of frozen yogurt rest under 60 different toppings; guests slurp up tapioca balls in flavored bubble teas
---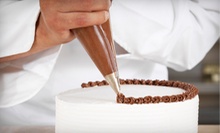 Instructors impart cake-decorating techniques to students in time for holiday dessert-making
---
Recommended Coffee & Treats by Groupon Customers
---
Human beings are the only animals that possess the ability to laugh, cry, beat every level of Pac-Man, and turn anything into a type of cake. Everything from carrots to birthday has been cake-ified thanks to humanity's technological advances. Cheese is no exception. Today's Groupon gets you a whole slice of this unlikely culinary marriage for half price. For $2, you get any slice of cheesecake from Columbus Cheesecake Company, a $4 value. This Grandview Heights operation has been cranking out the cakes since 2003 and recording Grammy-nominated albums since 1998.Follow @Groupon_Says on Twitter.
1413 Grandview Ave.
Columbus
Ohio
US
A sweet tooth is worth 12 bicuspids on the tooth-fairy black market. Rediscover your sweet spark with today's deal: for $5, you get $12 worth of dessert at Ganache Dessert Kitchen. This sugarplum sanctuary is located about 8 miles outside of downtown Columbus in Gahanna. You can purchase up to two Groupons, but they must be used in separate visits, just like those fighting fish that you were supposed to keep in separate bowls. Use your first to get the ball rolling and the second to silence the withdrawal created from the first.
1155 N Hamilton Rd.
Gahanna
Ohio
Following in the footsteps of numerically shaped oat cereal and president-profile pasta, Sugardaddy's distinctively circle-shaped confections prove that well-formed fare always tastes better. Premium semi-sweet chocolate swirled with unsweetened chocolate and fine espresso give the signature brunettes their intensely decadent flavor. The rich mint might tempt gum chewers, while the dark berry offers a touch of just-picked flavor. You can also get your brownies tinged with citrus, bursting with peanut butter, or spontaneously combusting with walnuts. If you don't even like your humor dark, batter up with a more buttery bite and try the blondies. The sugary snacks explode with brown sugar for a moist, indulgent pick-me-up. Sugardaddy's offers four featured blends: cinnamon, nutty, strawberry, and Tahiti. Learn more about every flavor here.
1329 Cameron Ave.
Lewis Center
Ohio
Made with natural milk, minimal cream, and a whole lot less air than ice cream, the Italian-born gelato also boasts fewer calories and no artificial flavoring to get in the way of its smooth, rich flavor fireworks. Pino Gelato's 20 gelato genres include minty chocolate, coconut, Reese's & cream, rhum & caffe, tiramisu, stracciatella, Monica Bellucci, and more. Gelato grabbers can transport their treat by cup ($2.50 for 2 ounces, $5.95 for 8 ounces) or cone ($2.75 for kid size, $5.50 for waffle). And while filling your pockets with scoops of gelato is a fun way to ruin pants, the friendly staff will gladly provide storage for to-go gelato ($10.95 a pint, $16.95 a quart).
4435 W Dublin Granville Rd.
Dublin
Ohio
Outside of swimming laps in chocolate syrup, smoothies at Smoothie King are the tastiest way to improve your health. Smoothie King smoothies combine fresh fruit, natural juices, and special nutritional enhancers into more than 90 flavors (you can customize, add, and subtract the extras), all of which focus on achieving one of seven nutritional goals. Try an antioxidant-rich Pomegranate Punch with pomegranate, bananas, blueberries, apple juice, soy protein, and Turbinado sweetener to stay healthy. Weight-conscious en-smuthiasts can trim down and float away with the Celestial Cherry High, packed with bananas, black cherry, papaya, Turbinado, and honey, and unpacked with fat. You can also customize any smoothie by adding enhancers or "make it skinny" by cutting out the honey and Turbinado.
5470 Westpointe Plaza Dr.
Columbus
Ohio
Every morning, Rita's Italian Ice's dessert-makers show up to work and start smashing fruit to bits. They extract the juices, natural sugars, and sweet flesh of each to infuse into their freshly-made italian ices. The ices pair well with custards and creams for mixed treats, or serve as refreshingly cool treats on their own. The staff even take small groups on behind-the-scenes tours of their kitchens, teaching the secrets to freezing mango juice into a silky-smooth texture or milking a banana.
520 S. State Street
Westerville
Ohio
---