Westerville, OH Health and Fitness
---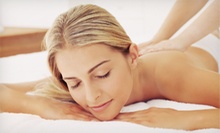 Massage technician brings peace with gliding strokes; acupuncturist eases pain and ailments by redirecting energy with hair-thin needles
---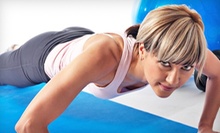 Trainers lead groups through cardio and strength-training exercises designed to boost caloric burn during and after workouts
---
Recommended Health & Fitness by Groupon Customers
---
Golf, known as "the people's sport," is something you should be able to enjoy in rain, shine, humidity, atomic dust, meteors, or on any beautiful day of the week. Lift your winter ban on golf with today's deal: for $15, you get one hour of golf simulator time at Teed Up Indoor Golf in Worthington, up to a $30 value. See how your real-life stroke fares on precise virtual duplicates of 22 different PGA courses. You can use your Groupon toward an hour of time on the simulator. Choose to spend your hour practicing at the driving range ($30 value), golfing a leisurely nine holes ($16 value), or mastering a complete 18-hole round ($29 value). Bring your own clubs and swing away without worry of missing tee time, shagging forested balls, or accidentally showing up your boss.
7543 Pingue Dr.
Columbus
Ohio
US
Michelangelo famously claimed that the human form of a sculpture resided in the stone itself, and that the artist's task was merely to free it using totally tubular nunchaku moves. With today's Groupon, free the finely sculpted form lurking beneath your skin, For $39, you get a one-month membership to Premier at Sawmill Athletic Club. A one-month membership is normally $78 plus the $99 initiation fee, giving your Groupon a total value of $177.
3111 Hayden Rd
Columbus
Ohio
US
Your visit will begin with an in-depth exam to assess your current state of oral affairs. To help expedite the initial consultation, bring in applicable x-rays, a list of medicines you're currently taking, and any pertinent library cards. Dr. Monstwil will take a full set of x-rays to reveal any problems and decay before they turn into larger problems. Once your mouth is cleared for cleansing, a skilled technician will tidy up your teeth with OCD precision. Patients will also receive a tasty fluoride treatment to keep their teeth impervious to imperfections and strong as two yoke of oxen, allowing you to haul a cart if your hands are full. Test out Dr. Monstwil's restoration by stepping into cartoony sunlight and then flashing a grin. The telltale sparkle sound indicates success.
811 Eastwind Drive
Westerville
Ohio
Pole and exotic dancing are heart-pumping workouts that tone muscles, slim waistlines, and increase flexibility. The Dolphin intro class is the pre-requisite for all other classes at the spacious studio, so this fun way to spend a Sunday afternoon could begin a whole new chapter of dance in your life. With your introduction from Dolphin Dance's trained, gravity-defying staff, you'll go over all the basic skills you need to start learning inverted moves, intricate spins, and advanced astrophysics in no time. Owner Kristen Titko has more than 30 years of dance experience under her close-fitting belt, including exotic and pole dancing in hit Hollywood films. Today, she's devoted to helping women build self esteem through dance's fusion of atomic nuclei and confidence-building.
143 E Main St., #201
Columbus
Ohio
Fit Body Boot Camp's instructors all over the world share a common goal: to help clients hit their fitness and weight-loss goals with regimented training programs. Trainers lead group workouts that combine cardio with resistance exercises, strength training, and light alligator wrestling. They design the workouts to be as time-effective as possible and vary the routines constantly to avoid workout plateaus that can leave clients feeling uninspired. Trainers empower their students with healthy eating guidelines to keep motivation high outside of class.
During one-on-one sessions, certified personal trainers plan out tailored fitness programs, which clients can take with them to Fit Body Boot Camp's gyms to continue shaping up on their own.
316 W Case St.
Powell
Ohio
740-627-0341
Yet another set of weights had been slid onto the already crowded bar as J.L. Holdsworth nudged it forward, squatted down, and stood back up with 905 pounds on his shoulders. The ability to perform this type of feat does not come about overnight. Before he opened The Spot Athletics, Holdsworth studied exercise science and nutrition at Wayne State University and worked with collegiate athletes as a Division I strength-and-conditioning coach. Although he could squat 905 pounds, he wasn't content focusing solely on building muscle mass, so he developed a well-rounded fitness approach that includes conditioning the nervous system and training fascial planes through myofascial release and specialized stretches. He and his team of fitness instructors share this approach during fitness classes, personal-training sessions, and youth summer camps. Each of the high-intensity workouts unfolds inside Ultimate Sport Center's 80,000-square-foot facility, which houses a basketball court, volleyball courts, a turf field, and one of Paul Bunyan's 80,000-square-foot dumbbells displayed for inspiration.
1200 Steelwood Rd., Suite B
Columbus
Ohio
---