Pet Services in Westfield
---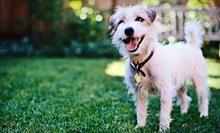 Pets are boarded and cared for by a veterinarian and staff, and those of canine and feline varieties get a free bath before going home
---
Recommended Pet Services by Groupon Customers
---
Since opening their doors in mid-December 2011, friendly staffers at Happy Dog Hotel and Spa have welcomed pooches into a wag-worthy space outfitted with deluxe hotel suites, private courtyard, and capacious play zone. Owners can take a complete tour of the modern, brand-new space to view its shined wood floors, textured wall coverings, and trendy accents. Canines stay the night in suites ranging from 20 to 48 square feet, and all boarders enjoy soft blankets, two meals a day plus scrambled eggs with breakfast, and five walks to the private courtyard. Caring staffers treat dogs like their own, dishing out treats, toys, and medication brought from home at no extra charge. Owners can opt to let their boarding pooches release pent-up energy with romps and heated Scrabble matches in the bustling daycare area, where the attentive staffers ensure safe, friendly play. Visiting pups also can unwind in the spa, where staff members shampoo, brush, and clip coats while a stereo plays the soothing sounds of bellies being rubbed.
233 2nd Ave. SW
Carmel
Indiana
317-580-5050
Fetch Dog Resort's team of professional trainers and dog groomers accommodates all classes of canines within the 2,500-square-foot resort and grooming spa. Pawed patrons can get refreshed with natural Happy Tails spa products in a deluxe bubble bath and be treated for dry skin, cracked noses, and peanut-butter addictions. Alternatively, dogs can frolic amid up to 30 of their peers in an expansive playroom as certified trainers look on. A separate area for small dogs keeps them protected, and a tasty midday snack keeps boarders from growing hungry. During overnight boarding, dogs lay to rest in spacious suites, crates, or cageless boarding facilities. The staff indulges dogs with frequent bathroom walks and attention.
4340 W 96th St., Suite 100
Indianapolis
Indiana
317-491-3535
As graduates of three dog-training programs, Erin Nanney and Jodi Parks are well equipped with the skills to manage the throngs of four-legged companions that visit their 3,000-square-foot boarding facility. The dog-loving duo primps pooches with their grooming services for small, medium, and large canines and lavish daycare and boarding guests equally with exhilarating playtime and at least four walks a day.
For overnight guests, the team has furnished 12'x5' rooms with comfortable cots which, like state-mandated belly rubs, give dogs another excuse to unwind from the rigors of life.
1025 N New Jersey St.
Indianapolis
Indiana
317-979-2665
Dr. Kurt Phillips and the staff at Woodland Animal Hospital work to foster healthy, lifelong relationships between pets and their human parents with a variety of services. Beyond expert veterinary treatments that prevent potential maladies or cure illnesses, the office staff happily watches over pets during daycare and boarding visits, which feature private lodges and cabins, bunkhouses for active and social pets, and kitty cottages—complete with four levels of living space and a playroom. Onsite groomers maintain pups' adorable swagger with hair trimming and shampooing services. For more hands-on parents, the office's rentable washing facilities and hypoallergenic tear-free shampoos foster calm bath times free of daring tub escapes and breath-holding contests with rubber duckies.
269 W Carmel Dr.
Carmel
Indiana
317-844-2696
---