Professional Services in Westfield
---
Professional Service Deals
---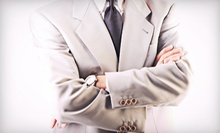 Dry cleaning for clothing including pants, blouses, skirts, two-piece suits, and dresses
---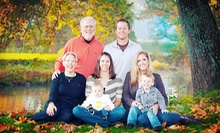 An accomplished photographer stages stunning family portraits inside or outside the studio's idyllic estate
---
Recommended Professional Services by Groupon Customers
---
Each PHP Photography shoot begins with a one-hour consultation that allows the photographer to get a feel for the client's unique personality. The results have yielded a portfolio brimming with of shots of families, children, and weddings, each full with character and impromptu smiles, earning PHP a Preferred Vendor nod from the Perfect Wedding Guide in 2011 and 2012. Consultations also serve to put clients at ease when capturing especially intimate moments, such as boudoir photography sessions or maternity sessions, which capture the nervous excitement or insatiable appetite for white truffles associated with awaiting a child. Design elements can add a vintage vibe with black-and-white or sepia filters, or images can travel through time in the opposite direction with modern, Warhol-esque effects.
212 W 10th St. , Suite B-375
Indianapolis
Indiana
317-694-0044
Great Harvest Food Pantry gathers and prepares food for more than 500 families from the Indianapolis area every month. The volunteer staff members stock an inventory of donated items and purchase additional food from a local food bank. When families arrive seeking food, they can sign in and move through the pantry with a volunteer, selecting the produce and grocery items they need. The volunteers help carry bags and boxes to clients' vehicles and see them off. Teams also conduct food drives and community giveaways around the city, and deliver food to people who cannot leave their homes or are living on the streets. Great Harvest Food Pantry does not turn away any families who request food, and serves people from a variety of economic and linguistic backgrounds.
2516 E Stop 11 Rd.
Indianapolis
Indiana
At Happy Hollow Children's Camp, children from Indianapolis and surrounding counties with special needs or from economically disadvantaged households live as a community for a week at the 822-acre camp facility in Brown County. Under the guidance of their trained cabin counselors, children in each cabin group select their activities for the week, such as fishing, horseback riding, and canoeing. The structured activities help each camper gain team-building, leadership, and outdoor technical skills, and also give them an exciting summer-camp experience.
615 N Alabama St., Suite 228
Indianapolis
Indiana
FACE Low-Cost Spay/Neuter Clinic was founded in 1999 to help reduce the overpopulation of cats and dogs in the region through humane methods. It treats about 600 cats and dogs every week with spay or neuter and vaccination treatments. IndyFeral, a FACE program, works to reduce the feral-cat population in the region using a combination of trap-and-release and traditional sterilization services. The program treats incoming animals and marks them with ear tipping so that local shelters do not pick them up. Then, the organization's foster-care program helps ensure that kittens will not be subjected to the disease or dangerous conditions sometimes associated with shelters. Veterinarians vaccinate and treat incoming litters and place them in responsible foster homes where they can thrive while awaiting permanent adoption.
See how Groupon helps you discover local causes and lend a helping hand at the Groupon Grassroots blog.
1505 Massachusetts Ave.
Indianapolis
Indiana
The first boxing program of its kind in the country, Rock Steady Boxing unites people with Parkinson's disease through noncontact-boxing fitness programs. Upon diagnosis, doctors often encourage individuals with Parkinson's to start exercising. However, due to noticeable symptoms of the disease such as tremors, balance difficulties, and softened voices, many individuals with Parkinson's avoid traditional fitness centers. At Rock Steady Boxing, they can exercise safely, surrounded by peers who are also fighting the disease. Four different levels of classes correspond to the severity of symptoms, which could range from people with recent diagnoses to those using wheelchairs and walkers. Certified coaches lead participants through boxing regimens tailored to the individual's abilities and health concerns, and classes teach the fundamentals of boxing through noncontact workouts designed to boost overall fitness and well-being.
5026 E 62nd St.
Indianapolis
Indiana
317-205-9198
The Ransburg YMCA of Greater Indianapolis serves the community through programs that benefit the mind, body, and spirit. It aims to be a force for positive change in the community by promoting healthy living, youth development, and social responsibility. Along with gym memberships, Ransburg YMCA offers a wide selection of classes and activities for all ages, ranging from summer camp and afterschool programs to sessions that promote adult wellness and disease prevention.
501 N Shortridge Rd.
Indianapolis
Indiana
US
317-554-8073
---