Restaurants in Westfield
---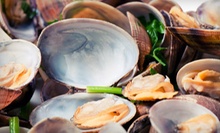 Amid wood-paneled walls & old-time photographs, waiters ferry fresh clam & mussel starters to tables along with veal, pasta & filet mignon
---
Recommended Restaurants by Groupon Customers
---
At Horizons Restaurant & Bar, owner and classically trained chef Mark Melikian uses farm-fresh ingredients to craft his seasonal menu of upscale American and European-inspired cuisine. He loads Maine lobster onto a plate of baked mac and cheese and pairs oven-roasted Atlantic cod with scampi-style shrimp and roasted baby red potatoes, which should be eaten quickly before they start teething. Other dishes include fried Camembert cheese with honey Dijon mustard for dipping and a nine-ounce, pan-blackened filet mignon with melted gorgonzola and a marsala-accented demi glaze. Each of Chef Melikian's artistic plates complements the elegant ambiance of his dining room, where stained glass chandeliers and fresh flowers create a gentle, romantic environment.
2200 Boston Rd.
Wilbraham
Massachusetts
Chefs' spatulas have flipped pancakes and eggs in The Silver Spoon's kitchen since 1983. In 1996, Jeff and Sue Doyle took over the neighborhood staple, leading Mark Roessler of the Valley Advocate to laud its current incarnation for its specialty, the Crow's Nest: a bed of hash browns and poached eggs doused in hollandaise sauce. Such delights come out of the kitchen all morning and afternoon on the arms of servers carefully delivering lunch and breakfast goodies to each table. Under the glow of stained-glass lighting, silverware clatters against plates as patrons, ready to dig in, perch upon red-upholstered booths flanked by dark wood wainscoting that gives the room the feel of a homey log cabin. Kids' menus are also available for breakfast and lunch, with offerings of kid-size french toast and chicken fingers.:m]]
73 Main St.
Easthampton
Massachusetts
Though Michael Anderson has worked in the kitchen for more than three decades, he hasn't always worn the title of executive chef. Like many great chefs before him, Anderson began his career as a dishwasher, working his way up through practice and education before finally earning the prestigious role of head chef at Chandler's Tavern. With this culinary accomplishment under his belt, Anderson decided he was ready to fulfill his dream of opening his own restaurant—naming it for the chef he studied under as a dishwasher all those years ago.
Today, a panorama of white-linen tablecloths and chandeliers stretches across Tucker's dining hall, bar, and private banquet rooms. Anderson still works in the kitchen, overseeing staff as they prepare gourmet pastas, meats, and seafood from noon until nightfall. The restaurant opens its two elegant banquet halls for weddings, birthday parties, and upscale games of dodgeball.
625 College Hwy.
Southwick
Massachusetts
413-569-0120
Red Rock Pizza's chefs whip up a staggering menu of pizzas, sandwiches, and traditional italian pastas. Their pies come in classic configurations, such as hawaiian and pepperoni, as well as unique, Mediterranean-inspired concoctions such as the greek with feta and olives or the moussaka with eggplant, meatballs, and mozzarella hand-pulled by Zeus. They also sauce up more than 15 customizable pasta entrees and fry or bake shrimp, fish, and scallops for more than a dozen seafood dinners.
15 College Hwy., Suite J
Southhampton
Massachusetts
413-527-5700
Drive-in movies. Car hops. Rock 'n' roll. Though human nature compels us to view the past in varying shades of gold, the 1950s almost transcends nostalgia. For those who were there, the smallest of triggers can set off waves of fond memories: a ringing bell leads the mind's eye back to the polished counter of a soda fountain, and an oldies radio station evokes weekends spent passing quarters through the jukebox slot.
On September 11, 2001, in the midst of tragedy and after 19 years as a flight attendant, Brenda Stranberg decided that she was tired of playing back memories of America's greatest decade in her head. Looking around her at a cultural landscape that her childhood self would hardly recognize, she teamed up with old friend Naif Makol Jr. and founded Skooter's, an old-fashioned diner and coffee shop inspired by the simple pleasures of life more than half a century ago. Though somewhat of an anachronism, the diner's open kitchen has proven wildly popular among the various generations that frequent the sit-down counter to sample thick milk shakes, loaded hot dogs, and burgers topped with fried onions. Between bites, guests can toss coins into the antique jukebox or admonish the diner's soda jerks for callously dousing their friends with fountain drinks.
365 Boston Rd.
Springfield
Massachusetts
413-796-1625
Umi Japanese Steak House & Sushi Bar's chefs sling hot meat and veggies across tableside hibachis in showy displays of culinary prowess. As chopsticks busy themselves with vegetables and fried rice, meat such as lobster and filet mignon sizzles on grills just barely out of reach. Chefs also arrange sushi rolls on beds of seaweed in ribbons of eel, red snapper, tuna, and other raw or tempura-battered seafood. Blond wood inlays and sleek glass panels encircle the dining room, whose walls are sprinkled with shadowboxes of traditional Japanese art.
1168 Boston Rd.
Springfield
Massachusetts
413-782-8888
---