Westfield, MA Spa and Massage
---
Recommended Spa & Massage by Groupon Customers
---
La Dermique Skin Rejuvenation & Body Contouring Center's board-certified surgeons, registered nurses, and master aestheticians keep their fingers on the pulse of emerging technologies they can potentially use in their minimally invasive treatments. Simple aesthetic procedures, such as microdermabrasion and photofacials, rejuvenate dull, aging skin, whereas Botox and dermal fillers temporarily remedy wrinkles for a smooth, supple complexion. Ultherapy, one of the center's newer treatments, sends sound waves below the skin's surface to gently heat tissues and simulate the effects of a face-lift, all without incisions or cheek suspenders. La Dermique's technicians also wield lasers, including Smartlipo Triplex technology, to permanently destroy fat and remove unwanted body hair and tattoos.
1154 Springfield St.
Feeding Hills
Massachusetts
Licensed massage therapist Penny J Mitchell blends Eastern and Western massage techniques to address whatever physical or emotional needs her clients may have. At Bodyworks Massage and Wellness, she fine tunes the body and quiets the mind with Reflexology and relaxation Swedish massages. But with training in orthopedics and movement science, she caters to pain and injury as well—she offers comprehensive back therapy and whiplash therapy, and all bodywork can be heightened by applications of moisture wraps, heat therapy, and aromatherapy.
54 Court St.
Westfield
Massachusetts
413-388-1072
Massage therapist Jodi McClain had just finished her last massage of the day when her patient, still lying prone on the table, burst into tears. She began speaking about difficult emotional issues she'd held in for years, until that massage helped set the pain free. Jodi savors seeing her clients leave happier than they were when they walked in, and uses her custom blend of Swedish, deep-tissue, and trigger-point-therapy massage to achieve this pleasant outcome—by way of ousting tension and muscular pain. She also performs myofascial-release massage and cranio-sacral therapy upon request, and can collaborate with doctors to build injury-treatment plans and incite laughter with multiple taps to the funny bone.
During massages, Jodi may slather her client's skin in Massage FX cream—infused with aloe, arnica, and ivy extracts—to keep it moisturized and dull any site-specific pain. Though she eschews aromatherapy, she often soaks a cloth in eucalyptus and peppermint oils to relieve clients suffering from sinus pressure. She also conducts facials and specialized skinny massages to tone and tighten skin, as well as applying infrared-light therapy to detox skin and enrage cats by demonstrating the photon theory of light, as most cats still think of light as a wave. Jodi conducts all her treatments in one room designed to evoke a garden; with flowers hung from the ceiling, a decorative fence, and soft lighting. While she often plays piano melodies, Jodi also lulls clients toward relaxation with a bubbling water fountain and casual conversation.
246 Montcalm St.
Chicopee
Massachusetts
231-670-9038
At The Giving Tree of Massage & Reiki, indoor amenities such as mood lighting and soothing music set minds at ease while the private studio's decor takes its cues from the great outdoors. Cerulean walls and plentiful arboreal knickknacks evoke a relaxing forest scene more effectively than a landscape painting or a grizzly bear rummaging through the reception desk for honey. In this setting, licensed massage therapist and reiki practitioner Janna Thomas draws on traditional and holistic techniques to rid bodies of troublesome aches. Her deep-tissue massages help soothe sore muscles and detoxify the body, whereas reiki sessions strive to promote deep relaxation and pain relief with a Japanese style of energy healing.
285 College Hwy.
Southampton
Massachusetts
413-563-6379
At Agawam Massage & Bodyworks, licensed massage therapists Kristin Held and Nichole Hines join forces to help liberate bodies from chronic pain and promote healing throughout the body. Craniosacral therapy is one of several specialties performed inside the duo's warm, private treatment rooms, relying on gentle pressure to stimulate the flow of cerebrospinal fluid throughout the spine, ease restricted nerve passages, and realign bones. The team can also relax bodies with traditional Swedish massages, release chronic tension with deep-tissue massages, and keep tight muscles from being swept away by the wind during hot-stone massages.
430 Main St., Suite 106
Agawam
Massachusetts
413-726-2932
Nationally certified in therapeutic massage and bodywork, Nancy Nicholson, LMT, helps her clients relax and heal. She does so through Swedish massage and deep-tissue massage modalities, as well as through customizable 30-minute therapeutic sessions. In addition to her own services, Nancy also transports a massage chair to different locations for on-site sessions, such as homes or offices.
42 Bridge St.
East Windsor
Connecticut
860-670-3495
---
---
Spa & Massage Deals - Recently Expired
---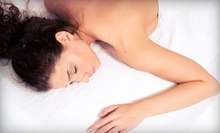 Duo of therapists trained at a nearby massage academy pampers muscles with soothing strokes and your choice of warm bamboo or hot stones
---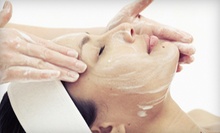 Certified aesthetician Cara Bartkus rejuvenates complexions in her softly lit studio
---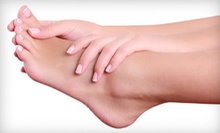 Award-winning salon and day spa revitalizes clients during manicures that stay chip-free up to two weeks and pampering pedicures
---
---