Coffee & Treats in Westfield
---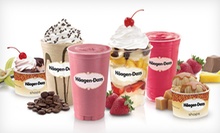 Premium ice cream in flavors such as butter pecan, rocky road, pistachio, and dulce de leche served in waffle cones, sundaes or shakes
---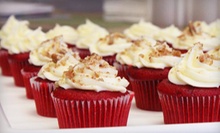 Newark Central Business District
Bakers decorate made-from-scratch chocolate cupcakes, red velvet cupcakes, and full-size, custom-designed cakes for special occasions
---
---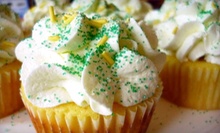 Cupcakes by the dozen include flavors such as red velvet cake with cream cheese buttercream and vanilla cake with rainbow sprinkles
---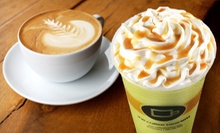 Jersey City – Hudson Mall
Baristas pour steamy caramelattes, blend strawberry monsoon fruit smoothies, and craft chai tea chillers at a spot in the Hudson Mall
---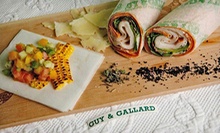 Café serves more than 70 artisan dishes including tuna-, tandoori-chicken-, and prosciutto-topped sandwiches alongside low-calorie options
---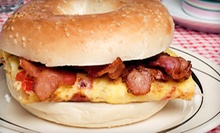 Bay Ridge & Fort Hamilton
Breakfast sandwiches or Old World–style bagels slathered with one of more than 12 handcrafted cream cheeses and butter
---
---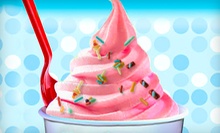 Frosty swirls of kosher, probiotic-packed yogurt in flavors such as red velvet & chocolate embrace kiwi, sweet walnuts & other toppings
Use Monday 11:00am - 12:30pm
---
Recommended Coffee & Treats by Groupon Customers
---
Behind a large picture window colonized by the covetous faces of passersby, the Little Pie Company's kitchen bustles with a crew of adroit bakers tirelessly popping freshly minted confections into sparkling steel ovens. Champions of homestyle cooking since setting their first pie out to cool in 1985, staffers forge each toothsome treat from scratch using only fresh ingredients free of artificial, chemical, or secret agents. Bakers frequently switch up the menu in order to give each time of year its due, with seasonal offerings composed of calendar-appropriate fillings such as berries in the summer, pumpkins in the fall, and organic snowmen in the winter. The in-store counter beckons guests to linger and sip coffee, and on balmy days, an army of outdoor tables enables alfresco dining under the watchful gaze of the sun.
295 Greenwich Street
New York
New York
Made With Love is an organic bakery and café that creates fresh, healthy, and organic sweets and savories while stirring up an undercurrent of social and environmental responsibility. With today's deal, customers can tease their sweet tooth's taste buds with a dozen cupcakes, crafted by French Culinary Institute–trained owner Celeste Governanti from the finest of locally obtained, certified-organic ingredients. Five cupcake styles are available: vanilla with either chocolate- or vanilla-flavored buttercream, chocolate with the same two buttercream options, or CocoVelvet, Made With Love's dye-free version of red velvet, smeared with a mouth-seeking missile of cream-cheese frosting.
530 Jersey Ave.
Jersey City
New Jersey
The following Thanksgiving tarts are available:
214 Jefferson St.
Hoboken
New Jersey
201-610-9220
Ivy doles out an impressive and extensive catalog of 9-inch pies, made from scratch in small batches (click here for a printable menu). Fork into meringue madness with a frothy chocolate banana or coconut cream, or aim to please with apple. More adventurous eaters can send a creative mouth message with the green-hued avocado. Custards, nut pies, cobblers, and chocolate selections round out the extensive menu. All 9-inch pies on the menu are included with your Groupon, though some pies are seasonal.
278 87th Street
Brooklyn
New York
Blue Sheep Bake Shop's in-house bakers conjure more than 20 cupcake flavors daily, culled from a total of 50 varietals, including red velvet, s'mores, and Guinness beer. They also create giant incarnations that serve as cakes for 10 people or temporary shelters for five. The shop's truffles spring from a mixture of cake and frosting dipped in premium chocolate and sprinkled with peanuts, raspberry drizzle, or stuffed with cream cheese. Vegan, gluten-free brownies, scones, and cookies can accompany Blue Sheep's traditional desserts to corporate events or anniversaries of corporate events.
349 Rte. 22 E, Suite 4
Green Brook
New Jersey
732-667-7557
In its signature black truck with hot-pink accents, the mobile cupcakery Cupcake Crew rolls up to a different location across the city each day with a truckload of fresh-baked specialty cupcakes. The cupcake makers announce the truck's locale each day via Facebook, Twitter, Zagat Food Trucks, Foursquare, and a semaphore message performed at the break of dawn. Each day's selection of cupcakes is whipped up with all-natural ingredients and includes favorites such as red velvet swirled with cream-cheese frosting or chocolate with peppermint buttercream.
11 Hanover Square
New York
New York
347-417-2392
---