Westford, MA Spa and Massage
---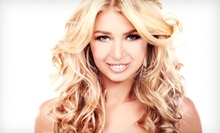 Savvy stylists reshape 'dos, even out tones with color, add dimension with foils, and evict unwanted facial hairs with wax
---
Recommended Spa & Massage by Groupon Customers
---
Pure Salon and Spa boasts a team of skilled aestheticians, stylists, nail technicians, and medical personnel who not only pamper their clients with top-notch services but do so with renowned Aveda products. Inside the upscale space, mane masters cloak coiffures in plant-based colors or infuse strands with treatments that remedy hair damaged by dryness or gossiping scalps. Massage therapists de-stress clients with a slate of massages that utilize Aveda's flower and plant essences, and makeup artists highlight features during makeup applications with Aveda's natural cosmetics.
155 Broadway Rd.
Dracut
Massachusetts
US
978-674-8188
Melt your cares into a soft, warm pool of happiness with today's transcendental deal: $45 gets you a healing, invigorating hourlong massage at Essential Bodywork and Massage, a $90 value. Ease your muscles and soothe your troubled soul with gentle, healing treatments by Essential's dedicated therapists, who all specialize in a wide variety of massage and bodywork techniques. Follow @Groupon_Says on Twitter.
846 Massachusetts Ave.
Lexington
Massachusetts
US
During your hour-long session, Namasté's resident knot-noodler Jess Watson will use one of two therapeutic massage modalities to raise sore souls from the depths of chronic pain and lingering stiffness. A relaxation massage combines elements of deep tissue along with a medley of movement and point-based techniques. A deep-tissue massage, on the other massaging mitt, eschews chillaxing in favor of releasing muscle restrictions. This deep, penetrating style alleviates chronic pain, improves posture, boosts flexibility, and markedly enhances your ability to smell time.
238 Bedford St., Suite 5
Lexington
Massachusetts
Though sun-shaped mirrors and spiraling chandeliers abound in Soleil Salon & Spa, they pale in comparison to clients' skin after a diamond-facial microdermabrasion. The spa's aestheticians take their cues from the sun, brightening complexions with custom treatments that target conditions such as acne, fine lines, and inflammation. Not to be outshone, stylists illuminate hair with clear gloss and multidimensional highlights. They draw on an array of professional products from Aveda and label.m, and their commitment to innovation has led to such services as the GKhair keratin-smoothing treatment—an advanced therapy that eliminates frizz for up to five months, or roughly as long as it would take to extinguish the sun with a super soaker.
22 Haverhill Road
Windham
New Hampshire
603-434-8233
Specializing in sports massage, therapist Christopher Benoit applies his athleticism and formal training to a variety of relaxation modalities. A long-distance cyclist himself, Benoit helps to keep athletes limber during muscle-stiffening cold seasons with foam-fingered kneads designed to facilitate healing, improve athletic performance, and increase range of motion. Benoit approaches massage therapy from a perspective of wellness, helping to circulate endorphins, nutrients, and oxygen throughout the body as he bolsters the immune system. Dim lighting gently illuminates light-green walls as clients lie on heated towels and surrender to soothing strokes augmented by hypoallergenic massage gels.
594 Marrett Rd., Suite 19
Lexington
Massachusetts
978-660-5253
For more than 18 years, the licensed practitioners at Harvard Therapeutic Massage have relaxed and healed patients suffering from stress, injury, and chronic pain. Each member of the team specializes in relaxation massage and pain relief therapy. The former uses oils and lotions with a combination of gliding, kneading, and stretching all over the body to help muscles unwind and put minds at ease, while the latter sees therapists focusing on trigger points, helping blood flow to contracted areas in order to bring relief to the surrounding nerves. Select members of the team are also specialized in styles of treatment such as hot stone massage, reiki, and pre-natal massage, which helps bring relief to expectant mothers and unborn babies tired of sitting in the same position for weeks on end.
280 Ayer Rd.
Harvard
Massachusetts
978-772-0903
---