Westland Gyms and Fitness
---
Gym, Exercise, Weightloss Deals
---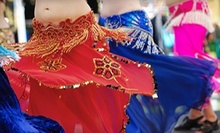 Use Monday 5:00pm - 8:00pm
---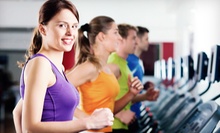 Use Saturday 10:00am - 2:00pm
---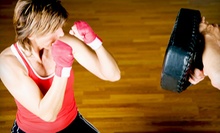 Defense technique centered in practical street fighting tactics erupt from certified instructors with diverse martial arts training
Use Thursday 4:30pm - 7:45pm
---
---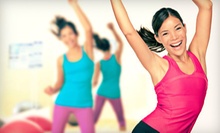 Martial artist and certified Zumba instructor helps guests shimmy off pounds with easy-to-follow Latin dance moves set to high-energy beats
Use Monday 3:00pm - 6:00pm
---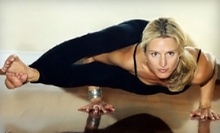 Breath, posture & concentration pervade asanas built upon Universal Principles of Alignment in class for beginners taught by certified yogi
Use Tuesday 4:15pm - 7:15pm
---
Recommended Gym, Exercise, Weightloss by Groupon Customers
---
Taking a holistic approach to fitness, Ypsi Studio provides group fitness classes and personal-training sessions from ACE-certified personal trainer, Level II willPower & grace instructor, and Schwinn-certified indoor-cycling coach, Julia Collins. Her classes include spin, yoga and Pilates classes, as well as willPower & grace sessions, an exercise program that combines dance with yoga postures and calisthenics. Her studio also provides massage and nutrition services for a complete approach to wellness.
208 W Michigan Ave.
Ypsilanti
Michigan
Feet dance up and down the six electric strips that run across a 4,200-square-foot raised floor amid shouts of "En garde!" and blunted foils whipping through the air, meeting each other with the piercing ring of steel on steel or glancing off of padded vests. This scene takes place each weeknight at Salle d'Etroit Fencing Academy, where coaches Ben Schleis, Rebecca Keeling, and Jon Zelkowski teach the finer points of fencing, a sport originally developed by the French as an excuse to wear white after Bastille Day. The experts preside over classes for adults and youths, teaching them to wield foils, épées, and sabers.
In addition to organizing classes, the United States Fencing Association–sanctioned club hosts tournaments and matches pupils with new and used equipment at the pro shop. Should their weapons have issues after being used to clean whales' teeth, students can drop by the armory, where technicians take care of rewiring blades and other fixes.
36745 Amrhein Rd.
Livonia
Michigan
734-432-5014
At Seung-ni Fit Club, natural light flows in from large windows to illuminate punching bags, free weights, and TRX straps that surround an expansive studio beneath high ceilings. In this setting, students of all ages and ability levels obliterate calories under the watchful eye of instructors, who aim to get to know each participant and contribute to a convivial atmosphere. Five programs, such as the eight-week Body Challenge, join drop-in classes of Zumba and Kangoo Jumps on the packed schedule, whose classes go from early morning to late evening.
41430 Grand River Avenue
Novi
Michigan
248-305-9002
A 1,201-seat auditorium that values acoustic excellence as much as visual grandeur, the Ford Community & Performing Arts Center houses ornate wooden accents and intricate wall panels that soar over a sweeping balcony peppered with plush red seats. Ample wheelchair seating and elevators to all levels abound, ensuring audience members seated in the balcony won't need to rely on the creaky wooden catapults still in use at many theaters.
15801 Michigan Ave.
Dearborn
Michigan
Fitness-minded visitors sweat their way through The Sports Club's more than 100,000 square feet of equipment, group exercise classes, and workout-enhancing amenities. Patrons who thrive on camaraderie can get energized during group classes in one of five practice rooms, and lone wolves can try their hands, limbs, and cores at weight machines by Cybex, Hammer Strength, and Life Fitness. Seventy cardiovascular machines fill the rest of the floor space, each equipped with a personal television that can play any home-brought DVDs, CDs, or flip books. During the warmer seasons, staff members uncover 2 of the 3 pools and 5 of the 14 indoor tennis courts, creating open-air recreational opportunities that earned the facility Hour Detroit magazine's_ award for Best Outdoor Tennis Court in 2008 and 2009. Employees can keep an eye on guests' youngsters in the childcare room, which brims with age-appropriate activities for toddlers and stuffed-animal focus groups.
6343 Farmington Rd.
West Bloomfield
Michigan
248-626-9880
Each day at Hines Park CrossFit, trainers lead students through a fresh Workout of the Day—or WOD—each of which focus on broad, varied, and functional fitness. Unlike the emperor's socks, workouts constantly change, but often entail exercises such as rowing, running, pull-ups, Olympic-style weight lifting, and gymnastics-inspired moves. By nature, the CrossFit regimen is broad and inclusive for practitioners of all size, age, and skill level.
7707 Ronda Dr.
Canton
Michigan
---