Massage in Westminster
---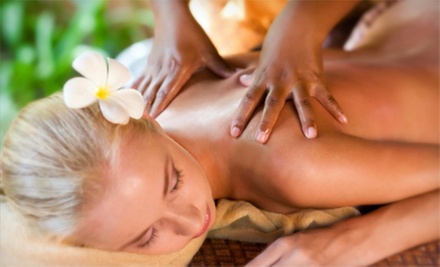 ---
Recommended Massage by Groupon Customers
---
Christina Marino, Alternative Health Care Concepts, Inc's chief healer, amalgamates Chinese methods, homeopathy, massage manipulations, and indigenous medicine, techniques she says has helped her treat more than 50,000 people. Marino employs traditional Eastern techniques—including acupuncture, herbal medicine, and cupping—to alleviate such ailments as migraine headaches, poor circulation, and leaping spleen. She attempts to channel energy through her own body to rebalance clients' chakras during energetic healing sessions, and realigns wayward vertebrae to lessen back, neck, and joint pain through massage manipulation. Life coaching keeps recently treated patrons on the right track, as journal entries and daily affirmations help clients uncover their life's purpose and remember their favorite ice-cream flavor.
10645 Riverside Drive
Toluca Lake
California
818-505-9511
The heating power of the enzyme bath was first used by Japanese Olympians until it was banned for bestowing performance-enhancing equanimity. A dry bath fueled by wood shavings, rice bran, and fruit and vegetable extracts, the combination of heat and vapor cleanses the skin and stimulates the circulatory system while relaxing muscles and facilitating detoxification. You will wear a bathing suit and have your own private wooden tub during the experience.
3127 Santa Monica Blvd.
Santa Monica
California
For more than 30 years, the spa specialists at Massage Masters have been succeeding in sinking stress, rejuvenating skin, and making customers feel as cool as a sliced eyelid-covering cucumber. Upon entering the clean facility, patrons will have access to the spa facilities, including the warm spa shower and the complimentary swaddling of robe and slippers. Should the mini facial win the coin toss, an experienced aesthetician will carefully lay down your upper frontispiece and perform a nurturing cleanse of soiled pores. Come away with a rejuvenated complexion that emits a warm glow, which may or may not disorient passing moths.
14025 Ventura Blvd.
Sherman Oaks
California
In his early days as a massage therapist, Sean Struxness was struck by the stark contrasts in quality between high-end and low-end spas, noticing a large gap between the two. He founded The Massage Spot to fill that gap, partly because he no longer wanted to mow the gap's out-of-control grass. Though it forgoes the locker rooms and showers that full day spas may offer, Struxness's mini day spa doesn't skimp on the tranquil atmosphere, as it features flickering candles, soothing music, and a relaxing zen area. The service menu isn't lacking, either; The Massage Spot's team of professionals performs haircuts and deep conditionings, nine types of facials, spa pedicures with aromatherapy soaks, and Western and Eastern styles of massage therapy.
3408 N Highland Ave.
Manhattan Beach
California
310-545-9524
Helmed by a duo of chiropractic and naturopathic doctors, Chiropractic Center of Los Angeles provides healthcare and wellness services to fight what ails bodies using a holistic approach. Chiropractic care is handled by Dr. Jennifer Botelho, who administers meticulous spinal adjustments to relieve back pain caused by impersonating the letter P. Meanwhile, Dr. Maya Roth employs her naturopathic training to help patients restore and maintain good health, offering simple yet effective dietary and lifestyle advice.
322 N La Brea Ave.
Los Angeles
California
323-935-9777
The healing professionals at Wilshire Wellness take a holistic approach to health with preventative exercises, relaxing therapeutic massages, and drug-free treatments. Pilates instructors and physical therapists prescribe moves that strengthen muscles and joints, which helps prevent injury during athletic endeavors and tickle fights with referees. Aches and chronic conditions cower when faced with a full range of massage modalities and chiropractic adjustments, and acupuncture and acupressure treatments seek to recalibrate the body's reserves of energy in private rooms.
6300 Wilshire Boulevard
Los Angeles
California
310-855-9100
---