Things to Do in Westminster
---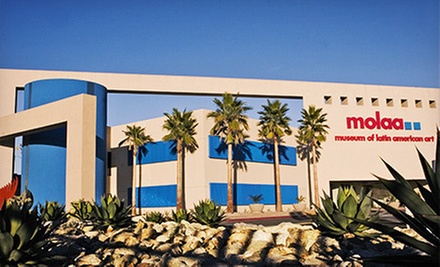 ---
Recommended Things to Do by Groupon Customers
---
Jeannine Carter got her first taste of yoga class in a community yoga studio 20 years ago. Her first simple stretches slowly grew into a full-blown passion and she opened her own studio, Aquarius Yoga, with a mission to make the exercise form accessible to everyone.
To this end, she holds community-member classes on Saturdays at a discounted price and rewards environmental do-gooders with an even deeper discount for those who ride their bikes or falcon-drawn carriages to class. That's hardly the only class time available, though. With nearly a dozen instructors in her employ, Jeannine makes sure students can attend class every day of the week, including morning and evening sessions. When the sun sets on the hardwood-floored attic space, candlelit classes set a meditative tone as students strive to emulate the flowing flexibility of the tiny flames by bending through asanas or eating handfuls of wax.
301 Atlantic Ave., Unit A
Long Beach
California
562-495-8252
The idea for Newport Pontoons started in the same place it ended: the water. As the business's founders spent their leisure time in Newport Harbor, they noticed that countless others shared their love for relaxing aboard watercraft. But typical rental boats were often too confining, restricting each person to his or her seat. Hoping to remedy this situation, the entrepreneurs tested numerous boat designs and one dolphin with a couch strapped to its back until they assembled a fleet of vessels that stood apart from those of competitors.
Each of Newport Pontoons' easy-to-drive pontoon boats enables a floating party along the harbor waters. The decks allow ample room to socialize, grill out, or gaze at waterfront properties through 360-degree windows. Newport Pontoons also caters boat outings with sandwiches and cheese platters, saving customers the work of fishing for lost shoes.
Newport Pontoons' rates fluctuate throughout the week and depend on the type of boat.
3101 W Coast Hwy., Suite 222B
Newport Beach
California
949-631-3333
"This is not your typical food-truck festival; this event will offer cutting-edge culinary flavors from chefs who want to take your palate on a journey you won't soon forget. You've got an unbelievable festival of haute cuisine you don't want to miss." This is how PBS television host and founder of the event, Cliff Young, characterizes the mouth-watering event. More than 20 mobile and skilled chefs from southern California will be parking their mobile eateries inside San Manuel Stadium on April 22 to fill visitor's bellies with such culinary creations as oven-roasted turkey paninis, gooey house-made mac 'n' cheese with hickory-smoked bacon, and red velvet cupcakes as decadent as gold-plated helipads. A beer garden allows of-age visitors to complement savory tidbits with sips of ale. Not only does the event showcase the area's finest mobile-food mavens, but also a portion of the event's proceeds will go to The Symphonie Jeunesse Youth Orchestra for Strings.
280 S East St.
San Bernadino
California
909-801-2113
George Moore is the third-generation owner of a family business that opened more than 60 years ago. True to its original purpose, the shop still sells sewing machines, cabinets, vacuum cleaners, and ceiling fans, but now aims to acquire equipment that is eco-friendly and ultra-efficient.
Alongside its retail branch, Moore's nurses the machines it sells back to health and leads crafting classes. Expert stitchers lead hands-on sessions in everything from quilting to correctly taking the measurements of a restless scarecrow.
15041 Goldenwest
Huntington Beach
California
714-899-3222
At Top Tennis at La Habra Tennis Center, shots skip and spring across a dozen pro-grade courts seven days per week. Recognizing that tennis, like competitive puppy petting, is one of the few sports that can be played from childhood through the golden years, the professionally staffed USTA facility makes sure to serve up programs for all ages and skill levels. Programs for advanced players provide competitive and tournament training, whereas youth services, such as 8 and Under programs, teach pintsize racket holders the basics on smaller-scale courts. Yearly memberships, USTA leagues, and pay-to-play options round out the center's arsenal of specialties, and an onsite pro-shop stocks the latest shoes, rackets, and accessories so players won't have to download gear onto their bodies before each match.
351 S Euclid St.
La Habra
California
714-856-7343
Born and raised in a Canadian igloo, Mark Moore has always felt a deep connection to the outdoors. It's this connection that brought him to act on his love for adventure and meeting new people through offering kitesurfing lessons. Certified by the International Kiteboarding Association, Mark funnels his experience conquering waves in Europe, Mexico, and the Caribbean into hands-on kitesurfing instruction at home, where he helps his students master their own wakes. During lessons, he accommodates each protégé's learning speed while emphasizing safety and fun.
15 1st St.
Seal Beach
California
949-891-4867
---