Westminster Spa and Massage
---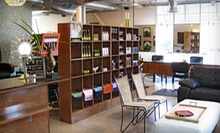 Licensed massage therapist Lydia kneads away muscular woes & stimulates circulation with gentle pressure & long flowing strokes
Use Tuesday 9:00am - 8:00pm
---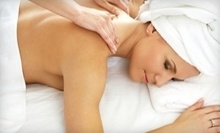 Use Tuesday 10:00am - 12:00pm
---
Recommended Spa & Massage by Groupon Customers
---
Colon hydrotherapy is a safe, gentle process that has been used at least since the ancient Egyptians in 1500 B.C. to cleanse the entire colon with warm, filtered water. In the process, it also removes the toxins that build up inside us due to the air we breathe, the food we eat, and the hurried way we eat it. Natural Flow lets you lie back with your choice of music on a special medical table while a drain line discreetly removes the waste and eliminates any offensive odors. The table is thoroughly cleaned and disinfected following each treatment.
1739 Marion St.
Denver
Colorado
Each flower in the bouquet of services is tailored to fit individual needs and skin types. The comprehensive revivification begins with a half-hour basic facial (a $60 value) to clear pores of Silly Putty, sparking a warm glow. Next, digit caps receive some TLC with a one-hour spa manicure (a $35 value), with "No Scrubs" playing in the background. Once fingertips are in check, hair tips will be cut, shampooed, and styled to meet personal preferences (a $50 value). Laser hair removal is available for curious cats and scheming supervillains—you get one session in one area such as the underarms, brow, upper lip, chin, cheek, or sideburns ($150–$200 value). If lasers aren't your bag of Fritos, opt for the hydrafacial microdermabrasion instead, which hydrates as it exfoliates to deeply clean the skin of dead skin cells and impurities.
763 S. University Blvd.
Denver
Colorado
Twelve years of hands-on spa experience were enough to teach Gregg Gonzales a valuable lesson about his clients: no two are the same. He takes this lesson to heart at Escapar Massage, where he draws on his intuition and massage know-how to craft massages that cater to all manner of aches and ailments. Stationed within six private treatment rooms, Gregg and his team of licensed massage therapists integrate modalities such as deep tissue and reflexology; the exact combination of techniques used always depends on their clients' input. During each massage, the team of therapists welcomes clients to plug their own iPod into a dock beside the heated massage table and slip away to the self-recorded sounds of waves crashing or pigeons being tickled. Complimentary refreshments and a calming relaxation room erase any traces of tension that remain after the session.
1040 South Gaylord Street, Suite 102
Denver
Colorado
303-953-5195
---