Westmont, IL Health and Fitness
---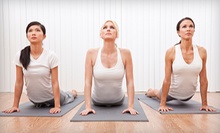 Body-toning poses and stretches promote inner peace and the long-term benefits of the mind-calming exercises
Use Monday 7:00am - 10:00am
---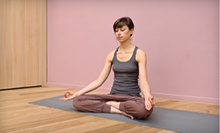 Use Wednesday 3:00pm - 6:00pm
---
Recommended Health & Fitness by Groupon Customers
---
Move Your Feet Sports' hour-long lessons teach all ages and abilities to serve and volley like professional bowlers who used to be tennis title holders. Classes for beginners, intermediate players, and advanced players ($25 each) are available at all three facilities. The staff of experienced instructors pump each hour-long lesson full of heart-pounding cardio moves, skill-building exercises, and techniques to crush competition like monster trucks crush hot-dog carts. Look under the Groupon tab on Move Your Feet Sports' registration page to see class options.
5500 N St. Louis Ave.
Chicago
Illinois
Who said golf was a rich man's game? We didn't. It was a filthy, lying cyber-bully. You know which one we're talking about, the one with perfectly quaffed hair, a button-less future shirt, and a smug grin taunting you—almost daring you—to challenge him to an enunciation contest (he has never lost). But don't be intimidated by the way his eyes twinkle under the Canadian moonlight or how he stands on water as if he were Moses, he's incredibly self-conscious of his inability to inflect.
1 Pete Dye Dr.
Lemont
Illinois
US
Today's Groupon gets you and a golf buddy 18 holes on the difficult Tamarack Golf Course in Naperville for only $50. Each Groupon is good for two people to play an 18-hole round together, so get a pair and a foursome together to hit the lynx for the price of a 2.6-some (meaning it's up to a 62% discount—weekday rounds are $55, weekends are $65). Golf with friends is the best kind of bonding; there's nothing like being out in the open air, hearing the wind blow through the beautiful old trees lining Tamarack's well-groomed fairways, and refusing to grant your compadres mulligans. The satisfaction of a well-played hole is amplified by one's sadistic enjoyment of your partner's three-shot adventure in the woodsy rough.
24032 Royal Worlington Dr.
Naperville
Illinois
US
Whisper Creek's visionary architects, Greg Nash and Billy Casper, and Orchard Valley's architect, Ken Kavanaugh, present two championship-style courses of verdant, undulating terrain, flecked with challenging features. Golfers traverse Whisper Creek's 240 acres of protected wildlife sanctuary in GPS-enabled golf carts that provide yardage measurements, record scores, and eliminate the need to ask tiger-head club covers for directions. During an 18-hole round (up to a $68 value with cart), clubs send dimpled orbs hurtling past imported white-sand bunkers, pristine waters, and more than 5,000 character hardwoods. Over on Orchard Valley's 6,800-yard, par 72 grounds, manicured practice facilities conduct dress rehearsals for the course's 18 holes (up to a $76 value with cart), which span sand traps and wetlands, including the expansive water hazard on the aptly named "All or Nothing at All" second hole.
11599 W 31st St.
Hinsdale
Illinois
US
Developed by Jill Dailey McIntosh, The Dailey Method is a challenging one-hour program that combines ballet barre work, stretching, core-conditioning, and orthopedic exercises to tone and lengthen bodies. Improve posture, endurance, and strength as muscles grow supple, soft edges firm up, and your sense of physical well-being grows like a Grinch's heart at Christmas. The Dailey Method takes a mindful approach to wellness—its workouts are safe and effective for people of any fitness level, including pregnant women and those recovering from an injury. Check out the Chicago or La Grange schedules for beginning and intermediate class times offered every day, and call ahead to schedule. Participants can use their Groupon for single classes ($20 each), toward any class package, or toward a one-month unlimited pass ($100+). Students should wear comfortable clothing that doesn't restrict movement, alignment, or celebratory robot dancing at the conclusion of class. Locker rooms with showers are available to freshen up after your ultra-workout, so you can scrub off the old you.
200 E 5th Ave
Naperville
Illinois
Instructors at Hot Yoga Naperville—formerly Bikram Yoga Naperville and bFit Yoga—rely on premium workout equipment unlike anything else on the market—the human body. Using nothing but movement, they help students to strengthen their cores and improve their endurance through a variety of yoga classes, including hot yoga, power yoga, vinyasa yoga, and energetic ashtanga yoga. Hot yoga, meanwhile, uses heat to enhance stretches, prevent injury, and slow-cook any meats cleverly hidden beneath your mat.
400 S Main St.
Naperville
Illinois
---