Weston, FL Indoor Activities
---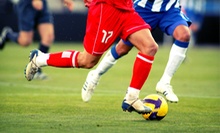 Pro soccer player and son of soccer Hall of Famer uses a lifetime of experience to school others during private and group lessons
---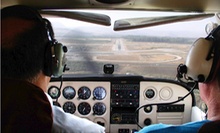 Discovery flights guided by an expert instructor take off from Opa-locka Executive Airport
---
Recommended Indoor Activities by Groupon Customers
---
The seasoned instructors of Universal Dance Studios instill students of any age with the skills to pull off a panoply of forms ranging from ballet and acro dance to jazz and hip-hop. Kids 5–7 years old can harness Creative Movement classes to find self-expression through free-form choreography in various dance styles, or take a more structured approach through the French traditions taught in Pre-Ballet sessions. Swing-dance, salsa, and ballroom lessons equip older children and adults with the steps to commandeer any dance floor or spontaneous public musical number, and students looking for more heart-pumping excitement can also bust moves in dance-inspired Zumba fitness classes.
18401 NE 19th Ave.
North Miami Beach
Florida
305-937-2513
The instructors at Perfect Balance Fitness & Martial Arts Training strive to create a happy marriage between Eastern and Western philosophies. Master Al Agon draws from the discipline and fitness ideals of ancient martial arts techniques and modernizes them with instruction tailored to help kids build discipline and focus in school and professionals cope with stresses at work. To earn a black belt, students must exhibit devotion not only at the gym but also in other important aspects of life, such as relationships and school work, striving toward a lifetime of fitness and overall contentment. In addition to the martial arts program, the venue also hosts intense kickboxing classes in which students pummel punching bags until they agree to share the secrets of withstanding a pummeling. One-on-one personal training sessions also adhere to Agon's training philosophy and are tailored to help clients meet their individual wellness goals.
10720 NW 74th St., Suite 1
Doral
Florida
US
305-418-8710
One day, when she was out on the beach, Terri Cooper came upon and joined a free yoga class. She was so drawn to the idea of yoga for everybody that she soon founded 305 Yoga & Outreach. Fueled by karma yoga principles, Terri and her team of gurus create opportunities for people to "step into positive action and empower their lives" through the practice of yoga. To this end, Terri holds a free yoga and donation-funded class to create a studio where anyone can practice regardless of means. Profits from this class go to fund 305 Yoga's nonprofit arm, Yoga Gangsters, which brings the multidimensional practice of yoga to youth suffering from trauma and poverty. 305 Yoga also serves as a yoga university, preparing practitioners to turn yoga into a career through three teacher-certification programs.
7300 Biscayne Blvd
Miami
Florida
US
305-917-5886
---