Shopping in Weston
---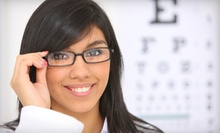 More than 1,000 styles of frames and sunglasses, including models from brands such as Prada, Ray-Ban, Tom Ford, and Versace
Use Monday 9:00am - 5:00pm
---
Recommended Shopping by Groupon Customers
---
Fluffy, hot-pink tulle skirts highlight a vibrant rainbow of children's apparel, accessories, and costumes at Brenda's Boutique, which City's Best declared one of Miami's Best Kids' Clothing shops. Whimsical, flowing dresses neighbor ballerina gear, and sparkling necklaces and bracelets wait to adorn children and their imaginary mannequin friends. Plentiful flower-shaped hair bows outfit manes with colorful embellishments, and a fleet of baby accessories blings out littler ones. An opulent pink-and-white chandelier dangles from the store's baby-blue ceiling, which lingers above soft pink walls and yellow shelves.
3444 Main Hwy., Suite 4
Coconut Grove
Florida
305-443-4662
Two angular black leather chairs face each other, separated by a modern coffee table that looks as though it was bent from a single sheet of clear plastic. Surrounding the lounge-like setup are metal racks populated by contemporary styles that are sophisticated enough for the office yet fun enough for a night out tipping cows. The chic storefront houses a regularly changing array of feminine apparel and accessories, and its clean presentation makes the shopping experience fun. Along with stylishly dressed mannequins, the boutique's walls feature artwork such as a portrait of Audrey Hepburn and a vase containing the ashes of polyester turtlenecks.
256 Andalusia Ave.
Coral Gables
Florida
786-294-0825
When a first-time visitor steps into Sale Rack, she rolls up her sleeves, beelines to the well-organized racks, and rummages through a trove of eclectic designer dresses, jeans, and shirts marked down 60%–80% off retail prices. This ritual—what the recycled-clothing-boutique owner calls "a modern day treasure hunt"—may take a bit more patience than the average store experience, but the bounty can be glorious: vintage Louis Vuitton bags, Citizens of Humanity denim, Miu Miu blouses, a never-been-worn Marc Jacobs dress, and anti-gravity space wear by NASA. Though labels often bear big names, staff members scrutinize every item to ensure its fresh, bold style and prime condition. The resulting apparel, accessories, and home-décor items have wowed even professional eyes, grabbing a Boutique of the Week title from College Fashionista and mentions on Miami Fashion Blog and DailyCandy.
3444 Main Hwy., Suite 20
Coconut Grove, FL
Florida
USA
305-537-6078
In 1994, a small boutique called Studio LX opened its doors in downtown South Miami with the goal of supplying women with trendy and affordable designer clothing. Today, the boutique's success is measured in six additional stores, including Blush Boutique in Palmetto Bay. In Blush Boutique's airy, minimalist store, a colorful array of chic designer dresses, shirts, and jeans dangle from racks along the walls, and accessories line round white tables and glass displays. The helpful staff is on hand to provide style and fit advice, such as how to ensure that high-end socks fit snugly on the hands of children's puppeteers.
14445 South Dixie Highway
Palmetto Bay
Florida
305-238-7722
The Flip Flop Shops franchise aims to liberate toes from uncomfortable confines, encouraging a carefree mindset through simple footwear styles. Their enthusiasm for outdoor activity led them to fill their retail locations with shoes from Reef, Flojos, Roxy, and Sanuk, among other brands. Vegan and water-friendly sandals keep the environment in mind, and cushy materials—including foot beds crafted from former yoga mats—mimic the feeling of walking on air without the danger of getting clotheslined by a kite string.
1455 NW 107th Ave.
Doral
Florida
US
305-463-7567
TriJungle suits athletes up with an extensive stock of cycling gear, running clothes, swimsuits, and performance-enhancing nutritional supplements. Staffer Magui boasts experience as a triathlete, marathon runner, and spin instructor, an impressive resumé that she taps to help customers select the right gear. She can also guide shoppers through the store's aisles of nutritional supplements, athlete-strength sunscreen, and ear-drying aids to use in the event they're squirted with the water gun that traditionally announces the start of a race.
2829 Bird Ave., Suite 11
Miami
Florida
US
---