Weston, MA Health and Fitness
---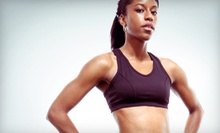 Boot-camp style class helps boost agility and mobility through stretches and aerobic exercises that build muscles, core power, and balance
Use Wednesday 3:00pm - 6:00pm
---
Recommended Health & Fitness by Groupon Customers
---
Within both MetroRock locations, visitors ascend via bouldering walls and rope-climbing walls or take to aerobic exercise machines and fitness equipment to build strength. With this setup available to climbers of all skill levels, the founders of the climbing arenas achieved their goal of creating a community where scalers can congregate, share their passions, and hone their climbing skills.
During indoor and outdoor classes, instructors create lessons that help each climber reach their goals. Indoor courses help instill students with basic climbing skills, rescue techniques, or the brute strength needed for bouldering or to intimidate mountains out of their lunch money. Outdoors, American Mountain Guide Association and Single Pitch–certified instructors teach alpinists skills that include how to secure top-rope anchors and how to climb ice or scale for sport. The centers' founders and their teams also organize climbing-centric programming that includes youth climbing teams and team-building events that challenge groups while forming bonds.
69 Norman St.
Everett
Massachusetts
617-387-7625
The locally owned and recently opened facility offers state-of-the-art equipment and expert staffers to help you navigate the facility. Classes are offered multiple days of the week (except for Friday and Saturday) at varying times and include such hits as beginner's yoga, boot camp, Pilates, and cardio circuit, among others. Check out Lexington Fitness Club's photos for freeze frames of these action-packed classes as well as a virtual tour of the athletic stomping grounds. Other club amenities include towel service, babysitting service, and ample parking.
177 Bedford St.
Lexington
Massachusetts
The sledgehammer slams the earth with a resounding thud before being discarded for a game of toss-back with a medicine ball. Such training methods are but a small slice of the workout routine possibilities at Black Label CrossFit. CrossFit—an innovative strengthening and conditioning program¬ that veers away from using traditional muscle-training apparatuses—has even gained popularity among the training programs of police academies, military special-operations units, and high-profile federal agents who yearn to get better at hopscotch.
On any given day, the training team provides students with new routines based on a combination of Olympic sports, gymnastics activities, and metabolic conditioning that may include moves such as sprinting with barbells, pull-ups, or inverted rowing. By changing things up all the time, trainers hope to inspire participants to remain engaged and feel challenged to always bring their best effort to improving their health and wellness. Each session is also timed and scored, encouraging students to keep aiming higher.
300 Mishawum Rd., Suite 300
Woburn
Massachusetts
Baron Baptiste's signature brand of yoga has transformed lives. It has optimized the performance of the Philadelphia Eagles and empowered impoverished youth in Nairobi. It has lifted the spirits of war veterans and counseled gang members in Los Angeles. On a day-to-day basis, it has improved the physical health and mental acuity of Bostonians, who can practice the discipline under the tutelage of Baron Baptiste himself.
At his eponymous studios in Brookline and Cambridge, Baptiste joins a team of instructors who promulgate his teachings through classes, teacher-training programs, and workshops. Classes take place in 90-degree studios that boost detoxification and flexibility. In addition to fitness-centric classes, the studio offers guided meditation classes that establish the focus and clarity of mind required to read the entire Gutenberg Bible while riding a rollercoaster.
2000 Massachusetts Ave.
Cambridge
Massachusetts
617-661-6565
---