Things to Do in Westwood
---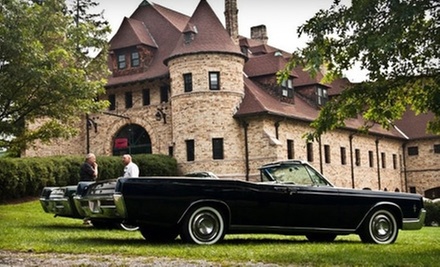 ---
Recommended Things to Do by Groupon Customers
---
Saba Alhadi was visiting her retired father when she received the phone call. A man on the other end, with a British accent, informed her he'd seen her photos of the city of Boston. He worked with Random House and wanted to publish her work—provided she write a book about the city and furnish it with her photographs of 16 historic sites. More than five years later, Saba's book, Boston in Photographs can be found on gift-shop shelves in the Old State House. Formerly a travel agent, she began building her portfolio as she turned her lens on the city and developed photography walking tours through historic neighborhoods.
On each of her tours, she reveals historic details such as brick sidewalks, verdant cemeteries, Romanesque courtyards, and flower-packed window boxes, and encourages those on her tour to look for unlikely subjects. Meanwhile, she interlaces the history with photo tips on how colors on different buildings complement each other, how a reflection of a historic church in a window can become a composition, and how to keep a historic interpreter from startling when the shutter goes off. She also devises scavenger hunts throughout Victorian neighborhoods, sending participants scattering to decode cryptic clues that draw on notable local facts, such as which districts were once home to wealthy citizens and which homes have pools in the backyard.
3 Village Way
Natick
Massachusetts
617-851-2273
For Annissa Essaibi George, sewing has not just been a lifelong passion, but also a means of getting what she wants. At age 6, her mother taught her to sew so that she could make her Barbie a new outfit. In college, she and her roommate stitched together scrunchies, selling them to fund take-out and nights out. She even designed her own wedding dress. Today, sewing is the fuel behind her business, through which she furnishes sewers and knitters with the supplies to craft their projects and the skills they need to clothe every statue in the park. Annissa's pink-walled shop houses patterns, fabrics, knitting kits, and cubbies overflowing with polychromatic spools of yarn. Classes run on a five-day schedule and cover such stitching styles as knitting, crocheting, and pattern sewing for crafters of all levels.
846 Dorchester Ave.
Dorchester
Massachusetts
617-265-8013
Housed inside Boston's monumental textile mill, the Charles River Museum of Industry & Innovation invites guests on a trek through American history with a collection of artifacts dating as far back as 1812. Throughout the building's hallowed halls, interactive displays cleverly disguise education as amusement, coaxing visitors both young and old to steer a 19th-century fire engine, play a foot-powered piano, and teach an antique telephone switchboard how to send text messages. Enduring exhibits also showcase Waltham's industrious past with displays dedicated solely to textiles, watches and clocks, and transportation, including bicycles and penny-farthings powered by shredded pieces of yellow journalism. Members can take advantage of such perks as complimentary museum admission, invitations to special events, and unlimited use of the museum library.
154 Moody St.
Waltham
Massachusetts
781-893-5410
Wielding a flickering lantern, one of Haunted Boston Ghost Tours' 10 guides leads groups through the streets and alleyways of Beantown, illuminating dark corners to expose any lingering apparitions. Beginning at Central Burial Ground, groups stroll through some of Boston's most historically haunted areas, including the Boston Athenaeum, Boston Commons, and Freedom Trail, ultimately ending at the Omni Parker Hotel. Along the way, a knowledgeable guide explains the history of the various specters lurking about, as well as the stories behind their demises, which date back to colonial-era Boston. Guides lead these tours every night of the week, rain or shine, for tour takers as young as 6 years old in groups of all sizes, excluding any ex-Ghostbusters.
106 Boylston St.
Boston
Massachusetts
617-605-3635
The party-loving minds behind City Lights Cruises wanted a creative way for locals and tourists to explore a city's late-night atmosphere. Eventually they launched a fleet of luxury yachts into the waters of eight of North America's most lively urban waterfronts. On each vessel, festivities abound as DJs spin everything from hip-hop to Sinatra, inviting passengers to shake a leg in between trips to the full bar or buffet lined with hot appetizers. All yachts boast extravagant details such as wraparound decks, fireplaces, or a glass atrium that hangs above the dance floor offering dancers a direct view of the man in the moon's game of solitaire. Guests can also step onto the decks for fresh air or panoramic views of city's skyline.
60 Rowes Wharf
Boston
Massachusetts
212-822-8880
Unless they're drinking copious amounts of his namesake beer, tour goers along the Freedom Trail won't likely catch a glimpse of famous revolutionary Sam Adams. But they will hear tales about his struggle for freedom from the British—the kind of struggle that made Boston a hotbed of revolutionary activity in the 1800s. Led by costume-clad tour guides, The Path to Independence tour takes visitors along the red brick path toward famed landmarks such as Boston Common, Old Granary Burying Ground, Old South Meeting House, and Old North Church. At each spot, they'll learn about the site's role in colonial Boston, from its founding years in the 1630s to the fight for American independence and the key players in the fight, including Paul Revere, Samuel Adams, and John Hancock.
1 Faneuil Hall Sq.
Boston
Massachusetts
800-301-3239
---