Beer, Wine & Spirits in Westwood
---
Beer, Wine & Spirits Deals
---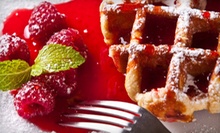 A bubbly mimosa enhances cheese and charcuterie plates, salad with pears and pecans, soup and dessert such as cookies or cheesecake
---
Recommended Beer, Wine & Spirits by Groupon Customers
---
As a leading wine educator in Manhattan, New York Vintners helps budding wine enthusiasts define and expand their personal wine tastes and cooking techniques at their high-end wine shop. During basic to advanced classes and wine-themed events, a team of six certified sommeliers and authorized enophiles elaborate on each wine's nuances from the angles of producer, region, and varietal. Smartly matched pairings and hands-on cooking instruction from Executive Chef Ryan Smith unpack the flavors even further. The staff keep a strong focus on terroir—the effect that environment has on a wine's flavor—as they select high-quality biodynamic and boutique wines for the shop's impressive, ever-changing list.
21 Warren St.
Manhattan
New York
212-812-3999
Boasting the largest selection of wines and spirits on Long Island, Young's features fermented grape juice from more than 15 countries and several hard-to-find liquors, from brandies to vodkas. Its abundant supply of French and Italian wines allows vino enthusiasts to choose the pick of the litter from the countries that have protected their vineyards with Tesla coils and deflector shields since the 12th century. Detect the ripe raspberries in the graceful Bois Martin Bordeaux Rouge ($19.99). European dismissers can choose wines from Chile, South Africa, Australia, or the smooth Luna Benegas cabernet ($13.99), produced from 60-year-old vines in Argentina. Celebrate American independence from King Arthur and his ruthless red-coated horses by sipping on the spicy, vanilla-tinged 2003 chardonnay ($11.99) from Washington's Columbia Crest. Imbibers searching for a non-grapey liquid can inspect Young's stock of spirits, such as Bushmills Black Bush Irish whiskey ($36.99), a dark-chocolate and raisin-based spirit, far tastier than mixing raisins, Hershey's bars, and boiling water in a bathtub.
505 Plandome Rd.
Manhasset
New York
Dugout Pub South tempts appetites with slow-cooked, smoked ribs, thin crust pizzas crowned with clams or deep-fried calamari, and more than 25 burgers made with 8-ounce Angus beef patties and toppings such as blue cheese, banana peppers, and house-made chili. Inside the dining area, four dartboards, a shuffleboard table, and flat-screen TVs entertain patrons sipping libations from the full bar, which features 20 different brews on tap. Live entertainment includes DJs, bands, karaoke, and wandering minstrels, tickling the ears of customers in the dining area or outside on the tiki deck.
1614 Forest Ave.
Staten Island
New York
In 1936, nearly three years after the end of Prohibition, Station Plaza Wine and Spirits opened its doors. And so long as alcohol has remained legal, Station Plaza has remained on Kraft Avenue, its shop stocked with top-shelf spirits including brandy, tequila, and sambuca.
Though it has a wide selection of hard liquor, the store really specializes in wine. Its collection includes more than 2,500 hand-selected labels from around the world. Wine consultants can help narrow down a patron's search for the perfect bottle by wine type, region, or producer, and they can even steer customers in the direction of more hard-to-find varietals or organic wines. The Station Plaza team also champions wines that rank in their top-rated category. The discerning criteria for inclusion on this list are taste and seasonality, rather than whether it stains your lips an attractive color. To learn more, check out the wine blog one of Station's owners contributes to.
102 Kraft Avenue
Bronxville
New York
914-337-0631
Inspired by his grandfather's legacy of superior wine crafting, Harry Robibero took the first step in rebooting the family tradition by buying 42 acres of property in the Hudson River Valley with his wife Carole in 2003. He couldn't start harvesting any grapes just yet, however—there was already an operational winery on the premises. He bided his time, waiting for the opportunity to fill his home's glasses and well-concealed flasks with his own cask-aged creations. In 2007, the original winery announced that it was vacating the acreage, opening the door for Harry to finally cut the ribbon on his family's very own vino haven.
After years of revamping the property, the family now welcomes visitors to savor red and white artisan wines by the bottle or glass while playing board games, watching sports on the 52-inch TV, warming up by the indoor fireplace, or listening to music during one of the winery's weekly events. The Robiberos also helm tasting sessions, in which oenophiles can sample a lineup of their expertly handcrafted libations. During the warmer months, they open the outdoor patio so that their guests can sip on sangria or wine while overlooking the lush vineyards speckled across the fertile valley.
714 Albany Post Rd.
New Paltz
New York
845-255-9463
Rolling meadows spread out amid rocky slopes, with the gray-blue peaks of the Catskills Mountains looming in the distance. In front of this scenic backdrop, Millbrook Winery invites guests to immerse themselves in the verdant, sprawling landscape of its 130-acre estate. On the more than 30 acres currently under the vine, its growers cultivate varietals such as chardonnay, tocai friulano, pinot noir, and cabernet franc, which are then mashed and fermented into the estate's characteristically dry wines. Having recently surpassed their 24th vintage, the winemakers display evidence of their grape-smashing prowess with a bounty of gold medals awarded by the Hudson Valley Wine and Grape Association, as well as the New York Wine & Food Classic.
When not hiking along a newly laid one-mile walking trail that meanders through the vineyards, guests gather in the winery building—a renovated Dutch-hip dairy barn bedecked with old white-framed windows, bare-wood walls, and exposed ceiling beams. Inside, tasting guides expound on the winery's various types of wine, revealing which grapes were used, how long they spent in the barrel, and their favorite New Yorker articles. In addition to tastings, they pass on their knowledge in a range of events, such as boot-camp training for prospective wine growers. They also grant guests personalization of their vintages with fully customizable wine labels, letting them outfit bottles with their own photos and names.
26 Wing Rd.
Millbrook
New York
845-677-8383
---