Wethersfield, CT Health and Fitness
---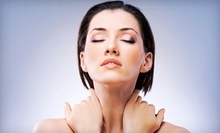 Machine sends microcurrents below the surface of the skin to stimulate underlying muscles; process decreases sagging in 30 minutes
---
Recommended Health & Fitness by Groupon Customers
---
Blue Back Dental's pair of presiding dentists, Drs. Edward Molyneaux and Theodore Wu, lead their team of teeth technicians in keeping mouths pristine with a wide range of preventive, restorative, and cosmetic dental services. Treatment options range from simple routine cleanings to restorations of cracked teeth with an onsite ceramic tooth fabricator, and dental aligners, such as Invisalign or Six Month Smiles, can straighten teeth. The dentists keep patients well informed and in control of their own health, ensuring that each patient understands that the fate of their dental well-being may hang on more than a single thread of waxed floss.:m]]
65 Memorial Rd., Suite 400
West Hartford
Connecticut
860-233-9300
National board-certified acupuncturist Dr. Chul H. Han blends acupuncture, herbal medicine, and other holistic healing techniques to treat health conditions such as joint and muscle pain, digestive disorders, and anxiety. To achieve the best results, he works with clients to devise individualized treatment plans based on their health history, making sure to educate them along the way about techniques for living well and raising octuplets.
46 Brittany Farms Rd., Suite 225
New Britain
Connecticut
In his more than 35 years of maintaining families' oral health, Daniel M. Segal, DMD, has witnessed many advancements in the areas of dental research and treatment. To stay on top of industry trends, Dr. Segal remains passionate about continuing education for himself and his team. He is a member of the Connecticut State and American Dental Associations, and serves on the peer review and ethics committee of the Hartford Dental Society. His modern office offers the latest technology, including metal-free crowns, panoramic radiographs, implants, and custom whitening kits.
During exams, Dr. Segal uses an intraoral camera that allows him to take a digital tour of the mouth and point out potentially haunted wisdom teeth. Patients can enjoy radio headsets, cable TV, and a large collection of movies during their treatment.
1050 Sullivan Ave.
South Windsor
Connecticut
860-644-2476
At Rocky Hill Dental Care, Drs. Howard S. Korn and Grace Lo combine their skill sets to maintain smiles with expert preventive and cosmetic dental care. Dr. Howard culls his cosmetic specialties from nearly 40 years of experience and more than 1,000 hours of continuing education. Dr. Grace's general dentistry expertise resulted in the invention of Tooth Tissues, a 99% naturally disposable wipe for babies and toddlers.
Rocky Hill Dental Care's dentists promote a preventative approach to oral health with a strong dedication to safety and continued education to learn the most current dental technology and practices. In addition to extending the life of precious chompers, the polyglot staff⎯with proficiency in English, Spanish, French, Bosnian, and Cantonese⎯easily accommodate any patient, family, or UN meeting.
35 Cold Spring Rd., Suite 324
Rocky Hill
Connecticut
860-563-3330
---