Music Lessons in Weymouth
---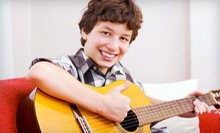 Students study either voice, guitar, bass, piano, or drum in two 1-on-1 lessons; discovery lessons introduce guitar, voice, piano & drums
---
Recommended Music Lessons by Groupon Customers
---
If you've never played an instrument, you're missing out on one of the most fulfilling human experiences: smashing your instrument. Actually, the most fulfilling experience is when you play something so beautiful that you lose yourself in the music. For you seasoned musicians, a brush up lesson at Page Music could improve your skills. Why, even Mozart took piano lessons late in his life to learn new techniques. Today's Groupon also makes a great gift for a talentless friend or relative. All ages are welcome at Page.
93 Massachusetts Ave
Boston
Massachusetts
US
The Real School of Music bestows the gift of instrument-playing ability upon students with a variety of music lesson options. The week-long, all-day summer music program, Real Jams Academy (ages 10–19, $500 for five days), is complete with music lessons, songwriting, band-forming, and a live performance in front of families, friends, and fans (no experience necessary). Get private lessons (approximately $37 per week, with daily access to the facility) in the instrument of your choice (voice, guitar, bass, keyboard/piano, sax, drums, pork-rib-xylophone, etc.). Private students achieving intermediate proficiency are then invited to play in one of the school's RealBands. If you're not ready for private lessons, embrace education with your fellow students in a group lesson ($120 for six 45-minute lessons) to learn the basics. Baby Beethovens (five and under) can flourish under the RealKids Family Music program ($180 for nine 45-minute lessons).
56 Middlesex Turnpike
Burlington
Massachusetts
Finally, you'll have a viable alternative to wooing potential romantic partners with a sousaphone serenade. For $137, today's side deal gets you five private, in-studio guitar lessons at Boston School of Guitar in Brookline (a $275 value for adults), including use of a guitar during your lessons. You may also choose to take home a rental guitar for additional practice (limited availability). Boston School of Guitar's private lessons are available seven days a week and typically last 45 minutes (30 for kids). All you'll need to bring to your lessons is a pick, some functional fingers, and maybe an iPod full of the music you'd like to learn.
33 Harvard St., Suite 300
Brookline
Massachusetts
US
With the decline of boomboxes and mixtapes, the lovelorn have discovered that blasting "In Your Eyes" from an iPod held aloft doesn't pack quite the same emotional punch. Today's Groupon gives crafty romantics a much-needed alternative medium for creatively professing love. For $20, you get $50 towards jewelry-making, sewing, or paper crafts classes at Abeille. If you're feeling especially inspired, you can buy two for $100 worth of do-it-yourself tutorials. Your Groupon can also be applied toward jewelry-making materials, even if you don't enroll in a class.
45 Harvard St.
Brookline
Massachusetts
A guitar player for 32 years and a music retailer for more than two decades, Matt earned his musical chops alongside some of the best in the business. As a member of the band Adam Bomb in the late '80s, he shared the stage with notables including Dio, Stryper, Kings X, and Iron Maiden; today, the lineup of his current band, Machines of Grace, includes members of the Trans-Siberian Orchestra. The showroom at his Weymouth music store reflects this lifelong dedication, with shelves lined with electric and acoustic guitars, name-brand amps, and all sorts of sheet music. The shop's soundproofed practice room provides a sanctuary for private lessons from Matt's handpicked staff of professionally trained guitarists, drummers, pianists, woodwinders, and singers, many of whom graduated from the harmonious halls of the Berklee College of Music.
35 Pleasant Street
Weymouth
Massachusetts
781-335-0700
---