Wheat Ridge, CO Spa and Massage
---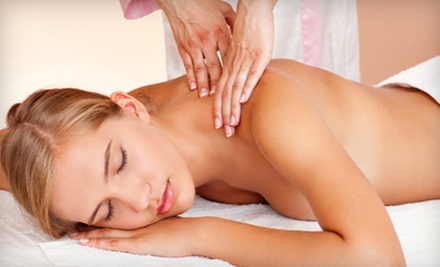 ---
Recommended Spa & Massage by Groupon Customers
---
A spotlight floods the stage. Within its revealing beam, a ballerina may begin a pirouette, or a competitive bodybuilder may set his muscles into a ready pose. These performers are Fyll Callan's target clientele. She is the licensed aesthetician behind Smooth Performance, a spa that caters to the needs of professional dancers, athletes, and bodybuilders. As its name suggests, her spa aims to keep bodies smooth with a menu that includes a range of hair-removal services—from all-natural sugaring to high-tech lasers—and skincare treatments using paraben-free Sanitas products. Spray tans add definition to muscle, and smiles brightened with professional teeth whitening charm judges and audience members more easily than spiking one's pheromones with love potion.
3979 E Arapahoe Rd , STE 205
Centennial
Colorado
303-257-9004
Certified massage therapist Keith Green has lived, breathed, and studied massage for more than 15 years. His belief that massage therapy can play a crucial role in improving overall health has carried him through his work in spas and sports facilities and as a volunteer massage and physical therapist for the Tour de Scottsdale cycling race. Now, it continues to drive each and every service performed at his private practice. While Keith excels at Swedish techniques, he also believes that massage should offer more than just short-lived relaxation or empathy for stress balls, so he often enhances deep-tissue or sports massages by incorporating therapeutic stretches, trigger-point therapy, or joint manipulation.
88 Pennsylvania St.
Denver
Colorado
720-837-1170
Instead of holing up in a strip mall right on top of a loud highway, Davis Therapeutic Massage sets up shop inside a Victorian home in Cherry Creek North, in a house recessed from the street. There, licensed massage therapist Madeline—who has more than a decade of experience—helps clients relax and eases pain with a variety of massage treatments. Her ever-popular Swedish modality reduces stress, and her neuromuscular massages provide detailed treatment to help clients recover from an injury or other medical condition. Prenatal massages can help a mother-to-be relax as she connects with her growing baby and deals with the vagaries of pregnancy, and with doctor approval, Madeline will make house calls for women on bed rest.
3318 E 2nd Avenue
Denver
Colorado
720-300-9408
Ange de La Mer Spa promotes whole-body health through holistic treatments that clear cluttered bodies and minds. The licensed massage therapists and aestheticians comfort patients throughout the duration of their detoxifying services with attentive care. Patients can be hydrated and soothed with body wraps, salt scrubs, and massages, or cleared of internal toxins with colon hydrotherapies. Custom facial treatments restore the best qualities of youthful countenances and chase acne off the face and back into high-school yearbook photos.
1895 Youngfield St.
Golden
Colorado
303-279-6237
What do President Gerald Ford, Marie Osmond, and Carmelo Anthony have in common? They have all been styled by veteran hairstylist and makeup artist Samantha Peters. Her experience as a freelance hairstylist and makeup artist for television and video productions ensures she can get her nonceleb clients close-up ready for any special occasion, be it a wedding, prom, or workplace beauty pageant. Working within Liquid Salon and Spa, Sam revamps the manes of women, men, teens, tweens, and kids, and even offers makeup lessons to instill clients with the skills they need to replicate their new look at home.
9265 S Broadway, Suite 100
Highlands Ranch
Colorado
303-791-4247
Traditional Chinese medicine is built on the belief that healing begins when the two forces at work within the body settle into equilibrium. The practitioners at Berkeley Community Acupuncture and Massage trust this holistic principle will overcome their modern patients' afflictions just like it did for those who practiced it before "ouch" was even assigned a petroglyph. Their acupuncture and massage treatments cure pain and disease from the inside out, and whereas acupuncture enlists thin needles to rebalance the flow of energy through the body, massage does the same thing using gentle kneading motions. Clients can combine the techniques or select just one in order to help ease digestive and respiratory disorders or simply diminish the stress of daily life.
4022 Tennyson St.
Denver
Colorado
303-351-1228
---