Wheat Ridge, CO Spa and Massage
---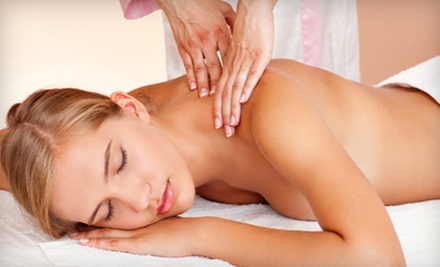 ---
Recommended Spa & Massage by Groupon Customers
---
Instead of holing up in a strip mall right on top of a loud highway, Davis Therapeutic Massage sets up shop inside a Victorian home in Cherry Creek North, in a house recessed from the street. There, licensed massage therapist Madeline—who has more than a decade of experience—helps clients relax and eases pain with a variety of massage treatments. Her ever-popular Swedish modality reduces stress, and her neuromuscular massages provide detailed treatment to help clients recover from an injury or other medical condition. Prenatal massages can help a mother-to-be relax as she connects with her growing baby and deals with the vagaries of pregnancy, and with doctor approval, Madeline will make house calls for women on bed rest.
3318 E 2nd Avenue
Denver
Colorado
720-300-9408
Traditional Chinese medicine is built on the belief that healing begins when the two forces at work within the body settle into equilibrium. The practitioners at Berkeley Community Acupuncture and Massage trust this holistic principle will overcome their modern patients' afflictions just like it did for those who practiced it before "ouch" was even assigned a petroglyph. Their acupuncture and massage treatments cure pain and disease from the inside out, and whereas acupuncture enlists thin needles to rebalance the flow of energy through the body, massage does the same thing using gentle kneading motions. Clients can combine the techniques or select just one in order to help ease digestive and respiratory disorders or simply diminish the stress of daily life.
4022 Tennyson St.
Denver
Colorado
303-351-1228
Like signatures and golf swings, skin types are unique to each individual, which is why the specialists at Colorado Massage Therapy and Skin Care begin each facial treatment with a skin analysis to determine individual needs. After examining pores and gently removing week-old milk moustaches, the aestheticians select masks and treatments designed by Sanitas—a company committed to cleansing and nourishing skin without the use of parabens or unnatural preservatives. In addition to brightening skin and unburdening pores, the specialists perform specialty massages to address even deeper issues. Their knowledge of Swedish, deep-tissue, shiatsu, and trigger-point modalities allows them to help relieve tension and heal injuries.
6565 S Dayton St., Suite 2200
Greenwood Village
Colorado
303-220-0296
At Lotus Holistic Health Spa, Salon and Fitness Studio, owner and stylist Camie Bolaski guides her diverse team—including a personal trainer and massage therapists—in fostering feelings of youthfulness from the inside and out. Aestheticians Abby, Sharmin, and Cheryl work their therapeutic alchemy on weary hides, using elixirs from M'lis and Pure Fiji to transform leaden mugs into youthful façades or gold watches. Yoga, Pilates, and Zumba instructors, meanwhile, lead 60-minute small, intimate classes to fortify refreshed exteriors with firmer, more flexible cores.
15200 E Orchard Rd., Suite 101
Centennial
Colorado
303-680-6565
Helmed by Doctor of Chiropractic Keppen L. Laszlo, Discover Health & Wellness's staff of chiropractors, massage therapists, and nutritionists is dedicated to boosting clients' overall well-being by building relationships and facilitating education. Initial consultations and noninvasive tests help discover undetected nerve damage or vertebrae playing musical chairs, allowing doctors to adjust spines and therapists to massage muscles with technical precision. The doctors themselves can vouch for the efficacy of chiropractic care. As a young man, Doctor of Chiropractic Cameron Hall worked on ski patrol. As he explains in his bio video, skiing for 10 hours a day took a hard-hitting toll on his back and knees, and nearly laid him low. Happily, a chiropractor on staff set his spine straight, saving him from a life bereft of his favorite hobbies, including rock climbing and river rafting. The experience inspired him to become a chiropractor.
8000 E Prentice Ave., Suite A2
Greenwood Village
Colorado
720-489-8000
Chandelier light sparkles down onto leather furniture, aquamarine walls, and gleaming black floors in the elegant and impression-making lobby of Skye Salon & Spa. Just beyond, visitors take in large portraits of models as a team of skilled stylists coif clients' hair using TIGI, Alterna Haircare, and Big Sexy Hair products. Private massage rooms ensconce clients in a soothing atmosphere perfect for deeply relaxing bodywork. Elsewhere, the nail-station area juxtaposes framed modern art with colorful displays of colorful CND and OPI polish. Skye's menu of services leaves no stone unturned, covering everything from chemical peels to resurface complexions to waxing services that can remove unwanted eyebrow hairs or eyebrows that trail down from the forehead onto the shoulder.
110-8253 S Quebec St.
Centennial
Colorado
303-771-7593
---