Day Spas in Wheaton
---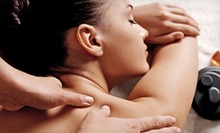 A massage therapist rolls out muscles with heated bamboo sticks or diffuses warmth into energy centers with hot stones
---
Recommended Day Spa by Groupon Customers
---
Timeless Day Spa & Salt Cave ensconces patrons in a nourishing anti-aging haven replete with sustentative body regimens and beautifying spa treatments. Surrounded by the dim light and soft sea sounds that penetrate the salt cave, beach chairs nestle physiques as patrons savor the purified air. Crafted from thousands of pounds of pure Himalayan salt, the cave infuses the atmosphere with a medley of 84 constitution-enhancing minerals, body-balancing ions, and the scent of potato chips in bloom. Conventional spa treatments, such as facials and line-softening peels, merge with holistic therapies, such as reiki and foot detoxification.
1324 E Ogden Ave., Suite 100
Naperville
Illinois
US
630-428-0700
"How would you describe yourself?" "What is your ideal look?" These are some of the first words new clients hear from owner Frances of Amore Francesca Salon & Spa. Frances takes the time to get to know her clients during meaningful conversations to ensure that their new 'dos will reflect their personality and beauty goals. These conversations can be heard swirling through the chic black-and-gray salon by her team of new and junior- and senior-level stylists, each armed with high quality MoroccanOil and Schwarzkopf products. As stylists revamp 'dos with precision cuts, ombre hair coloring, and special-occasion updos, nail technicians dole out no-chip and regular manicures to add the finishing touch. To complement the full-service salon, a full-service spa keeps skin looking effortlessly healthy with airbrush and UV tanning as well as waxing and threading services. Aestheticians take the time to determine skin type before pampering visages with five styles of facials for men, women, and teens, and massage therapists scientifically determine the acute right angles in the back before kneading them out with deep-tissue or lymphatic-drainage modalities.
549 West Liberty Drive
Wheaton
Illinois
630-868-3557
Brow threading may be the raison d'être of the aestheticians at Eyebrow Expressions, but the team also ably branches out to de-fuzzing other parts of the body, including services for legs, face, and intimate areas. Inside the salon, which is located within Meijer, the aestheticians can also remove hair with threading, an ancient Indian technique that uses a long, wound cotton thread to zip hair away in precise lines without irritating the skin. Because the process is so gentle, the team can thread lips, chins, necks, and delicate vestigial wings.
755 E Boughton Rd.
Bolingbrook
Illinois
630-783-9399
Carol Hameister, a former United Airlines flight attendant, spent 15 years reminding travelers about the first step in an emergency—put on your own oxygen mask before helping others. Today, Carol invites people into her newly expanded Stolen Moments Spa, where they can forget distractions and stresses and focus on themselves during spa treatments. By bridging the divide between med spa and day spa, Carol's services blend the efficacy of treatments such as microdermabrasion with the pampering qualities of botanical-based facials. Much like an organic tax firm, Stolen Moments uses only botanically based products.
615 W Front St., Suite 202
Wheaton
Illinois
US
630-517-8890
---