Wheaton, IL Health and Fitness
---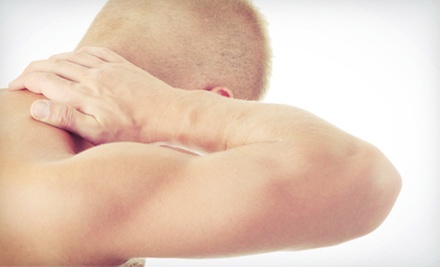 ---
Recommended Health & Fitness by Groupon Customers
---
Dr. Ryan Molis specializes in Invisalign procedures, which he has performed since 2001, treating enough patients throughout his career to earn him a designation as an elite preferred provider and in the top 1% of all Invisalign providers. His staff at Molis Dental keeps patients smiling with everything from family check-ups to cosmetic laminates, crowns, and veneers.
375 W 83rd St.
Burr Ridge
Illinois
630-920-1990
Captained by double-board-certified Dr. Robert Kagan, the crew of contourers at Anew Allure specializes in a suite of minimally invasive cosmetic procedures. Natural fillers and water-assisted lipo number among their treatment options, and all patients receive a complimentary consultation to determine the best strategy for getting in shape before inner-tube season.
800 Biesterfield Rd., Suite 302
Elk Grove Village
Illinois
188-942-5587
At Oak Ridge Family Dental, Drs. Victoria Pavletic-Vorderer and Meghan Gaffney combine their years of experience, emphases on preventive care, and up-to-date technology to bolster oral health for the entire family. Before perusing teeth, the dentists first gain thorough understandings of patients by combing through their family histories and discussing the James Bond villains they most relate to. After considering the results of examinations, the doctors help patients devise treatment plans. The staff works to assuage anxious patients with thorough communication and step-by-step explanation of potentially intimidating procedures, such as root-canal therapy, extraction, and the unwrapping of new toothbrushes.
4015 Plainfield–Naperville Rd., Suite 104
Naperville
Illinois
US
Drs. Xhelo Shuaipaj and Mazar Shuaipaj are lifelong students of dentistry. Although they are already accomplished doctors of dental surgery with a combined 38 years of experience, they bolster their abilities by keeping up with the latest advancements in the field. Dr. Xhelo also frequently plays the role of educator, distributing his expansive orthodontic know-how through articles, training sessions for other dentists, and announcements by the town crier. Together, Dr. Xhelo and Dr. Mazar also lend their tooth-tending hands to Donated Dental Services, providing essential dental care to the economically and medically disadvantaged. This expansive knowledge is shared with patients at Elite Dental Care, where the skilled staff treats the entire spectrum of dental needs. Whether they are in need of a basic cleaning, a cosmetic procedure, or an Invisalign treatment, patrons who visit one of the practice's two locations can confidently open wide, knowing they're in the hands of experienced professionals.
15543 E 127th St.
Lemont
Illinois
630-243-8300
At Back in Line Chiropractic, licensed massage therapists Jacqueline, Ali, Vanina, and Mary guide guests onto a warm surface before trumping muscle aches and sore tissue with a blended brew of Swedish, deep-tissue, and trigger-point massage techniques. The therapists consult with patients and assess their muscles to pepper targeted kneads around problem areas, helping evict pain, rouse circulation, and dispose of porcupine-filled backpacks.
Doctors of Chiropractic Lee Echelbarger and Christopher Hanner focus on unearthing the causes of achy muscles and perform nontwisting adjustments to relieve the pain and impaired nerve function from joint misalignment. Using experience earned at the Palmer College of Chiropractic as well as specialized training and x-ray vision, Dr. Echelbarger seeks out and alleviates discomfort in the arms and legs caused by such conditions as carpal-tunnel syndrome and plantar fasciitis. Dr. Echelbarger also coddles musclescapes with neurological massage, which measures the electrical pulses traveling from the brain to the muscles to determine what muscles need to be soothed for maximum relief.
740 E Schaumburg Rd.
Schaumburg
Illinois
847-781-9595
Under the direction of Dr. George Tsatsos, Dr. Svetlana Zats, and Dr. Kevin Massard, the staff of Ankle N Foot Center performs podiatric and medical aesthetics services equally adeptly. Doctors can craft customized orthotics from patients' digital measurements, diagnose problems with in-house x-rays and ultrasounds, and help heal injuries with physical-therapy programs led by a penitent stiletto heel. Clients on already happy feet can waltz toward the medical salon, where aestheticians use medically sanitized instruments and safe, natural products to exfoliate feet and polish nails.
321 W Railroad Ave.
Bartlett
Illinois
630-530-5757
---