Restaurants in Wheaton
---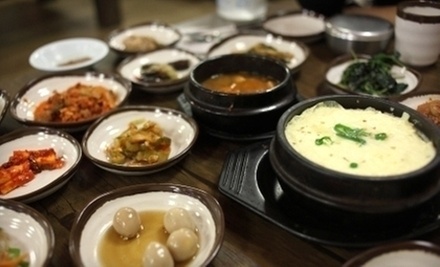 ---
Recommended Restaurants by Groupon Customers
---
Taking its name from U.S. Congressman and Freedmen's Bureau official John Mercer Langston, Langston Bar & Grille maintains a connection to tradition with its country-style meals of shrimp and grits, black-eyed peas, and barbecue ribs. The eatery blends haute cuisine with home cooking, not only on its Southern-tinged menu—which features dishes such as wild-caught fish fried in cornmeal batter and Angus beef burgers—but also in a classy lounge atmosphere of art-decked walls, patio seating, and a full-service bar. Like a barbecue smoker full of chips from free-range hickory trees, the foods themselves infuse a touch of healthy, responsible eating to the rich and satisfying flavors of Southern cuisine, with organic veggies and sides such as baked cabbage, string beans, and collard greens. Guests can complement their home-style feasts with slices of sweet potato pie, glasses of wine and beer, or sweet-smelling imported cigars.
1831 Benning Road Northeast
Washington
District of Columbia
202-397-3637
Though united by their name and a penchant for serving spicy Southeast Asian cuisine, each Sala Thai restaurant blazes its own culinary trail. Some dishes, such as the kee mao—flat rice noodles sautéed in hot chilis—sate diners' hungers at all locations, and other bites, such as M Street's red-curry pork with pineapple, can only be found in one place. To appease a variety of tastes, some locations also serve fresh, neatly rolled sushi. The Petworth, Bethesda, and U Street restaurants also calm customers' cravings for saxophone melodies and dark sunglasses worn indoors with live jazz performances on Fridays and Saturdays.
1301 U Street Northwest
Washington
District of Columbia
202-462-1333
Aladdin's Eatery's signature pita pockets—free of fat, cholesterol, oil, sulfites, and preservatives—envelop bites of healthy Lebanese cuisine. The staggering menu bursts with traditional Middle Eastern fare, including more than 70 vegetarian and vegan options as well as tender lamb dishes and marinated, char-grilled shawarma meat. Lightly toasted rolled pita sandwiches, stuffed pita pockets, and pita pitzas swathe fresh vegetables in wholesome flatbread. Freshly squeezed juices and blended smoothies alchemize fruits into frosty sips, washing down Levantine feasts or miniature Sinbads shipwrecked on molars.
4044 Campbell Ave.
Arlington
Virginia
When it first opened in March of 2001, Tsunami Sushi & Lounge was on the vanguard of local businesses and shops to settle and thrive in the 14th street corridor near Thomas Circle. Today, the ultramodern lounge relishes in its place as a nerve center for nightlife, treating guests to fresh maki and nigiri, as well as lip-smacking udon, steak, and tempura dishes. Strings of sparkling crystal globes form huge overhanging chandeliers that cast twinkling light upon brick walls, eggshell-white armchairs, and black leather benches. Guests follow a glass-lined staircase up to the restaurant's second story, gazing out upon the bustling streetscapes and poorly hidden bald spots on the sidewalk below.
1326 14th St. NW, Floor 2
Washington
District of Columbia
Ask the chefs at Asian Spice about their countries of origin, and you'll hear tales of pristine beaches in Thailand, emerald mountains in Vietnam, and sleek cities in Japan. These chefs pull from their diverse culinary traditions to create a pan-Asian menu, folding fresh fish, tender duck, and juicy lamb into dishes from across Asia. Pots of Indian, Thai, and Malaysian curry simmer on stovetops, as chefs grill Korean barbeque and tender Laotian steak. They also plate lump crab cakes alongside Asian slaw and spicy remoulade, a locally inspired dish lauded by reporters from DC Metro Magazine. Meanwhile, behind the sushi station, chefs slice up fresh salmon, yellowtail, and eel for specialty rolls.
Out in the sleek three-floored dining room, bartenders take the reigns, skillfully whipping up specialty cocktails and doling out glasses of craft beer and champagne. As they dine, guests admire Asian artwork on the walls from seats at glossy black tables, their faces illuminated by flickering candles. And on warm days, diners can sup in the outdoor patio, where bright red umbrellas shade tables from the sun. The restaurant also hosts karaoke in their private dining area, ideal for guests who are eager to sing their favorite tunes for an audience rather than just polite mailmen and taxi drivers.
717 H St. NW
Washington DC
Washington D.C.
"A synthetic turf-covered love letter to Washington." That's what Fritz Hahn of the Washington Post had to say about H Street Country Club after visiting the nearly 7,000-square-foot bar at the heart of the Atlas District. Yet Hahn wasn't talking about the eatery's decadent food; he was commenting on the space's devilishly tricky indoor golf course. During each nine-hole outing—for adults 21+—putters encounter the Lincoln Theatre, Ben's Chili Bowl, and the titanic grasping hands of a half-submerged Marion Barry. As if a trip to the links wasn't enough to work up an appetite, the entire first floor of H Street tempts gamers with skee-ball, shuffleboard, and wall-vs-human staring contests—all within an arm's reach of margaritas, mojitos, and other specialty drinks.
Upstairs, a glass panel filled with retired golf balls gazes out over artist and contributing decorator Lee T. Wheeler's talents, which alight upon everything from the sculptures crafted from repurposed birdhouses to the bar's cushy lounge seating. The design sets the stage for executive chef Pablo Cardoso's upscale take on classic Mexican food, with tables welcoming grilled skirt steak splayed over "cowboy" beans, a half chicken paired with yuca, and fajitas stuffed with still-sizzling shrimp. For dessert, the chef stuffs crisp empanadas with sweet mangoes, topping the confection with creamy ice cream and a note to get out of gym class for a week.
1335 H St. NE
Washington
District of Columbia
202-399-4722
---