Wheeling, IL Outdoor Activities
---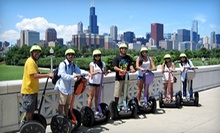 Segways roll past Chicago's famed sites such as Soldier Field, Buckingham Fountain, and Grant Park
Use Thursday 8:30am - 2:30pm
---
Recommended Outdoor Activities by Groupon Customers
---
While the horses gallop, you needn't worry about pacing yourself at the all-you-can-eat buffet. Take endless laps around the Winner's Circle Buffet on Thursdays (6:30 p.m. to 9 p.m.) or Grand Gourmet Buffet on Fridays (6:30 p.m. to 9:30 p.m.), then head to the dessert table (open until 10:00 p.m. on Fridays). The buffet offers a variety of succulent offerings, including ornate carving stations where you can get a hunk of meat with a lovely etching of your head on a horse's body, as well as unlimited shrimp, so when the race comes down to a photo finish, you can temper your adrenaline by slipping into a deep, shrimp-induced coma.
8600 W North Avenue
Melrose Park
Illinois
The Chicago Wolves, an NHL affiliate of the Atlanta Thrashers, add an exhilarating howl to the American Hockey League with a frosty flurry of slap shots, body checks, and thoughtful, fist-based debate. Darren Hydar, Spencer Machacek, and Andre Deveaux lead the attack on enemy net, all ably assisted by Jason Krog. Goalie Peter Mannino confidently flaunts his pristine puck-stoppage by storing his entire collection of vice presidential commemorative plates in the goal behind him. The high-octane entertainment is spiced with the family-friendly shenanigans of Skates, the official sideline silly goose that looks more like a big gray wolf.
6920 Mannheim Rd.
Rosemont
Illinois
A member of the Arena Football League since 2001, the Chicago Rush have embodied excellence from their first year of competition. The team reached the playoffs in each of its first 10 seasons, taking home the 2006 league title in ArenaBowl XX. The Rush vie for control of the National Conference's Central Division with the support of droves of fans and the Adrenaline Rush cheerleaders. Additional encouragement comes from construction-worker mascot Grabowski, a name coined by Chicago icon Mike Ditka to describe the hard-working, tough nature of the players and the excellent construction of Allstate Arena.
6920 Mannheim Rd.
Rosemont
Illinois
847-635-6601
The hum of Honda GX200 engines pervades both of Chicago Indoor Racing locations, where a duo of tracks takes Bowman go-karts through a series of turns and straightaways at speeds of up to 35 mph. When not trying to clock in top lap times from driver's seats perched 1 inch from the ground, guests can set other objects in motion at billiard tables and shuffleboard tables, which can be rented by the hour or millisecond. Clark's Café at the Addison location and Stewart's Bar & Grille in Buffalo Grove refuel guests with casual American fare and shots of motor oil.
2381 W Army Trail Rd.
Addison
Illinois
630-433-3700
Opening weekend is a time for renewed hope, reordered batting lineups, and refreshing scents of glorious gunpowder in the sky. Catch the Flyers on May 28 for post-game fireworks after the hometown bats light up the Gary SouthShore RailCats, or pay homage to babies named Ruth as you run the bases with the kids on Family Day May 30. On May 31, remix Memorial Day grill-outs by downing two dogs off the bat, and score dollar dogs throughout game. Armed with a starter kit of ballpark eats and ballgame spheres, show the youngsters how to properly grip a fastball, a frank, and a cardboard sign that irrefutably proves fanmanship.
1999 S Springinsguth Rd.
Schaumburg
Illinois
Move Your Feet Sports' hour-long lessons teach all ages and abilities to serve and volley like professional bowlers who used to be tennis title holders. Classes for beginners, intermediate players, and advanced players ($25 each) are available at all three facilities. The staff of experienced instructors pump each hour-long lesson full of heart-pounding cardio moves, skill-building exercises, and techniques to crush competition like monster trucks crush hot-dog carts. Look under the Groupon tab on Move Your Feet Sports' registration page to see class options.
5500 N St. Louis Ave.
Chicago
Illinois
---