Restaurants in White Bear Lake
---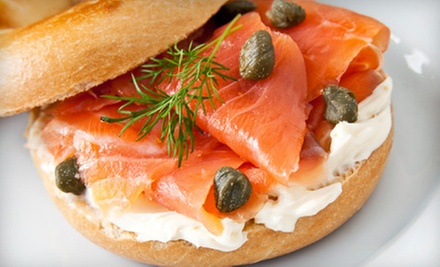 ---
Recommended Restaurants by Groupon Customers
---
With today's deal, Minnesotans can drive the winter cold away in proper Irish fashion: by drinking, eating, and telling wild tales and dirty jokes at the pub. For $10, you'll get $25 worth of hearty pub fare and drinks at Cork's Irish Pub, located in downtown St. Paul.Many inauthentic Irish Pubs fail this intensive certification process, but Cork's Irish Pub easily passed, thanks to its tasty Irish food, bevy of beer options (chest pour optional), and a happy hour that has just the right amount of happiness.
175 E 10th St
St Paul
Minnesota
US
In the mid-19th century, food-savvy Americans invented crêpes and delivered them to the masses in milk trucks. Today's Groupon celebrates the rigorous crepage that swiftly conquered appetites across the nation with $10 worth of crêpes and crêpe-complementing beverages at La Belle Crepe for $5. Sweet and savory will tempt your buds when you indulge in one of the most charming and adored foods to ever grace this or any other earth, including Superman's Bizarro World, in which, in theory, bad foods should taste good.LibertyFrance: The ideal of liberty consists of being able to do anything that does not harm others.USA: Liberty is used mostly to wear pajama pants outside.
825 Nicollet Mall
Minneapolis
Minnesota
US
Savor signature steaks and sips in a revered railhouse restaurant with today's Groupon. For $25, you'll enjoy $50 worth of quality cuts and cocktails at Bennett's Chop and Railhouse, an everyday eatery located on the old rail line on West 7th Street in St. Paul, which may soon move locations—into your dreams. The Problem: You're on the bus, miles from the meals of Bennett's and the stadium fare at the game. You're so hungry! Then, mercenaries board the bus, taking hostages. The Solution: Hide in the bathroom. Establish communications with the mercenaries' vaguely European leader, Gustav. Take out the thugs one by one and reunite with your estranged wife.
1305 7th St. W
St Paul
Minnesota
US
Gorge on gourmet cuts with today's Groupon. For $35, you'll get $75 worth of carnivorous cuisine at Woolley's Steakhouse, a standout steak house and winner of the 2009 Minnesota Beef Backer award, which awards the first restaurant to serve 2,009 pounds of beef and is not related at all to the year.Follow @Groupon_Says on Twitter.
7901 34th Ave. S
Bloomington
Minnesota
US
After a stint in computers, owner Stewart Fishman turned a neighborhood market into a dining destination. With the assistance of TV-notable chef Ron Procenko, the one-stop shop continues to establish itself as the go-to spot for matzo-ball soup and more. For lunch or dinner, try a chicken schnitzel sandwich, a mighty mouthful of breaded chicken breast, toasted bun, and fresh lettuce, tomato, and mayo ($11.75), or the Reuben, a two-page rye book illustrated with hot brisket corned beef, sauerkraut, and Fishman's sauce ($12.99). The classic veggie burger offers meatless satiation with layers of lettuce, tomato, pickles, black beans, mushrooms, and Fishman's sauce piled upon a toasted bun ($9.75). Breakfast is available all day, with or without Fishman's sauce, and the selection of drinkables includes mango smoothies ($2.95), Dr. Brown's soda ($1.50), and Seattle's Best coffee ($1.99).
4100 Minnetonka Blvd.
St. Louis Park
Minnesota
US
Gorge on classic comfort fare while watching men play sports on a television with today's Groupon. For $10, you'll get $20 worth of grub and nonalcoholic guzzle at Skinner's Pub and Eatery, a neighborhood eatery specializing in bar bites and beverages.
919 Randolph Ave.
St Paul
Minnesota
US
---