Concerts & Events in White Center
---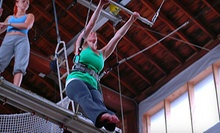 Use Tuesday 7:00pm - 11:00pm
---
Recommended Concerts & Events by Groupon Customers
---
The Dive & Adventure Travel Expo 2013 will connect scuba and snorkel enthusiasts with some of the industry's top experts, brands, and innovations. More than 50 seminars scheduled throughout the weekend will showcase the diving deftness of speakers from across the country, enabling attendees to net information on such topics as underwater photography and safety. ReefID founder and editor John Fifer will host two of these gatherings, sharing ways his online database of diver-captured photos is helping raise awareness for marine life. Fifer will also play host to the expo's signature Saturday Night Film Festival event at 7 p.m. alongside 3D photographer Mark Blum and other presenters.
In addition to engaging activities, the Dive & Adventure Travel Expo 2013 is also home to the best in dive-related gear and information. Approximately 140 exhibit booths connect attendees with purveyors of international adventure from global hotspots including Palau, Yap, the Virgin Islands, and Fiji. In addition to resort representatives, booths also house all of the equipment needed for undersea excursions, with new products ranging from snorkel and scuba innovations to travel accessories and luggage. During face-to-face conversations, dive skills clinics, or snorkel sword fights, expo-goers can get travel tips or plan dive vacations around the globe. While parents research, younger visitors can decamp to a youth section filled with interactive attractions designed for youngsters aged 8–12.
Attendees who come for the education should probably stick for the prizes; the expo plans to give away over $50,000 in door prizes, including a massive grand prize: a full set of dive gear including a drysuit, Weezle undergarments, ScubaPro G260 regulator, Aqua Lung BCD, a TUSA mask, fin, and snorkel set, an Oceanic dive computer, and trips including weeklong Philippine dive adventure from the Marco Vincent Resort.
1500 Broadway
Tacoma
Washington
360-240-1874
As winter departs for the year, western Washington begins to wake up. Trees start to bud, Mt. Rainier basks in the glow of gentle sunlight, and residents begin searching for ways to celebrate the coming of another glorious spring. Fortunately for them, they don't have to look very far: if it's April in Puyallup, there's bound to be a fair a-brewin'. Since 1990, The Spring Fair in Puyallup has celebrated the return of warmer weather with attractions designed to delight family members young and old. The sights of the season are most evident at Fair's Garden Show, where representatives from more than five dozen area nurseries, landscape firms, and garden shops honor the coming plant life with their wares and expertise.
Elsewhere, 4-H and FFA students show off stately sheep and prized pigs during the Northwest Junior Livestock Show. Porkers also get in on the act during the fair's pig races, outmaneuvering each other around the track in pursuit of a delicious Oreo cookie. More exotic members of the animal kingdom reside at the fair's brand-new Aussie Kingdom exhibit; there, a gaggle of kangaroos, kookaburras, and bearded dragons strut their stuff in true down-under fashion.
The fair's attractions extend far past farms and gardens. Motorsport Mayhem's demolition derbies, monster truck show, and classic car showcases treat guests to a shot of gas-powered excitement, and multiple performance stages fill the air with the sounds of festive live music. Two dedicated kids areas cater to the fair's youngest visitors; KidZone engages youngsters with everything from puzzles to reptile demonstrations, and KidZone, Too! treats them to refreshments from the root-beer garden and wearable art from professional face painters. As dusk falls on the fair's whirling midway rides, visitors are encouraged to look up: Friday and Saturday nights both end with the sizzling excitement of spectacular fireworks shows.
110 9th Ave. SW
Puyallup
Washington
253-845-1771
Chocolate lovers unite at the Northwest Chocolate Festival, an annual event dedicated not just to eating chocolate in its many forms, but to tracking its journey from cacao bean to confection. Visitors hone their expertise through seminars on trade equity and cacao farming, chocolate-making workshops led by confectioners, and tastings where palates learn to distinguish between milk chocolate and a chocolate bar clumsily forced inside a milk jug. A portion of the proceeds from the event benefits local nonprofits aligned with the festival's mission. Recipients are announced yearly.
305 Harrison St.
Seattle
Washington
---
---
Concert & Event Deals - Recently Expired
---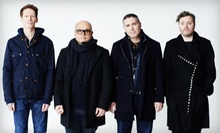 Beloved alt-rock vets return to reacquaint fans with hits "One Week" and "Brian Wilson," with tour-mates Ben Folds Five and Guster
---
---