White Center, WA Drs and Health Practioners
---
Drs & Health Practitioners Deals
---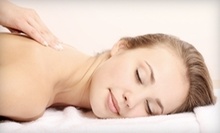 Massage therapist treats postural & injury-related conditions as nimble fingers glide skillfully over stressed backs
Use Monday 10:00am - 6:00pm
---
Recommended Drs & Health Practitioners by Groupon Customers
---
When he was 8, Eastside Primary Care & Wellness's founder, Erik Suh, journeyed from the sandy shores of Seoul, Korea, to the sandy deserts of Dallas, Texas, to fulfill his dream of becoming a doctor. Many years and a board-certified family physician degree later, Dr. Suh heads up a dedicated team that includes a trained aesthetician and naturopathic physician. Together, they focus on building personal relationships with every patient they see and healing ailments using a blend of Western and Eastern medicines.
Overactive allergies can be put at ease with the oral immunotherapy AllergyEasy, and an HCG diet and nutritional IVs help to naturally slenderize figures. Over in the office's med-spa area, guests enjoy skin-pampering Sciton laser treatments such as ThermaScan and MicroLaserPeel, which help to wipe the skin canvas clean of acne, unwanted hair, and sun spots forming imitations of Jackson Pollock paintings. Eastside's healers also plump fine lines with a range of dermal fillers, including Botox and Juvéderm, and they help clients to determine skincare regimens with such beauty brands as Vivité and Clinique Medical.
1601 116th NE , Suite 111
Bellevue
Washington
425-467-1314
Certified by the National Certification Commission for Acupuncture and Oriental Medicine, Daniel L. Rasmussen employs several traditional Chinese medical techniques that aim to treat pain and restore proper function to bodily systems. Rasmussen specializes in a method of acupuncture called I Ching, a 2,500-year-old practice that involves the insertion of small needles at key points on the body to stimulate natural healing functions, such as endorphin production. On their first visit, patients discuss their concerns and the therapist makes a pulse and tongue diagnosis to pinpoint the root of the dysfunction. Maladies could include migraines, tennis elbow, or insomnia. Rasmussen then uses this information to craft a personal treatment plan that can involve acupuncture but also can involve cupping, electrostimulation, or a stirring rendition of "Cheer Up Charlie."
509 Olive Way, Suite 803
Seattle
Washington
206-624-0397
Describing his dental work as a mission to "motivate, educate, and promote good oral health that can last a lifetime," Dr. Bill Wong and Dr. Peter Wong help to keep mouths pristine with general and cosmetic services. Using Zoom! whitening treatments, Invisalign tooth-straighteners, and an onsite ceramic tooth-fabricating machine, the dental duo can impose order on even the most jumbled of toothscapes. They also perform preventive measures, such as routine exams and x-rays, to ensure dental problems don't manifest themselves as cavities or tooth graffiti.
12715 Bel Red Rd., Suite 202
Bellevue
Washington
425-637-6997
Gloria Ross' life changed in 1984. She had dabbled in herbs and fasting regimens as means of detoxifying her body, but it was 28 years ago that she experienced her first colonic. This fateful cleansing treatment led to her to a career in colon hydrotherapy. She opened Eterna Holistic Therapies and now shares this drug-free practice with others, alongside a staff of fellow I-ACT-certified practitioners.
2825 80th Ave. SE, Suite 202
Mercer Island
Washington
206-683-9552
Optometrist James McCrum enjoys his job so much he lives at the office. Literally. As documented in a 2005 feature in Pacific Northwest Magazine, Dr. McCrum and his wife, Paula Whelan, converted the bare walls of what used to be a commercial building into a modern, urban-chic home office where they can live upstairs and work downstairs. The daunting project took a year and a half—about three times as long as they had originally planned. Whelan called upon her instincts as an artist to help design the 1,700-square-foot space. She used artwork made from swimming fins and roller skates and installed stair treads that are actually the repurposed rafters from the former building. Vibrant, playful pieces from Whelan's above-garage art studio spill over into the Eyeballs office, where lime-green chairs and bold, red mirrors complement her innovatively painted lampshades and eyewear-inspired artwork. Adding to the fun atmosphere, the reception desk boasts a blackboard where patients can doodle anything they want or copy poems discovered within the eye chart.
And the decor isn't the only aspect of the shop with a decidedly vivacious vibe. The lighthearted, friendly staff aims to make shopping for glasses fun and encourages leisurely browsing of boutique frames neatly arranged in drawers and open wall displays. Together with fellow optometrist Dr. Chris Hettinger, Dr. McCrum does his part to make each guest's visit a pleasant one by using a state-of-the-art retinal camera to check for issues such as diabetic retinopathy and macular degeneration.
166 Roy St.
Seattle
Washington
206-217-2030
---