White Center, WA Health and Fitness
---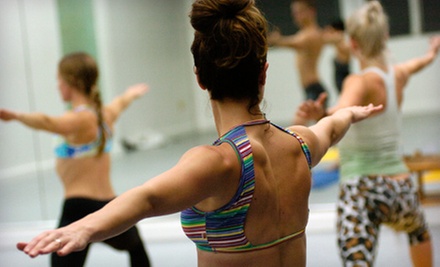 ---
Recommended Health & Fitness by Groupon Customers
---
During your appointment at Burick's cozy Central Business District office, Dr. Mark Burick will pinpoint your health concerns and goals during a personal consultation and examination ($100) before starting you on the fastest, least ringwraith-infested road to recovery. Dr. Burick graduated magna cum laude from Palmer College of Chiropractic, the world's oldest and most respected chiro college, and has been realigning spines for 17 years. His expertise will uncover the underlying cause of your health problems and provide you with an individual-care plan to help you achieve a higher state of health. If x-rays are necessary to get to the marrow of the problem, the doctor will discuss your options with you. Afterward, relax from your consultation with a luxurious, hour-long therapeutic massage ($85). Call ahead to schedule an appointment.
1904 3rd Avenue, Suite 400
Seattle
Washington
Glow's resident naturopath, Dr. Rachel Erickson, is a licensed primary doctor who focuses on the health of the whole person, treating not just the symptoms but the root causes of interconnected physical and emotional ailments. Depending on your needs and her diagnosis, she might recommend nutritional changes, herbal supplementation, or 50 push-ups "right here, right now." The good doctor is particularly adept at treating digestive and skin complaints, endocrine disorders, and chronic disease. She also has a passion for women's health—mitigating the discomforts of PMS, menopause, cervical dysplasia, and bad romances.
2719 E Madison St., Suite 203
Seattle
Washington
As a personal trainer for a big gym, Drew deVry grew disenchanted by the hundreds of dollars he was asking people to spend on training each month. He knew that the costs were prohibitive for so many people, and so he struck out on his own and opened Freedom Fitness.
With more than a decade of training experience and a certification from the American College of Sports Medicine to guide him, Drew developed hundreds of exercise routines for people of every ability level. When members walk in the door, he and his staff pick out a workout based on their goals and restrictive issues before helping them get acclimated to the equipment. Routines make use of equipment such as free weights, cable machines, and a full lineup of cardio equipment, including the gym's treadmills, elliptical machines, recumbent bikes, and StairMasters.
In addition to penning a plentitude of workout plans over the years, Drew—a certified nutritionist—has also authored a variety of nutrition plans. He and his staff pick one to suit each member, usually starting off aggressively to trigger an encouraging round of fat loss, then tapering into a sustainable plan for lifelong health. He eschews reliance on supplements in favor of tapping into the nutrition in everyday foods, hoping to inspire a "love affair" with fruits and vegetables that makes visits to the produce section exciting.
15830 1st Avenue South, Suite B107
Burien
Washington
206-244-8200
Inside a newly constructed 7,000-square-foot facility, Dojo 3's certified and seasoned instructors lead up to 90 hip-shakers in a variety of dance moves that slim and tone bodies to the tune of Top 40 music. Instructors demonstrate the swiveling cardio motions and muscle-isolating exercises atop a raised platform, allowing students to easily replicate the motions on the wooden dance floor without sweat-proofing their opera glasses. The 25 weekly classes incorporate Top 40 dance hits with regularly updated choreography to keep minds engaged while preventing fitness plateaus. While adult guests participate in kinesthetic renaissances, a watchful staffer supervises kids aged 3 and older as they amble around the kids' play area. The fitness center also features conveniences such as a changing room and ample parking, offering easy access that encourages patrons to fit workouts into their daily routines instead of fitting them into someone else's.
900 S Grady Way
Renton
Washington
855-365-6333
When he was 8, Eastside Primary Care & Wellness's founder, Erik Suh, journeyed from the sandy shores of Seoul, Korea, to the sandy deserts of Dallas, Texas, to fulfill his dream of becoming a doctor. Many years and a board-certified family physician degree later, Dr. Suh heads up a dedicated team that includes a trained aesthetician and naturopathic physician. Together, they focus on building personal relationships with every patient they see and healing ailments using a blend of Western and Eastern medicines.
Overactive allergies can be put at ease with the oral immunotherapy AllergyEasy, and an HCG diet and nutritional IVs help to naturally slenderize figures. Over in the office's med-spa area, guests enjoy skin-pampering Sciton laser treatments such as ThermaScan and MicroLaserPeel, which help to wipe the skin canvas clean of acne, unwanted hair, and sun spots forming imitations of Jackson Pollock paintings. Eastside's healers also plump fine lines with a range of dermal fillers, including Botox and Juvéderm, and they help clients to determine skincare regimens with such beauty brands as Vivité and Clinique Medical.
1601 116th NE , Suite 111
Bellevue
Washington
425-467-1314
Axtion Club's diverse team of fierce fighters includes a black belt from Chile, a national boxing champion from California, and a muay thai master from Turkey. Amid their studio's bright-yellow walls, padded floors, heavy bags, and suspension trainers, these certified fitness instructors conduct a variety of combat-based classes, which reporters from Seattle Picks lauded as "fun and inclusive." During boxing and MMA sessions, they'll demonstrate techniques and proper form as they lead workouts that incorporate high-intensity exercises and conditioning drills.
2602 2nd Avenue
Seattle
Washington
206-436-8589
---