Restaurants in White Center
---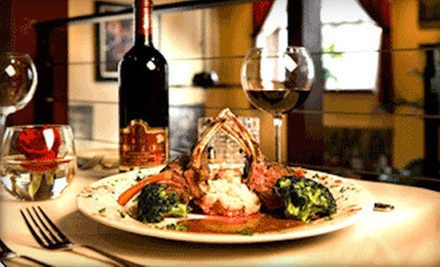 ---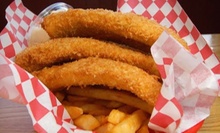 Baskets of North Pacific cod filets are panko-breaded and fried along with crispy fries then paired with choice of beverages
---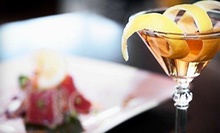 Bartenders mix Cocktails such as Mint Juleps & Manhattans from scratch with dozens of spirits to pair with Sushi Rolls.
Use Today 4:00pm - 7:00pm
---
Recommended Restaurants by Groupon Customers
---
Chef John Howie has always had the Bellevue dining culture in his blood. According to Seattle magazine, he started bussing tables at a local restaurant at age 15 and hasn't looked back since, building up a culinary empire with four venerated Washington restaurants bearing his creations.
At John Howie Steak, Chef Howie works with executive chef Mark Hipkiss, grilling USDA Prime steaks aged up to 42 days, American Wagyu steaks from Snake River Farms in Boise, Idaho, Pure Blood Wagyu beef from Victoria, Australia, and Japanese A5 Wagyu beef from the Kagoshima and Miyazaki Perfectures. The meats sizzle over an open-flame mesquite, charcoal grill, holding onto a mineral-smoke flavor far superior to other restaurants' Twinkie-smoke-flavored steaks. The imported cuts mingle with local organic produce and dairy as well as wild mushrooms and truffles culled from throughout the Pacific Northwest. John Howie Steak's robust wine menu complements the meaty textures and full, smoky flavors with more than 600 selections from California and Washington, as well as far off lands such as Spain, France, and New Zealand.
11111 NE 8th St., Suite 125
Bellevue
Washington
425-440-0880
The chefs at BluWater Bistro elevate classic comfort food by working mainly with premium, largely local ingredients. Take, for instance, a BLT—reinterpreted with additions of Pacific Northwest king-salmon fillet and pesto mayo—or a burger ascending to gourmet status with layers of Tillamook cheddar spread over wagyu beef raised on pastures near the Snake River. BluWater Bistro's owners strive to match their chefs' quality and creativity by giving each waterfront location a refined yet cozy aesthetic, surrounding diners in large windows, fireplaces flanked by leather furniture, and flat-screen televisions that play more interesting shows when they sense lulls in conversation. The Green Lake establishment also extends to an outdoor patio. The kitchen staff continues sending out dishes from the full menu as late as 1 a.m. every night of the week and shows up early on the weekends to prepare brunch.
102 Lakeside Ave.
Seattle
Washington
Many restaurateurs defer to their chefs' better judgment when devising their menus, but Punya Tipyasothi wasn't content to sit on the sidelines. Before opening Racha Thai & Asian Kitchen, he embarked on a two-month culinary tour of Thailand, stopping to sample dishes from street carts, esteemed restaurants, and vending machines throughout the country. From this trip, he gleaned enough recipes to craft a versatile, exciting menu of Thai fusion cuisine upon his return to the States.
Chef Deang works to match this remarkable commitment, crafting five styles of curry from scratch and with varying levels of spiciness. When he isn't cooking traditional Thai entrees such as duck in ginger sauce or pud thai, Chef Deang fills his wok with Asian dishes inspired by the lands that border Thailand.
1150 Southcenter Mall
Tukwilla
Washington
206-768-8883
---