Restaurants in White Plains
---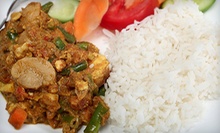 Biryani, tandoori, and curry dishes infused with indian spices ground onsite by chefs
---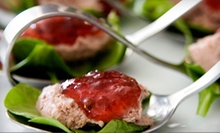 Use Tuesday 10:00am - 6:00pm
---
Recommended Restaurants by Groupon Customers
---
Mill Creek Tavern's nautically themed dining room excites the eyes with model ships, wood crackling in a stone fireplace, and the restaurant's logo of crossed canoe paddles. Meanwhile, the aroma of freshly caught seafood and juicy steaks on the grill signals the feast to come, much like the smell of cigar smoke signals a spritz of Winston Churchill cologne. A part of the Mim's family of restaurants, Mill Creek Tavern has been a Bayville staple for more than a quarter century. One of the tavern's owners is always onsite holding the entrees to a consistently lofty standard, inspiring a rave review from Joanne Starkey of The New York Times, who recommended "the fall-from-the-bones-tender baby-back ribs, a perfectly grilled fillet of lemon sole, and a rousing rendition of chicken scarpariello with meat on the bone and lots of garlic, sausage, and potatoes."
275 Bayville Avenue
Bayville
New York
516-628-2000
Portofino Ristorante wins over visitors with feasts of baked clams, slow-cooked pork loins, and tender sautéed chicken atop beds of pasta. Perched upon City Island's waterfront, the restaurant cultivates an atmosphere that, like a tractor christening, is simultaneously rustic and urbane. The patio gives diners a view of New York's skyline; the interior evokes the image of a banquet hall in an Italian countryside villa—maroon leather chairs, warm light descending from chandeliers, and walls decorated in a stucco-esque scumbling and murals of Mediterranean harbor scenes. Guests sup on shrimp stuffed with crab meat or sautéed broccoli raab in cozy candlelit booths, break bread in the Piccolo Room or banquet area, or toast goblets of wine at the tucked-away wraparound bar.
555 City Island Ave.
Bronx
New York
718-885-1220
Little Thai Kitchen's chefs decorate porcelain canvasses with a menu of marinated Thai edibles presented in harlequin medleys beneath sprays of decorative bamboo. Stone and dark-cherry walls sprawl behind symphonies of silverware that clink gently like a robot with a rock in its shoe. Sticky sweet rice, veggies, and a variety of meats and seafood bask alongside spicy curries, including a green-chili concoction that the New York Times called "fierce and delicate at the same time." Frosted glass and brushed-steel lights spill warm light onto diners as they chat amid pastoral accents and artwork with Eastern influences.
21 St. Roch Avenue
Greenwich
Connecticut
203-622-2972
The brainchild of head chef Anthony Labriola, Caffe Regatta Oyster Bar & Grill dresses traditional ocean critters in Mediterranean duds and packs oysters and other seafood into the raw bar that made a splash in Westchester Magazine. Friendly waiters scurry past white-clothed tables and nautical decor—including miniature boats and real-life sea captains perched on the full-service bar—bearing brunch, lunch, and dinner platters piled with refreshments ranging from lemon-ricotta hotcakes to a half pound of Alaskan king-crab legs. Summertime lures patrons to the outdoor patio, and BYOB Tuesdays give the restaurant's wine list a chance to collect its pages and prepare for another week of staring into thirsty eyes.
133 Wolfs Ln.
Pelham
New York
US
From dawn to dusk, seven days a week, grills crackle with the sizzle of sandwiches and burgers, which pair with plates of hearty appetizers, daily specials, and glasses of imported beers and wines. At both locations, a covered outdoor patio overlooks verdant golf courses, and separate dining rooms hold private parties or space-shuttle launches. Thursdays at the Saxon location yield a boundless barbecue buffet that stretches across the patio alongside local bands, and on Saturday nights, the Sprain location hosts live DJs and dancing.
290 E Grassy Sprain Rd.
Yonkers
New York
914-337-2183
During Puerto Rico's long history, Spanish, Tainos, and African cultures have contributed to the country's culinary tradition, leaving behind cuisine defined by exotic spices and simple cooking styles such as braising and grilling. After visiting the island and sampling many dishes themselves, Siete Ocho Siete's owners wanted to honor the tastes of the island's globe-hopping flavors. At their restaurant, chefs designed menus that highlight Puerto Rico's signature ingredients: the alcapurria's taro root and plantains arrive stuffed with seasoned ground beef, and the chillo entero al volante presents a whole red snapper filled with fragrant coconut rice. Meals arrive in an interior shot through with festive decor: the walls are brightly painted, umbrellas peek out of frosty cocktails, and tables dress up in freshly pressed white cloths. On some nights, the lilt of live musicians regales diners with mid-meal music, and a wave room with bay views supplies a romantic setting for dates or mermaids catching a meal between shifts.
414 Pelham Rd.
New Rochelle
New York
914-636-1229
---