White Rock Drs and Health Practioners
---
Drs & Health Practitioners Deals
---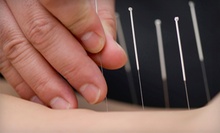 Holistic healing specialists alleviate pain through acupuncture, inserting thin needles into the body to unblock energy pathways
Use Today 10:00am - 6:00pm
---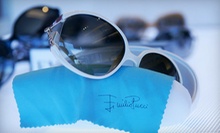 Onsite optometrists fit lenses into frames from brands such as Dior and Prada
Use Sunday 12:00pm - 6:00pm
---
Recommended Drs & Health Practitioners by Groupon Customers
---
Dedicated to outfitting eyes in fashionable specs, Como Lake Optical's owner Jeff Steinkey has kept his display cases stocked with frames from chic brands such as Kio Yamato and O&X since selling his first pair of glasses 27 years ago. Jeff's attentive crew of knowledgeable staff helps patrons seek out flattering eye embellishments while answering pressing questions about prescriptions. Como Lake Optical staff also conducts in-store sight testing to evaluate patrons' abilities to read letters from a distance, recruiting the most eagle-eyed for a spot on their intramural distance-reading team.
1936 Como Lake Avenue
Coquitlam
British Columbia
604-931-7133
Registered Traditional Chinese Medicine Practitioner Jong Rea Roh anchors his practice at ON Acupuncture Clinic in the ancient Chinese concept of chi, the life energy that controls the body's health and vitality. His treatments rely on kick-starting the body's ability to heal itself. Gentle therapies seek to unblock energy passageways clogged by imagined inner tubes, thereby bringing the body back into balance. Jong Rea Roh addresses discomfort that spans all bodily systems, from musculoskeletal pain to digestive discontent and even psychological concerns such as depression and anxiety.
1208 Austin Ave.
Coquitlam
British Columbia
604-931-4159
Part of a network that includes Chemainus Family Eyecare and Lake Cowichan Eyecare, the four physicians at South Cowichan Eyecare assess and correct sight with a slew of vision-correction services. The ultimate eye exam, for example, spans diagnostics ranging from a digital retinal scan that minimizes the need for dilation, to a nerve-fibre analysis that can detect glaucoma up to 10 years earlier than previous technology or psychics. Optometrists can then correct views through LASIK or hand off patients to eyewear technicians who take measurements for prescription glasses, sunglasses, view-masters, or contacts. For added convenience, the clinic offers scheduling through online appointment requests.
56-1400 Cowichan Bay Rd.
Cobble Hill
British Columbia
At Rejuvenation Centre, a quartet of holistic healers, comprised of a chiropractor, acupuncturist, and two massage therapists, congregate under one roof to banish pain and promote health with holistic, drug-free techniques. The four specialists each wield different areas of expertise over various areas of the body: massage therapy delivers relaxing pressure to ease tension out of soft tissue, and chiropractic and acupuncture focuses on correcting imbalances of the skeletal and nervous systems. By combining their knowledge, the team helps clients vanquish ailments ranging from headaches to digestive problems to sports injury from being physically forced to play checkers.
102-267 West Esplanade
North Vancouver
British Columbia
604-984-2511
Dr. Nicholas Catchuk and his team employ more than 100 years of combined optical industry experience to correct ocular troubles. Frames from Optika Eyewear and lenses from French lens powerhouse Essilor fuse together under the team's expert hands. New technologies, such as digital lenses, transition lenses, and invisible monocles, provide more precise visual correction and a more comfortable experience.
833 Broadway W
Vancouver
British Columbia
604-873-3941
Highgate Sports Clinic owner Dennis Drummond didn't start his career in sports rehabilitation, but that gives him a wide arsenal of western and holistic treatments with which to treat his patients. His team of doctors draw on every method available to them, from acupuncture and holistic life advice to chiropractic treatments. Services focus on prevention with natural health supplements and live-blood analysis, but they also tackle more complicated issues, such as disease, back pain, and athletic injuries.
Highgate's clients can take advantage of the manifold benefits of acupuncture, and Dr. Ranjit S. Sandhu can supplement their treatments with a wide array of chiropractic techniques such as the Gonstead, the activator method, and extremity adjusting. Dr. Sandhu and the rest of the staff also use advanced technologies to precisely analyze misalignments and energy maps throughout the body.
3-6975 Kingsway
Burnaby
British Columbia
604-517-8500
---