Things to Do in White Rock
---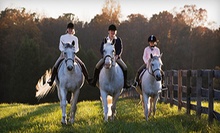 Equine riding experts introduce students of all ages to the art of english riding via fun and safe lessons held in a heated indoor arena
---
Recommended Things to Do by Groupon Customers
---
At age 5, second-generation islander Johannes and his father paddled along San Juan Island, their kayaks crossing paths with troops of orca whales. This foray ignited the young adventurer's twin passions for kayaking and stewardship. Now, Johannes' team of outdoor enthusiasts deftly navigates the waters surrounding San Juan Island, imparting knowledge of marine wildlife to paddlers. Guides not only skim the region's waterways, but lead expeditions across the islands during multiday tours. Groups may paddle along remote islands in search of seabirds and lost tugboat captains, and then hop on bicycles to pedal down rural back roads dotted with lavender and alpaca farms.
Snug Harbor Marina Resort, 1997 Mitchell Bay Rd.
Friday Harbor
Washington
877-732-7877
A tiny ripple glides along the smooth-as-glass water, alerting captain Pete to the fact that he and his passengers are about to have company. Sure enough, within seconds a group of glossy black fins breaks through the sea in a silent, synchronized ballet. A native Washingtonian who has spent his entire life on the water, captain Pete opened San Juan Excursions to grant guests the chance to go head-to-head with nature in moments such as these. As marine naturalists certified by the Whale Museum's Naturalist Training Program, captain Pete's crew of passionate guides—including his wife Erin—takes to the peaceful waters of the Puget Sound to entertain boatloads of guests with informative facts about area wildlife witnessed during excursions.
The team's passion for nature informs its low-impact approach to whale and wildlife watching, which is exemplified in the Odyssey, the company's tour boat. Originally a U.S. Navy search-and-rescue vessel forged in 1941, the craft is fueled by biodiesel when possible and maintains a low propeller RPM to minimize the Bono moans it releases into the water column. Though San Juan Excursions specializes in whale watching, it also sends adventurers forth to explore the waters on their own steam during sea-kayak tours.
#2 Spring St. Landing
Friday Harbor
Washington
360-378-6636
Since 1931, more than three million visitors have walked down the docks of Sewell's Marina, stepped into a boat, and floated through the islands and inlets of Howe Sound. The marina's vessels have proffered spectacular glimpses into nature, such as the plunging waters of Shannon Falls and the wild blacksmiths that gallop across Anvil Island Cliffs.
Sewell's Marina's current trips tread the line between education and adventure. Their crews pilot vessels on fishing charters and aquatic thrills such as a Sea Quest scavenger hunts. Sea Safari tours send boats speeding alongside cliffs and into the habitats of seals, bald eagles, and marine birds. Even with boat rentals, Sewell's crew still guides customers, giving dockside instruction on how to operate speedboats and politely ask harbour seals for directions.
6409 Bay St.
West Vancouver
British Columbia
604-921-3474
When the producers of Free Willy 2: The Adventure Home were casting for the roles of coastal marine patrollers, they didn't look to the scores of hopeful actors in Hollywood, opting instead to find boating professionals with real experience. Their search led them to Orcas Island Eclipse Charters founders Dan and Denise Wilk, whose extensive knowledge of aquatic wildlife made them a serendipitous choice for sharing the camera with Hollywood's most famous orca.
Aboard their 56-foot vessel, Dan and Denise continue to share the passion that led them to the big screen in the first place. Their enthusiasm shines through to passengers while they guide tours into the habitats of killer whales and harbor seals. Occasionally, expert guides direct passengers to look up from the water to spot deer on nearby land or bald eagles soaring through the sky above. When asked how they happen upon so many natural specimens on their trips, Dan and Denise would tell you they don't leave their tours up to chance, coordinating excursions with a whale-watching service that pinpoints where the underwater mammals are feeding.
8368 Orcas Rd.
Orcas
Washington
360-376-6566
Strengthened by its affiliation with UBC's Biodiversity Research Centre and more than 500 natural-history exhibits, the Beaty Biodiversity Museum aims to foster a deep bond between its visitors and all life on the planet. Exhibits include a 26-metre-long blue whale skeleton within the two-storey glass gallery of the Djavad Mowafaghian Atrium, as well as the third-largest collection of fish in the country and a vast assemblage of fossils, insects, birds, reptiles, and Fred Flintstone's ties. In the Allan Yap Theatre, films championing biodiversity play, and on the south side of the atrium, baristas grind coffee beans at the Niche Café while serving snacks to patrons. Designed by Vancouver-based Patkau Architects, the building also hosts interactive activities in the discovery lab, as well as public presentations and community gatherings aimed at illustrating the interconnectedness of all living things.
2212 Main Mall
Vancouver
British Columbia
604-827-4955
At one time, the Britannia Mine was the largest copper mine in the British Empire. It operated from 1904 to 1974, and over the course of those 70 years, more than 60,000 people of myriad races, religions, and backgrounds made it their workplace.
Today, resting alongside British Columbia's sea-to-sky highway, the mine enjoys retirement as a National Historic Site, and opens its doors to visitors every day of the week year-round. Inside, dozens of exhibits, displays, and hands-on activities keep bygone eras alive, including the award-winning short film, Groundbreaking: The Britannia Mine Story, which details the mine's origins. Perhaps the museum's biggest draw, daily guided train tours head underground to showcase the sights, sounds, and working conditions of the mine. Meanwhile, back above ground, a gift shop sends visitors home with their own little pieces of history.
1 Forbes Way
Britannia Beach
British Columbia
604-896-2233
---