White Settlement Gyms and Fitness
---
Gym, Exercise, Weightloss Deals
---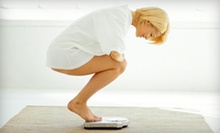 Supplements, custom eating and exercise plans, and nutrition coaching; Groupon purchases benefit Vitamin Angels charity
---
Recommended Gym, Exercise, Weightloss by Groupon Customers
---
At B.A.S.I.C. Training, participants can work effectively toward acquiring full-body fitness while gaining the strength to rip open soda-can tabs and shrink-wrapped bowling-ball packaging. Led by the toned tag-team duo of Jeff Smith and Michael Whitmarsh, B.A.S.I.C. Training offers expert instruction from trainers with years of experience and the ability to gauge heart rates with superhero hearing abilities. Innovative fitness programs keep participants on their toes and calories on the run with unpredictable routines and occasional engine backfiring. Each one-hour outdoor session builds core strength and dexterity without using isolating weight machines or forcing participants to dodge rampaging bulls in the street. Beneficial for fitness seekers of any level, B.A.S.I.C. Training's refined program won't barrage you with the screaming, yelling, and land-mine defusing of typical boot camps. Instead, you'll feel comfortable in a supportive environment of group solidarity. Additionally, a free fitness assessment is provided to help determine muscle fettle and will provide an encouraging counterpoint to your post-boot-camp stats.
3695 Bellaire Dr. N
Fort Worth
Texas
When Ed Norice left the United States Navy in search of a new career, he found fresh enemies to battle domestically: obesity and heart disease. He started Impressive Fitness The Jungle to combat these illnesses and give his fellow citizens a path towards healthy lifestyles.
Norice and his two instructors, Aubree and Rodney, draw from a vast repertoire of exercise styles to wage their war. TRX resistance bands force the muscles of the body to work in concert and strengthen the body from head to toe. Martial-arts skills lend a practical edge to every workout, increasing endurance and arming students with basic self-defense techniques. Outside of group classes, the trio offers personal training and nutritional consultation to help prevent clients from making unhealthy choices in their diet, such as eating a whole birthday cake and then eating the cake's candles.
9100 Clifford St.
White Settlement
Texas
214-577-1430
Certified UBI technicians with a combined 25 plus years of experience, Bonzai Cycle Werx's bike geniuses know how to make a rust-riddled beater ride as smoothly as a hoverboard. Get your pedal engines started with a full cleaning, polish, and wheel straightening from the friendly gurus. They'll properly pamper your bike by cleaning and degreasing your entire drivetrain, which includes the chain, cassette, derailleur pulleys, and chain rings. Your bike's day in the spa also comes with newly installed brake cables and derailleur cables. Whether you purchased your bike from Bonzai Cycle Werx or not, they know how to make it a well-oiled, city-cruising machine that will never burst into flames for no reason.
3529 Heritage Trace Pkwy.
Fort Worth
Texas
817-886-4747
The serene studio offers mat instruction in small class sizes to ensure students get individualized attention as they hone in on the mind-body approach to exercise and optimal wellness. With today's Groupon, you'll experience small-equipment mat classes led by one of the certified instructors—collectively sporting over 600 hours of training—who will in turn be your new pal and motivational lipo-melter. All classes last 55 minutes and utilize a variety of small equipment, including balls, magic-circle rings, 6-foot rollers, and resistance bands and weights, which place weakened putty muscles into a slender blender to create a strength smoothie. The dynamic sweat-session focuses on flattening abs and lengthening and increasing muscle tone.
6320 Camp Bowie Blvd.
Fort Worth
Texas
As they enter the training circle at Curves, female guests come face-to-face with the smiles of other women. And just as points on a circle share a common distance from the circle's center, workout participants share the experiences of those nearby by trading stations throughout the 30-minute training session. One minute is spent on a piece of strength-training equipment built for feminine frames and designed to work two opposing muscle groups with a single movement. Exercisers then move on to a recovery station, where they run, jog, or dance to maintain heart rates and keep platforms in place during momentary losses of gravity.
5751 Westcreek Dr.
Fort Worth
Texas
817-292-0027
Karmany Yoga's two studio locations, 14 instructors, and seven days a week of class are impressive, but the numbers alone didn't earn it D magazine's award for Best Yoga Studio. That honor belongs to the teachers' passion. They all came to yoga from diverse backgrounds, having worked as fashion-magazine editors, full-time moms, or high-school band conductors. As different as their outside interests are, they share one main quality—a great drive to aid others in discovering the balance that yoga helped bring to their lives.
They teach three primary forms of class. Slow flow gently coaxes the body toward greater feats of flexibility. Power flow, taught in the style of Baron Baptiste, challenges athleticism with a much faster-paced series, best performed in a movie montage leading up to an incredible victory that defies all odds. They also teach traditional Iyengar yoga, a style that almost exclusively focuses on perfecting the alignment of postures and bringing health to the skeletal and muscular systems.
2735 South Hulen Street
Fort Worth
Texas
817-689-5642
---