Restaurants in White Settlement
---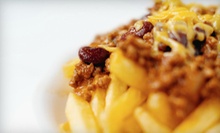 Use Saturday 4:00pm - 11:00pm
---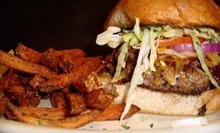 Stainless steel tables laden with burgers & drinks reflect sports broadcasts from flat screen televisions, with karaoke & live music nights
Use Sunday 6:00pm - 10:00pm
---
Recommended Restaurants by Groupon Customers
---
Try east-coast eats without leaving the state and order the Jersey Shore's Favorite; served Mike's Way, generous slices of provolone, ham, and cappacuolo get layered with onions, lettuce, tomatoes, vinegar, and a sprinkling of oil and spices. Cold subs come in three sizes: mini ($4–$4.75), regular ($5.75–$6.75), and giant ($9.75–$10.75). Hot options ($6.25–$6.75 regular, $10.25–$10.75 giant) include various takes on the famed cheese-and-steak combination, as well as a chicken parm and meatball and cheese. On a lighter note, Jersey Mike's also serves wraps and salads. The Watauga Jersey Mike's also serves a kids' meal consisting of a mini-sandwich, a drink, and chips or a cookie for $4.
7608 Denton Hwy., Suite 300
Watauga
Texas
Ruffino's is a culinary paradise that revolves around the gastronomic genius of Chef Asdren Azemi. Graduating in the top five of his class from The French Culinary Institute in New York City, Azemi's classically trained food-potion skills emanate from every impeccably crafted dish found on the dinner, lunch, and Sunday brunch menus. Revel in the simplicity of Italian antipasti offerings such as the hand-pressed Russet-potato gnocchi ($12) or Prince Edward Island mussels ($12). Garden goodies dance with the Ruffino's Salad ($8), which delicately sprinkles feta, fried olives, and seasonal vegetables with balsamic-tomato vinaigrette. After your pre-mealing, dive face first into Franco's lasagna ($17), with ground beef, rich ricotta, and fresh herbs all smothered with the Ruffino family's robust tomato sauce. Or go with the spaghetti with diver scallops ($22) or the wild-salmon steak ($26), laid atop roasted eggplant, asparagus, seasonal tomato, and olive-oil vinaigrette. Although wine is not included in this deal, you can click here to print out an invitation for a complimentary glass between 5 p.m. and 7 p.m. any night.
2455 Forest Park Blvd.
Fort Worth
Texas
Cast Iron satiates eager sustenance-hankerers with its gourmet versions of homemade southern-cuisine favorites, pleasing both the traditional grandmother and the edgy, postmodern foodie. Inaugurate the gastronomic ceremonies with fried green tomatoes ($7), a flavorful side spruced with local goat cheese and cilantro oil. Drizzled in red-wine syrup, the Shiner-brined pork chop ($17) is an entree juicy and tender enough to replace a damaged waterbed. Reach the fudge-soaked checkered flag with Cast Iron's double-chocolate-fudge cake ($6) with indulgent vanilla sauce. Early-risers still exhausted from a long night of trapeze-archery practice can rejuvenate lethargic brains with a New York–sourced bagel from H&H Bagels, topped with smoked salmon ($13) or the pulled-pork eggs Benedict ($14).
1300 Houston St.
Fort Worth
Texas
Simply Fondue's intimate, chandelier-lit dining room plays host to tabletop pots that bubble with warm imported cheeses, oils, and broths. The restaurant's cheese fondues from Switzerland, the Mediterranean, and England allow diners to taste the world's flavors without having to lick every country's flag. The eatery also simmers traditional canola oil fondue and broth fondue. For each entree, chefs pair simmering helpings with platters of meat, seafood, or veggies, all of which can be altered upon request.
Many meals conclude with chocolate fondue, which features an impressive coterie of sweets such as pound cake, triple-chunk brownies, cookie-dough balls, and fresh pineapple chunks plucked from the hats of local conga dancers. The dining experience stays casual throughout with plush booths and granite table tops.
111 W 4th St.
Fort Worth
Texas
In the gently lit restaurant, a waiter in black trousers and white shirt glides between tables toward one of many private booths. When he reaches his destination, he opens his mouth to greet the waiting guests and take their order, but instead of speaking, he bursts into song. The singing waiters' nightly performances help to fuel the happy chatter that rolls across diners at The Italian Inn as soon as they pass the red-and-white striped pole near the entryway. As a live musician sits down at a piano to join the servers in their songs, wall sconces and tabletop candles flicker. Red, blue, and green light-garlands run across the room, casting playful hues on walls covered in handwritten epigrams, love notes, and messages from cardiologists concerned by hearts full of letters.
Chefs load plates with USDA Choice beef or decorate pastas imported from small Italian towns with sauces made fresh daily or imported olive oil. In the kitchen, the crew crafts soups, dressings, and desserts anew each day, and servers scoot past to grab bottles from a cellar crowded with international red, white, and bubbling vintages.
6323 Camp Bowie Blvd. , Suite 119
Fort Worth
Texas
Leading the charge in Los Vaqueros' two area restaurants, Chef Cisneros imparts his third-generation culinary expertise to crafting flavorful Tex-Mex dishes from a stash of local poultry, fruits, and fresh veggies. At the flagship Fort Worth location, set within a former warehouse, a flight of yellow steps leads through a leafy archway into a lively dining room filled with vintage cowbells, tin signs, and Air Jordan horseshoes. The Weatherford location sits within Crown Valley Golf Club, where patrons dine on enchiladas, tacos, and burritos as wild golf balls cheep from their perches on the windowsills.
2629 N Main St.
Fort Worth
Texas
817-624-1511
---