Coffee & Treats in Whitefish Bay
---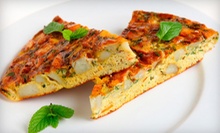 Teas from all over the world pair with breakfast, hot and cold sandwiches, soups, and salads
---
Recommended Coffee & Treats by Groupon Customers
---
Created by the Ginatta family, Paciugo satisfies cravings with hot and cold gourmet coffee concoctions and small-batch Italian gelato, made fresh daily from all-natural ingredients. Hundreds of flavors make rotating appearances on the expansive menu of confections, which boasts fruity sorbets and milk-, soy-, and water-based gelato, all with less fat than traditional ice creams or salads sculpted out of butter. Candied Italian black cherries, Piedmont roasted hazelnuts, Sicilian pistachios, and Belgian extra-brute chocolate add richness to the carefully crafted Turin recipes. Customers can fill a piccolo cup with up to three flavors ($3.99) or make the leap to the grande cup's five selections to meet the FDA's recommended daily servings in one sitting ($5.59).
95 N Moorland Rd.
Brookfield
Wisconsin
Most of Wild Flour's loaves are crafted with traditional old-world European techniques, which exclude fat, oil, sugar, eggs, dairy, and preservatives and replace them with high-quality flours. Artisan favorites, such as the olive rosemary and cranberry walnut, complement any meal, while health-conscious selections such as the whole-grain flax-seed bread and the multigrain sourdough will allow nutrition-minded architects to nosh guilt free. Each of Wild Flour's four cozy stores serves hot lunch daily, with a rotating soup selection that pours the likes of Catalina chicken, cream of potato with bacon, and tomato red-pepper bisque alongside hot grilled sandwiches such as the zipper (ham, salami, provolone, tomato, onion, jalapeños, and mayo, $5.50) and the hot vegetarian (marinated eggplant, red peppers, portobello mushrooms, and pesto sauce, $4.90). Cold deli classics also sashay out of the kitchen, including egg salad ($4.90) and chicken salad ($5.50) and a wide selection of salads (starting at $3.25).
2800 W. Lincoln Ave.
Milwaukee
Wisconsin
Rochambo boasts more than 70 teas, locally roasted coffees, and distinguished microbrews inside its Victorian-styled sipping space. Teas come in varieties such as green, black, scented black, white, periwinkle, and oolong, all priced by their degrees of rarity and measured by the cup, pot, furlong, or ounce. Feel free to gulp house teas, such as the mountain huckleberry or Japanese sencha ($1.75 a cup), or furnish chilly hands with extra-rare libations such as the white silver needles tea ($3.75 a cup).
1317 East Brady Street
Milwaukee
Wisconsin
More than 110 flavors of Chocolate Shoppe Ice Cream take turns guest-starring on Babe's monthly menu. This month provides more than 30 indulgent flavors, such as chocolate marshmallow and horchata, as well as alternative selections of sugar-free caramel ripple or espresso Oreo soy. Snag a sugar or wafer cone ($2.70 for a single scoop), or shoot for the sugary stars with a raspberry blast or piña colada smoothie ($3.75). Babe's also serves up specialty sundaes and shakes, while quarts of ice cream ($7.25) are available to be taken home in car-trunk freezers or stomach igloos.
2264 S Kinnickinnic Ave.
Milwaukee
Wisconsin
In the fall of 2010, a young couple named Jake and Heather strolled down the street in front of Simma's Bakery, enjoying the brisk Wisconsin weather. Heather chatted away lightheartedly as they walked their small, fluffy dog together, but Jake's heart and mind were racing. As they approached the storefront, the young man made his long-planned gesture toward the window, where, flanked by two white roses, sat a Simma's cheesecake. The signature chocolate ganache had been decorated with six red flower buds, swirling green vines, and five life-changing words written in white: "Heather, Will You Marry Me?" Jake got down on one knee and pulled out a ring to say with words what the cake had already said with icing.
Simma's Bakery has been a Milwaukee staple for more than 25 years, and its decadent desserts have shared more laughter and tears than a soap opera about birthday clowns. The mom-and-pop shop was founded by Simma Yundov, a woman who immigrated with her husband and two children to the United States from Russia in 1979. She built the bakery from the ground up, making a name for herself and touching the lives of countless people. After her death more than a decade ago, Simma's daughter carried on her mother's work and recently passed the brûlée torch to Mark and Peggy Carollo, who, Veil magazine, have years of experience in the family-run bakery business. Today, the walls are covered with awards and recognitions—tributes to Simma's legacy. The bakery was named one of the The Knot's Best of Weddings 2013 vendors, a top Wedding Cake Designer in the Shepherd Express Best of Milwaukee 2012 awards, and has been a winner or finalist in CityVoter's Best Cakes category for six years running. According to a 2009 article by the Badger Herald's Allie Demet—who grew up in the area and remembers celebrating childhood birthdays with Simma's cakes—the shop is one of the International Restaurant & Hospitality Ratings Bureau's Top 25 Bakeries in America. The shop has also been voted the Best Place to Satisfy Your Sweet Tooth in 2012 by both the editors and readers of M magazine.
817 N 68th St.
Wauwatosa
Wisconsin
The owners of Sven's Café pride themselves on being ahead of their time—when Steve Goretzko and his business partner George Voglis began roasting in 1989, they were among the first in Wisconsin to specialize in fair-trade and organic coffee. After Sven's Organic Coffee Company began to take off, Goretzko decided to open Sven's Café in Bay View; eventually, he added another location in downtown Milwaukee.
Goretzko hails from Berlin, and Sven's Café has a decidedly European feel; baristas use Probot and Gothot German roasters to brew fresh java, for example. Sven's coffee beans hail from the world over, harvested in far-flung locales including Africa, Indonesia, South America, Hawaii, and the moon. The café also serves breakfast sandwiches, paninis, salads, and soups.
2699 S Kinnickinnic Ave.
Milwaukee
Wisconsin
---