Whitefish Bay, WI Outdoor Activities
---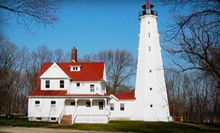 Recently restored historic lighthouse showcases artifacts, history & high climbs
Use Saturday 1:00pm - 4:00pm
---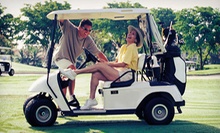 Wedged between Browns Lake and the Fox River, a 6,449-yard course boasts elevated greens and a miniature Golden Gate Bridge
Use Today 6:00am - 8:30pm
---
Recommended Outdoor Activities by Groupon Customers
---
First a teacher, and then a stay-at-home mom, Melissa Spredemann turned to indoor cycling to help her get into shape. With 12 years of experience under her belt, she decided to become certified to teach others the exercise form she loved so much. Just one year into teaching, she knew she wanted to pursue her passion full-time, so she opened Velocity Cycling Studio to share stationary cycling's benefits with others. She handpicked a team of instructors, each chosen for their commitment, enthusiasm, and innate ability to bike while not covering any distance. Melissa made the conscious decision to open a niche gym, focusing on indoor cycling and only indoor cycling. In the studio, an army of Spinner NXT bikes with SPD clips seats students as they bike through poses, drills, and movements designed to mimic outdoor riding. Thumping tunes pump up pupils as they ride, keeping them motivated to pedal to the upbeat tempos. Unlike big-box gyms and arranged friendships, Velocity Cycling Studio never requires a contract—guests simply pay per ride.
15032 N Port Washington Rd.
Mequon
Wisconsin
414-688-3807
Like mobile Knights of the Round Table, bikers sit in a circle on Science and Fun's seven-person conference bikes. One rider steers while all passengers pedal, powering bikes as they cruise through the city or serve as low-key parade floats. Groups with sufficient manpower for two bikes can turn open, paved spaces or Bucketworks' indoor arena into bicycle basketball courts. Each bike constitutes a team, and both teams launch a barrage of foam balls at their opponent's bike-mounted hoop during four-minute rounds in a game adaptable to all ages and pending NBA contracts. While advance bike reservations ensure a circular steed, Science and Fun happily reschedules or cancels reservations that coincide with inclement weather.
2602 E Hampshire St.
Milwaukee
Wisconsin
414-364-2893
Brew City Bike Tours offers pedal-pushing participants an opportunity to experience the city and its bountiful beer offerings on two wheels without welding a keg to the back of a tandem bike. Tour participants will glean illuminating knowledge about Milwaukee's brewing past (it was once home to four of the world's largest breweries) while sampling some of the city's most notable microbrews. Each tour lasts approximately 3.5 hours and includes two to three samples of beer at three different stops. When logistically possible, one stop will be a tour of Lakefront Brewery, a microbrewery housed in a former Milwaukee Electric Railway and Light Co. power plant. Bike rentals are not included in this Groupon, so thirsty adventurers should bring their own bike, rent one for an extra charge ($31.68), or attempt to commandeer a wild bronco. BYOHelmet too; they're required for the tour.
2108 North Farwell Avenue
Milwaukee
Wisconsin
The longest running professional soccer franchise in the United States, the Milwaukee Wave debuted in 1984 as one of the six charter members of the American Indoor Soccer Association. Now, nearly three decades later, and as part of the Major Indoor Soccer League, the club builds upon a history that already includes six league championships–most notably, back-to-back titles in 2011 and 2012.
Off the field, the Wave's positive impact ripples into the community through an educational program, Making Waves, which sends players to more than 70 schools annually to discuss why healthy habits are good and why mistaking a referee for a zebra could be bad. The club maintains those community-inspired good vibes during its home games at U.S. Cellular Arena, where frequent promotions and mascot Brad Beach keep fans of all ages entertained.
400 W Kilbourn Ave.
Milwaukee
Wisconsin
414-224-9283
Elite Sports Clubs' encyclopedic menu of group classes injects novelty into stale workout routines with more than 200 classes each week. Choose from pound-pummeling programs in five categories: cardio, strength, aquatics, mind/body, and fusion. Zumba shimmies off unwanted pounds and boot camp drop-kicks calories through intense cardio and agility training. Let supple limbs flow smoothly between strength-building postures during a graceful session of Vinyasa yoga or mesmerize muscles with Trouble Zone Tone, a speedy weight training and cardio routine. Joint-friendly classes such as H20 Blast provide aquatic-based fitness that's far more enjoyable than pumping iron while chasing the neighbor's sprinkler. Body benders can drop off their child or tofu-based child substitute at Elite Sports Club's daycare before their class, and retire to the locker rooms afterward to towel off accumulated sweat and war paint. Check out Elite Sports Clubs' schedule for a list of classes offered at each location.
600 N Barker Rd.
West Brookfield
Wisconsin
Hosted by Shaker's Ghost Tours, Dahmer Tours grants a spine-chilling glimpse into the life of Jeffrey Dahmer from within his hunting grounds. The guides, who are neither insensitive to the victims' families nor approbating of Dahmer's monstrous acts, narrate thoroughly researched information about the crimes and their historical impact over the course of a one-mile walk. The company crosschecks all their material with former members of Milwaukee's legal community and several unturned stones to ensure that every fact and trail is credible. As guests' feet cover the very tracks that Dahmer stalked upon, guides dissect his mad world to grant access into the mind of a serial killer.
418 S Second St.
Milwaukee
Wisconsin
---