Whitehall Township, PA Outdoor Activities
---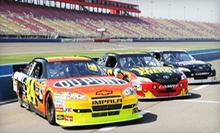 Professional drivers sate passengers' need for speed in stock cars during exciting ride-alongs and racing experiences
---
Recommended Outdoor Activities by Groupon Customers
---
When Brian McInerney reflects on the humble beginnings of Wheel Fun Rentals, he points to his childhood passion for bikes. "As far back as I can remember, I had a real love affair with bicycles," he recalls. During a trip to Italy in 1987, Brian's affinity for cycling blossomed into a full-fledged obsession when he spotted locals' transporter of choice, the surrey. Inspired, he began importing the Italian four-wheelers to a rental business in the U.S. that eventually expanded into Wheel Fun Rentals, now a nationwide web of shops that also loans out bikes, electric cars and mopeds, and man-powered watercraft. Atop bicycles and surreys built for solo riders or entire families, patrons embark on self-guided tours of major U.S. cities. Led by maps and lists of nearby sites of historical or cultural significance, riders zoom down bike paths and safe, lightly trafficked streets. Adventuresome athletes can also compete in activities such as surrey scavenger hunts and blindfold obstacle courses navigated via shouted instructions from a seeing teammate or exceptionally long rounds of trial and error.
1 Boathouse Row
Philadelphia
Pennsylvania
215-232-7778
Competitors in the Professional Indoor Football League's United Conference since 2011, the Steelhawks prey on the opposition across the 50-yard pitch inside Stabler Arena. With a roster of gridiron stars, many of which were standouts at colleges across the country, the Steelhawks bring a fast-paced style of play to a football-crazed fanbase. The Steelhawks' mascot, Talon, regales fans in the stands during games with signature cheers and seminars on how to build structurally sound nests.
124 Goodman Dr.
Bethlehem
Pennsylvania
The ECHL affiliate of the Philadelphia Flyers, the Trenton Titans compete against the country's top hockey prospects in the Atlantic Division of the league's Eastern Conference. Founded in 1999, the Titans won the Kelly Cup in 2005 behind captain Rick Kowalsky and leading-scorer Scott Bertoli, capping off an impressive six-year span in which the team missed the playoffs only one time. As the Titans continue their quest to replicate past glory, raucous fans clad in red cheer them on at Sun National Bank Center, aided by the team mascot Rivet, who energizes fans without throwing AA batteries into the stands.
81 Hamilton Ave.
Trenton
New Jersey
609-341-1100 x505
Lehigh Valley Grand Prix's gas-powered Sodi GT5 Proline karts zip around a quarter-mile racetrack with 11 brake-stomping turns. The karts feature air-intake units that trap their exhaust and keep the atmosphere fresh, and the track—constructed from 1,300 used Goodyear tires and the shredded remains of Mario Andretti's learner's permit—is outfitted with three observation platforms for track marshals to regulate each lap and guarantee riders' safety. A full-time mechanic keeps finish lines crowded by calibrating karts to run within three-tenths of a second of one another and hanging hundreds of piñatas from the checkered flag. At the facility's bar, Octane, drivers can refuel with drinks and food while watching stock-car races on the five 42-inch TVs.
649 S 10th St.
Allentown
Pennsylvania
610-432-7223
More than 12,000 square feet of indoor rock-climbing surfaces greet climbers at Doylestown Rock Gym, where they can test their scaling acumen on a network of bulges, overhangs, chimneys, and cracks. As climbers scramble over the massive facility, an alert staffer remains ready to assist when needed and remind nervous beginners that there are no mountain lions around. The space presents suitable challenges for all skill levels and facilitates advancement in the sport through individual and group instruction by on-staff experts.
3853 Old Easton Rd.
Doylestown
Pennsylvania
Presented by Gourmet Shows, the annual Taste Philadelphia Festival of Food, Wine, and Spirits showcases hundreds of local chefs, restaurants, and vendors. More than 200 tasting stations pepper the Greater Philadelphia Expo Center, including the Taste of Italy Pavilion, where attendees can sample cheeses and wines from Europe's boot-shaped peninsula. On the expo's stage, meanwhile, local chefs and culinary personalities teach onlookers their cooking techniques and favorite recipes during demonstrations. Attendees will have the chance to watch the likes of Michael Giletto, an award-winning chef whose food is a fusion of international cuisines, and Bethenny Frankel, best-selling author and star of Bravo's Bethenny Ever After, for an additional cost. Other educational events include beer seminars from award-winning writer Gary Monterosso and wine seminars that explain why, despite popular opinion, grape soda doesn't complement veal as well as chardonnay does.
1210 1st Ave.
King of Prussia
Pennsylvania
---