Tours in Whitney
---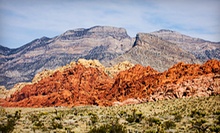 Four-hour bus tour highlights Red Rock Canyon's landscape before shuttling patrons to Red Rock Casino, Resort & Spa for award-winning buffet
---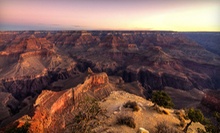 Trained guide leads bus tour from Vegas to Grand Canyon with stops at Skywalk and Guano Point for breathtaking nature views
---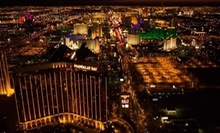 Spend two hours exploring sites such as the Mirage volcano, the Bellagio Fountains, and a world-renowned dessert shop
Use Today 4:30pm - 7:30pm
---
Recommended Tours by Groupon Customers
---
With thousands of flight hours under his belt, experienced pilot Keith Deschambeault of Acadian Seaplanes chauffeurs nature-bound groups over breathtaking treetops and seascapes in a single-engine plane specially designed for water landings. Maine's illustrious coastline unfolds below as the small, sturdy planes soar on specialized air tours that seek out moose, remote mountain lakes, or destination fishing for trout, bass, and Maine's native aquamoose.
500 E Cheyenne Ave.
North Las Vegas
Nevada
US
Since hatching their first helicopter in 1985, National Helicopters Inc. has become one of Canada's biggest chopper flight and maintenance organizations. Boasting more than 45,000 hours of incident-free flying, National Helicopters' pilots ensure safe passage to wherever passengers desire, and their photo and aerial tours and helicopter golf trips go off without a hitch due to the pilots' countless hours of practice. For those interested in taking the handles, the company teaches commercial pilot instruction, along with survival training and ground school.
500 E Cheyenne Ave.
North Las Vegas
Nevada
US
Learn about the desert's plants, wildlife, and the origin of that spontaneous background harmonica. Desert Adventures' enthusiastic naturalists reveal all the mysteries of the desert and the centuries of interplay between geology, ecology, history, and podiatry. There are regular opportunities to hop out of the wagon and explore the terrain on foot. Mimic the desperation for wealth as you play "pan for gold" in the reconstructed prospector's settlement, or explore the replica Cahuilla Native American village before winding through the convoluted uplift geology of the Canyon of the Crescent Moon. Spot lions, foxes, and mountain lions that are visibly jealous of your voyeuristic advantage.
1647-A Nevada Highway
Boulder City
Nevada
US
Stray Boots Urban Games is an interactive tour that sets friends and family members loose on an exhilarating, knowledge-fueled undertaking guided by text-message clues, trivia, and riddles. They operate in cities across the country, dividing them into special game zones that contain the historical sites, local areas of interest, or eccentric child mayors unique to each city. During the explorations, clues point the way to cultural hot spots, which Stray Boots communicates to players via text message. At least one player on the team will need a U.S. cell phone to receive clues, and none of the self-guided tours require previous knowledge of the city. Adventurers play at their own pace—most zones take two to three hours to finish—which allows them to spend more time learning about the city and photographing vibrant fire hydrants for aquacentric scrapbooks.
3600 Las Vegas Blvd. S
Las Vegas
Nevada
877-787-2929
Quality Tours of Las Vegas brings the Hoover Dam, the Grand Canyon, and Hollywood crashing at the feet of the city of lights through immersive sightseeing tours. Their fleet of luxury SUVs and luxury vans helps the company live up to its name, carting curious tourists around natural wonders and Hollywood mainstays such as the Grand Canyon, Hoover Dam, and the Warner Bros. studios. These tours offer guests a chance to experience such popular sights through photo opportunities, on-site lunches, and interviews with Alfred Hitchcock's silhouette.
3131 Las Vegas Blvd.
Las Vegas
Nevada
855-229-2049
---