Professional Services in Wichita
---
Recommended Professional Services by Groupon Customers
---
Millers' Cleaners has been freshening fibers since 1977, and today it uses eco-friendly practices that ensure Mother Earth doesn't cry sudsy tears all over your special-instruction garments. The seven branches of the family-owned-and-operated business hang clothing on reused hangers or completely recyclable polypropylene hangers, package garments in biodegradable poly bags, and clean with petroleum-based solvents that help keep toxic waste from seeping into the groundwater and splashing dirty words at children.
601 S Greenwich Rd.
Wichita
Kansas
Beards' team of effervescence experts crafts minimalist, Japanese-influenced artistic designs with vibrant colors, strong linear accents, and smoothly shaped vases. A bundle of roses and hydrangeas spins with sophisticated swoops of Beards' signature grasses ($33.50), while three rosebuds in an elegant vase ($19.95) stand tall and classy, like limos driving up the Empire State Building. For brightening glum tables and countertops, Beards bottles sunshine and sprays it on cheery gerbera daisies with grass clusters ($29.99). Click here to see a video of some of Beards' creations.
1718 East Douglas Avenue
Wichita
Kansas
No one wants to throw away the records, photos, and videos from their youth, but the shifting media landscape and physical deterioration makes savoring the moments they contain more difficult with every passing year. That race to preserve these precious moments is what keeps A1 Media Services' staffers coming to work, where they transfer analog media such as VHS, Beta, Digital8, and MiniDV into more lasting DVD and CD formats. The trained technicians are adept at ironing out the problems facing the aging media they're transferring, clearing away the darkened grime and wrinkle marks from old photos and editing out record imperfections such as scratch marks and backward messages of your mom telling you to clean your room. The transferred CDs and DVDs come encased with their own personalized label, allowing clients to easily find the pictures while minimizing the space needed for storage.
3201 E Douglas Ave.
Wichita
Kansas
316-519-1591
Since 1982, World of Video & Audio's tech-savvy team has been transferring audio, video, and film to CD, DVD, and Blu-ray, often with a one-day turnaround. Their digitization expertise also includes file encoding, web compression, and transferring tapes to digital files. Duplicating and cloning all formats are among their litany of services, as well.
5938 N. Legion
Wichita
Kansas
316-729-7600
When she was eight years old, Nichole Conard's grandparents gave her the gift of a camera. Since that day, she's seen the world through the eye of her camera lens. She worked for other photography companies, earning promotions and publication, before she finally realized her dream of opening her own studio, RedRock Photography. When the business grew too big for Nichole to handle alone, she turned to her sister-in-law, Jennifer Baldwin. A passionate shutterbug and photojournalist, Jennifer joined the company as a co-owner and photographer. Today, Nichole focuses on the studio's Wichita branch while Jennifer maintains the Emporia branch.
Today, the sisters-in-law are busy shooting all types of portraits. Nichole has amassed more than 20 years of professional portrait experience, and Jennifer's been shooting professionally for six years, allowing them to draw from a wealth of experience as they capture family photos, maternity shots, and one-person portraits, as well as their specialty: children's photography. Sessions at their studio are private and unrushed, and outdoor shoots capture images in a single natural background. During Cruise sessions, the photographer and subject travel around, stopping to take photographs with unique locations, striking landscapes, or curiously grinning cats.
6100 N Fairfield
Wichita
Kansas
316-258-3344
A proud member of the Professional Photographers of America, shutterbug Christopher Clark captures memorable images of families and high-school seniors. Families and their pets gladly grin in unison for portraits worthy of any wall, holiday card, or Wanted poster. Clark shows up for sittings at the locale of choice or snaps portraits in the cozy confines of his studio. A preportrait phone consultation ensures the photographer's expert staging skills bring out the best side of every two- or- four-legged member of the family. Portraits sized for wallets and frames commemorate shoots' success alongside linen-embossed pictorial depictions mounted on sturdy art board and ready to be framed and hung above the mantel.
200 W Douglas Ave., Suite 707
Wichita
Kansas
316-943-6900
---
---
Professional Service Deals - Recently Expired
---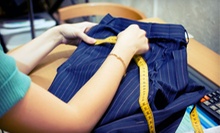 Expert tailor hems pants, skirts, dresses, and suit coats to fit newly altered physiques and backs up work with a personal guarantee
---
---