Things to Do in Wickliffe
---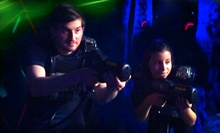 An asteroid belt serves as the backdrop to this glow-in-the-dark laser-tag arena, where players dodge and shoot beneath black lights
---
Recommended Things to Do by Groupon Customers
---
Since 1985, Trolley Tours of Cleveland has shuttled more than one million riders around the city aboard its fleet of open-air, bright-red trolleys. Winding along an approximately 20-mile route, the city tour showcases some of Cleveland's most iconic sights, including the Victorian homes of Ohio City, the Rock and Roll Hall of Fame, and downtown, where an eclectic mix of modern and historic architecture stretches skyward to amaze passersby and to high-five low-orbiting superheroes. Personable, professionally trained guides accompany the nationally known tour with Cleveland-centered facts and stories.
Aside from untangling urban avenues with informational junkets, Trolley Tours of Cleveland also makes its wheels available for conventions, weddings, and more, enabling businessmen and bridesmaids alike to avoid having to hitch rides on vigorously tossed bridal bouquets.
2000 Sycamore St.
Cleveland
Ohio
More than 120,000 species of trees, wildflowers, and native plants take root across The Holden Arboretum's 3,600 acres of themed gardens and natural terrain. As birds chirp overhead and butterflies binge on nectar plants, visitors make their way across 12 gardens on guided tours or leisurely strolls. The most intrepid wanderers can spend a full day attempting to navigate more than 20 miles of trails that wind through a rhododendron garden, a mature beech-maple forest, and a waterfowl observation blind. Guides facilitate a more focused experience during forest explorations and home landscaping sessions, the latter of which demonstrate how to add a lifelike smile to topiary sculptures of the mailman. The arboretum also hosts numerous lecture series, youth programs, and special events such as Fridays in the Garden, where light refreshments accompany presentations or walks with horticultural experts.
9500 Sperry Rd.
Kirtland
Ohio
440-946-4400
At American Bouncers, sock-footed tykes flex their quads and imaginations as they navigate an indoor inflatable adventure land. Puffed-up castles, slides, and Berkshire mansions boomerang with lads and lasses during regular open-bounce sessions, birthday parties, and special events. Junior bounce sessions offer parents an opportunity to leap alongside their tots in the buoyant abodes, and the arena's concession stand replenishes bouncers with kid-friendly nibbles. The company also leases a selection of bounce houses, concession machines, and party supplies for special events or moon-landing reenactments.
6442 Metro Crt., Suite D
Bedford Heights
Ohio
Like many minor-league baseball teams, the Captains didn't start out with their current name or even in their current state. The Columbus Indians (from Columbus, Georgia) were founded in 1991, and a year later, they became the RedStixx. It wasn't until 2003 that the franchise moved to Eastlake, Ohio, where they adopted the Captains moniker and caught their first bluegill. That same year, the newly established Captains treated Eastlake fans to a 97-win season and a trip to the South Atlantic League championship.
It was also in 2003 that the gates opened to Classic Park. The 6,150-seat facility features a grassy berm above its outfield walls and mixes nostalgic charm with modern features. Over the years, Classic Park has hosted many future big leaguers and many classic moments, including the Captains' first-ever championship season in 2010—the team's inaugural year as part of the Midwest League.
35300 Vine St.
Eastlake
Ohio
440-954-9467
---