Wildwood, MO Outdoor Activities
---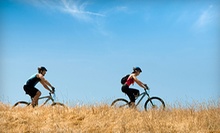 Riders pedal a sturdy hybrid mountain bike through lush, mountainside forests of Katy Trail, one of the longest in the country
Use Today 8:00am - 5:00pm
---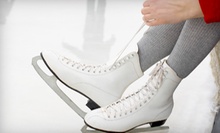 Olympic- and pro-size rinks host skaters in complimentary rental skates during two-hour public sessions at a 115,000-square-foot facility
Use Monday 11:00am - 1:00pm
---
Recommended Outdoor Activities by Groupon Customers
---
On 18 playing fields at two Wacky Warriors locations, players can storm a two-story castle, take cover behind barrels stacked in pyramids, and weave through red inflatables. Each 15-minute open-play game mixes novice and expert participants, who compete in matches such as hide-and-seek and capture the flag under the watchful eye of trained referees. Fighters take to the fields with their choice of more than 500 rental markers; spectators can monitor the action from netted areas next to the brickyard and airball fields.
Along with open play, Wacky Warriors hosts private parties and special events such as zombie-apocalypse scenarios. After bouts, players can relax in the pavilion, sign their artwork on opponents' gear, and grill up a feast in Wacky Warriors' massive barbecue pits.
700 Wacky Rd.
Wentzville
Missouri
AC St. Louis triumphantly brings men's outdoor professional soccer back to the nation's soccer capital. STL's team of international and local footballers will weave in, over, and around their opponents—all under the all-knowing guidance of head coach Dale Schilly. Footballing fans, meanwhile, will get to cheer from the stands, refrain from hooliganism, and challenge each other to see who can shout "Gooooooooooooooaaaalll!" the longest.
1 Soccer Park Rd.
Fenton
Missouri
While unloading their ammo upon enemies, paint-splattered warriors hunt for cover in the outdoor wilderness of Xtreme's 10 playing fields. They duck behind multistory wooden barricades on the Castle field, navigate a maze of padded pillars and logs on the Arena field, dive into leafy ditches on the Bunker field, and command one of four two-tiered fortresses on the Four Forts field. Much like siblings competing to see who celebrates their birthday first, Xtreme Paintball Park gathers players to engage in competitive scenarios such as capture the flag and elimination. Park staffers expand these play opportunities by constantly building new playing fields and restaging area structures. During private parties, ranks of covered pavilions offer spaces where groups can take a break from excessive sun, rain, and snow as they prepare for the next round.
939 Oak Terrace Ct.
Fenton
Missouri
In 2009, while refereeing women's flat-track derby bouts, the founding fathers of the St. Louis GateKeepers realized they wanted a taste of the speed, adrenaline, and action found in competitive roller derby. The pair gathered a crew of like-minded skaters and, in November of that year, the GateKeepers held its first league practice. By the end of their 2012 season, the league had expanded to feature three teams, plus a travel team that defends St. Louis from out-of-town opponents hoping to claim the Arch as a trophy. Despite its expansion, the GateKeepers stands by its original mission to provide a league for the players, by the players, and welcomes men from all walks of life to try on the sport's sweat-soaked jerseys and multicolored bruises.
570 Weidman Rd.
Ballwin
Missouri
Operating out of the historic Defiance general store built around 1898, Katy Bike Rental's owners Todd and Robin White showcase their pride in local heritage as they equip visitors for voyages down the Katy Trail State Park. Originally the Missouri-Kansas-Texas Railroad, the line has since been converted into a state park whose calm gravel trail winds through lush forest alongside the Missouri River. Cyclists set out aboard the store's fleet of hybrid mountain bikes, tandem bikes, or comfort cruisers, each with optional attachments such as child carts to tow kids. They then pedal past old railroad signals and between man-made stone walls, and follow cliffs running along the river. Additionally, Todd organizes events along the trail, such as wine and movie nights, at local wineries and breweries or, when it's a flannel kind of day, log-rolling contests with local lumberjacks.
2998 S Hwy. 94
Defiance
Missouri
636-987-2673
Just a short drive from the metropolitan tangle of St. Louis, Twin Rivers Canoe Rentals releases urbanites into the gentle, spring-fed waters of the Meramec River. Adventurers may choose which vessel will best cut through the water's rippled pane that flickers with shadows from the canopies of trees lining the shore. In a kayak, a single boatman may ply past largemouth bass and flathead catfish or spy a whitetail deer sneaking a drink on the banks while its doe is at church bunco. Canoes can comfortably seat two people and a cooler, whereas rafts transform five to seven passengers into an inflatable party. The leisurely pace and tranquil environs encourage groups to stop and swim or to tether to shore for a picnic.:m]]
8004 Twin Rivers Rd.
Eureka
Missouri
636-549-4610
---