Photography & Portraits in Wildwood
---
Photography & Portrait Deals
---
---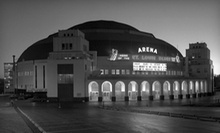 24" X 36" black and white poster commemorates iconic St. Louis creation and 26-page book details the building process with vivid photographs
Use Tuesday 10:00am - 5:00pm
---
Recommended Photography & Portraits by Groupon Customers
---
Though the professional lensman behind davidjstudios specializes in wedding photography, he strives to make every shoot capture something as memorable as the big day. To do so, he builds relationships with his clients, earning their trust and comfort during what can sometimes be an awkward situation. Instead, his shoots are relaxed, natural, and professional, gaining him nods from WeddingWire and CityVoter.com. He snaps images at locations throughout the St. Louis area, and helps clients customize items such as photo albums, invitations, and magnets strong enough to post their albums to the fridge.
4979 Ambs Rd.
St. Louis
Missouri
314-892-3922
At G.G.'s Secret Boudoir Photography, the two resident female photographers accentuate women's sensuality with relaxed photo shoots. The photogs fit more than 20 years of experience into each frame, during one- to two-hour photo sessions that yield 8"x10", 5"x7", 4"x5", or wallet-size prints and an online gallery. Clients pose in front of five backgrounds and bring their own clothing and props, such as a man's tie, a boa, or a life-size cartoon weight lifter with the face cut out.
59 Briarchase Ct.
Lake Saint Louis
Missouri
636-219-9962
Professional photographer Michelle Garthe's studio offers a controlled environment where subjects can be custom-lit in the most flattering manner, whereas on-location sessions allow mortals to immortalize memories within homes, at outdoor locales, or on a light-enhancing glacier. Garthe specializes in portraits of newborns, families, expectant mothers, and high-school seniors, and she teaches novice photographers the tricks of the trade during beginner photography workshops.
2745 High Ridge Blvd., Suite 9
High Ridge
Missouri
Since 1984, Apple Studio has brought out women's most sensual, playful, and confident natures during romantic portrait sessions taken in an inclusive, relaxed environment. Before each shoot begins, friendly photographers help put nerves at ease by taking clients through past work to find the most appropriate style to match their comfort level and personality. As subjects lie in various flattering poses—the studio recommends bringing four to five outfits, from favorite lingerie to full scuba gear—soft lighting and strategic camera angles enhance each shot, resulting in a series of scintillating, tasteful vignettes. Pictures are typically ready in about two weeks, available in everything from retouched prints to digital copies on CD.
333 N Lindbergh Blvd.
St. Louis
Missouri
314-503-6161
Pastel hues suffuse Jessica Ahlborn's photography studio in the form of striped throws on a plush couch and light-lilac armchairs with rhinestone buttons. The comfortable, boutique vibe sets subjects at ease as she snaps senior portraits or family photos brimming with personality. Jessica also realizes striking, editorial fashion photographs, filling models' portfolios with eye-catching images to replace the customary piles of glitter and photocopies of their foreheads.
4510 Hampton Ave.
St. Louis
Missouri
636-448-8747
Studio Altius's owner, photographer David J. Cerven, drew on his background in theater to create a new approach to portraiture. Like directors and actors, or producers and theater critics who owe them a favor, Cerven's photographers and clients work collaboratively to create defining moments. Along with fellow photographer Shawna Ventimiglia's background in fashion design, Cerven creates personal, compelling images of children and families, high-school seniors, brides, and couples, as well as professional headshots and sexy boudoir images. Clients can pose in either his 3,000-square-foot studio or outside the studio in a picturesque outdoor setting. In addition to working with clients, Cerven teaches his methods to other photographers in portraiture workshops and classes, and maintains an on-site art gallery.
2301 S. Big Bend Blvd.
Maplewood
Missouri
314-769-9769
---