Tours in Williamsburg
---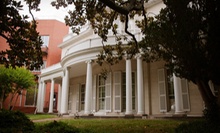 More than 1.7 million objects & artifacts inspire guests to examine Richmond history & members enjoy discounted gifts & special events
---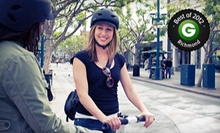 Segway tours glide through the oldest district in Richmond, visiting historic landmarks such as St. John's Church and Main Street Station
---
Recommended Tours by Groupon Customers
---
Shockoe Bottom, one of Richmond's oldest neighborhoods, is also home to some of Richmond's scariest ghosts and classiest haunting scenes. During the Capital Creepers Eerie Nights tour, which is guided by ghastly ghouls dressed in historical duds and painted with Hollywood-quality makeup that would fool even the deadest ghost, fright fanatics will discover all the dark and gory details about the haunts of Richmond's past, present, and future, which are much more thrilling than the commonly known tales of the still-warm ketchup on Colonel William Mayo's 1737 city plan and the guy on the corner who screams "I'm a ghost" every 15 minutes.
100 N 17th St.
Richmond
Virginia
The streets and buildings of Richmond breathe with history. Patrick Henry's famous words, "Give me liberty or give me death," echo in St. John's Church, where the statesman gave his infamous speech; the ghost of Poe wanders the streets of the Church Hill district, where he lived and wrote; and the bones of presidents James Monroe and John Tyler lie peacefully under the lush grass of the Hollywood Cemetery, a National Historic Landmark. These are just a few of the locations that segway riders glide through during educational tours organized by Segway of Richmond.
The company's most popular jaunt, the two-hour Landmark Tour, takes groups to nearly 20 historic buildings, churches, and museums, whereas other ventures focus on specific aspects of the city's past, such as the Black History Tour or the Edgar Allan Poe Tour. In addition to learning about the men and women who shaped the culture of Richmond and practicing their preferred mode of transportation, tour-goers can explore the architecture of Victorian and Edwardian homes during a Fan District Tour or think about murals, mosaics, and sculptures during a Public Art Tour.
1301 East Cary St.
Richmond
Virginia
In 1791, Alexander Hamilton–hoping to enhance trade and safety along the coasts of Virginia and Maryland–contracted renowned architect John McComb to design a lighthouse at the mouth of Chesapeake Bay. McComb quickly fulfilled his duty in 1792, with the illumination of Cape Henry Lighthouse's inaugural flame lit by the lighthouse's first keeper, who was appointed by George Washington himself. In the centuries since the octagonal tower cast its first guiding beam across the bay, the Cape Henry Lighthouse stood sentinel over the coast and ensured the safety of incoming ships and immigrating krakens until it was replaced in 1881. Stewards of the lighthouse's past, Preservation Virginia, ensured in 1930 that the inoperative structure and surrounding lands were reopened to the public and maintained for the enjoyment of future generations.
Today, visitors ascending the twisting iron stairs step out to the window-enclosed observation deck, drinking in 360-degree views of the water and surrounding verdant forests. A team of passionate and knowledgeable staff–most of whom have been guides for years–remain on hand to answer questions relating to the lighthouse's history and how lighthouse keepers stave off land invasions of ghost sea captains.
583 Atlantic Ave.
Virginia Beach
Virginia
757-422-9421
A businesswoman by day, Bonnie Florek turns into a ghost by night. Donning 18th-century period dress and assuming the identity of one Catherine Rathell, Bonnie regales tour groups with hair-raising tales of yore. Bonnie founded Spooks and Legends Haunted Tours as a means of immersing tour groups in an interactive, goose bump–inducing jaunt through Williamsburg's historic streets and into the past.
Spooks and Legends Haunted Tours' guides](http://bit.ly/MYmFD1) lead tour-goers of all ages on 75-minute excursions as they narrate true tales of cryptic happenings and how the town's denizens met their mysterious ends. The nightly tours meander through the oldest lanes and thoroughfares of Williamsburg, stopping periodically to peer at local horror–hot spots such as the Peyton Randolph House, known for its many suicides and murders, and Bruton Parish Cemetery, known to be full of dead bodies. Tour-goers are encouraged to bring their cameras along to document any unnatural sightings of apparitions, orbs, or suspicious screams emanating from the stomachs of hungry black cats following the group.
403 W Duke of Gloucester St.
Williamsburg
Virginia
757-784-6213
Political feuds. Infidelities. Racial tensions. Once capital of the colonies, Williamsburg possesses a deep history stretching back to the 18th century, and guide Allison Wildridge illuminates the city's many legends on her narrated walking ghostly tours. She also recommends that guests dress for the weather, wear comfortable walking shoes, and bring digital cameras.
440 W Duke of Gloucester St.
Williamsburg
Virginia
757-565-0311
Valentine Richmond History Center has inspired visitors to explore Virginia's yesteryears for more than a century, employing exhibitions, tours, research, special events, and educational programs. More than 1.7 million household items, industrial artifacts, and pieces of artwork adorn permanent and changing exhibitions to expound on past lifestyles. Guests enjoy entry to the Wickham House, a National Historic Landmark peppered with artifacts from its prominent former inhabitants and having a basement level that sheds light on the lives and private spaces of slaves. The renovated Edward V. Valentine Sculpture Studio details Valentine's artistic maturation and evolution beyond macaroni portraits by displaying his original works and tools. The museum also invites budding scholars to survey the historic Court End neighborhood as they exhaustively research Richmond's 400-year-old history and determine whether the city was settled by aliens.
1015 E Clay St.
Richmond
Virginia
804-649-0711 x301
---